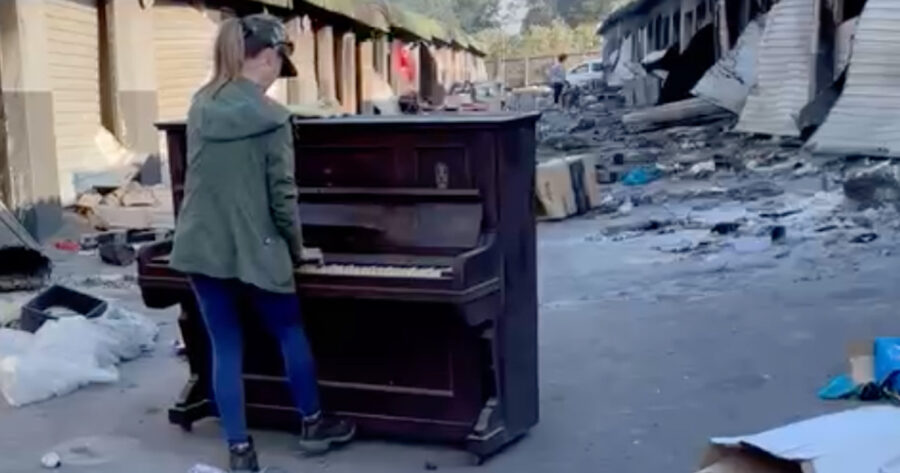 WATCH Piano Player Helps Tears Flow and Healing Begin in South Africa
A piano player in Waterfall, South Africa, has everyone sobbing with the beauty and poignancy of her heavenly music as it rises up from the ashes, like Phoenix… and as the tears run down our faces, the notes soothe our souls like a healing balm, washing away the pain of what has been this week… […]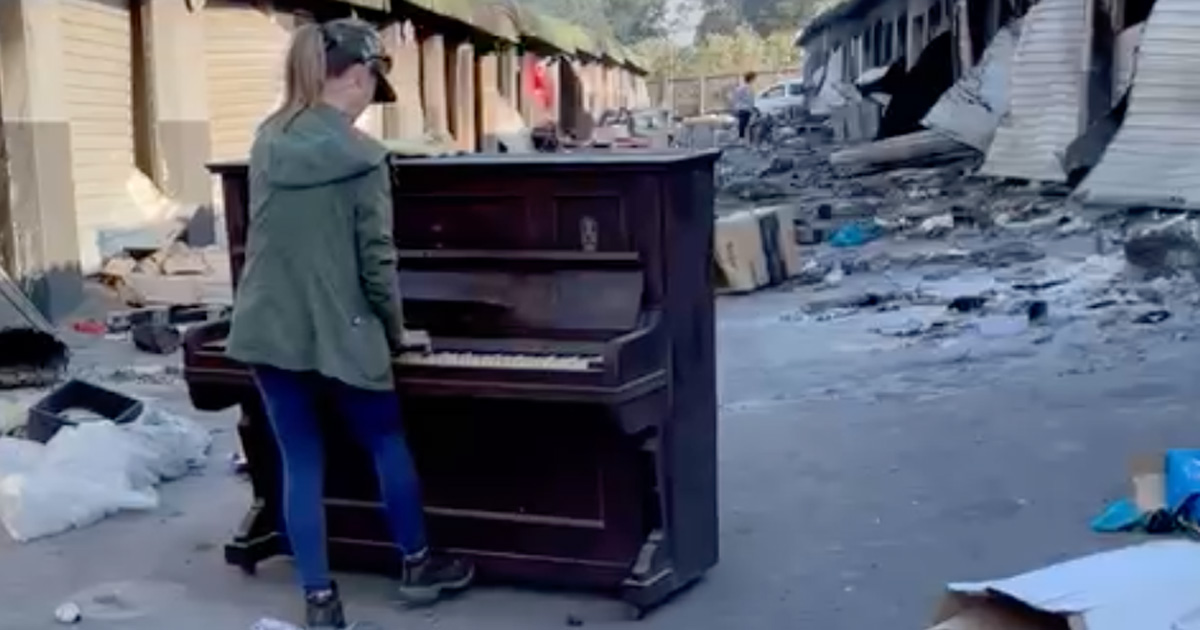 A piano player in Waterfall, South Africa, has everyone sobbing with the beauty and poignancy of her heavenly music as it rises up from the ashes, like Phoenix… and as the tears run down our faces, the notes soothe our souls like a healing balm, washing away the pain of what has been this week… and restoring a sense of pride.
KZN resident and private piano teacher Jenny Bowes stands tall and resolute as she plays haunting melodies on a slightly damaged piano, lifting the spirits of all who hear her, even though there is debris strewn at her feet, ransacked storage units to her left and a burnt out building on her right.
In the midst of the mayhem, madness and sadness… Jenny's music floats above it all to bring exquisite hope, infusing beauty and love into the scene of devastation.
One SAPeople contributor summed it up saying: "Her video is iconic. It embodies the SA spirit to a T. It will have a lasting impression on all of us…"
Looters had stormed the storage facility on Sunday during violent protests, stealing from units and setting lots alight, simply to destroy them.
Jenny told friends on social media that they had spent most of the day trying to retrieve her brother's remaining personal things that had been ravaged. "This piano was a blessing," she said, "waiting to be played…"
When her brother Chris saw the first video, he said: "That's my beautiful sister playing… Thank you Jenny Bowes for saving my few life's possessions for me while overseas in Dubai. Praying for everyone back in Durban and SA!"
In one of the videos Jenny sings God is Great, followed by the South African anthem, Nkosi Sikelel' iAfrika. Try not to cry. Actually, don't. Let the tears flow.
Jenny will be back at the storage unit at midday tomorrow for those who want to worship and let go of the pain and heartache…
WATCH below as Jenny Bowes' piano playing helps heal the pain and heartache
#Piano player washes away the pain of #KZNLooting at storage facility in #SouthAfrica #SouthAfricansRising … grab a tissue!!! 2/3 MORE: https://t.co/wnTuU7US8f pic.twitter.com/7svcysRcp5

— South Africa People – SAPeople.com (@sapeople) July 15, 2021