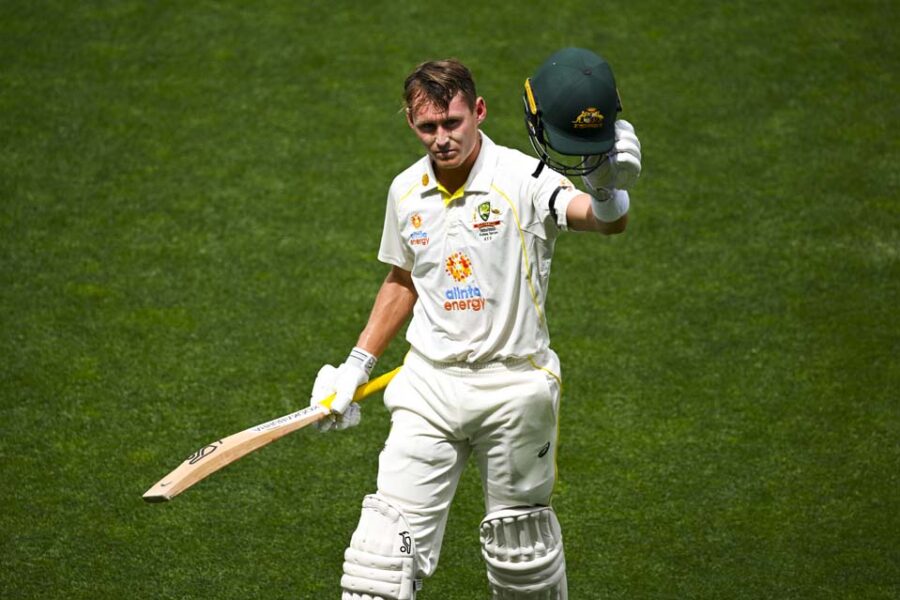 WATCH SA Expat Marnus Labuschagne Scores A Century for Australia Against England
South African expat Marnus Labuschagne has scored another century for his adopted homeland, Australia… becoming the Australian with the most runs since his Test debut on 7 October 2018. This was his sixth Test century, and his first against England. Labuschagne (27)  started this year on a good note, being hailed "an incredible player, a legend […]
South African expat Marnus Labuschagne has scored another century for his adopted homeland, Australia… becoming the Australian with the most runs since his Test debut on 7 October 2018. This was his sixth Test century, and his first against England.
Labuschagne (27)  started this year on a good note, being hailed "an incredible player, a legend in the making" and "on his way to being player of the decade" back in January, when he scored his first century for the year (and fifth playing for Australia) against India at the famous Gabba, the Brisbane Cricket Ground. A top Indian commentator noted at the time that "Australia has found a gem in Marnus Labuschagne".
Today, in Adelaide, he proved his worth again against England at the second Ashes test, completing his century before falling at 103.
WATCH Marnus Labuschagne 6th Test Century and 1st against England
🏏

Since Marnus Labuschagne made his Test debut on 7 Oct 2018, no Australian has scored more runs than him!

Labuschagne: 2,062 runs (34 inns)
Smith: 1,408 (24)
Head: 1,323 (33)

— The Cricket Wire (@TheCricketWire) December 17, 2021
Since Labuschagne's debut in October 2018, he has scored 2,062 runs (in 34 innings), streaks ahead of Captain Steve Smith's 1,408 (24 inns) and Travis Head's 1,323 (33 inns).
Australia has 302-5 on day two of the second Ashes.
UPDATE: According to Reuters, "Labuschagne's current average of 62.48 is second only to legendary Don Bradman's benchmark of 99.94 among players who have batted in 20 innings or more."
He is now number two in the official rankings for test batsmen, although it's definitely not going to his head. Labuschagne told reporters that was "the first I'd heard of it. A couple of nick offs and you are right down the pecking order." He says he just thinks about "scoring as many runs in each innings to try and win the game. Winning games for Australia is by far the most enjoyable part."
Labuschagne moved from Potch to 'Sunny Brisbane'
In a video interview for Cricket Australia (see below), Labuschagne says he grew up in Potchefstroom, South Africa, before moving with his family to "sunny Brisbane" in Queensland. (He says if you're moving anywhere, move to Brisbane for the beaches and "because the weather's always beautiful".) Labuschagne also describes how he was passionate about cricket, even as a toddler, sitting on a bean bag watching Test cricket for hours. Fox Sports says his emergence as an elite batter is "testament to his desire as much as it is to his inherent skill".
WATCH VIDEO In case you don't know me – Marnus Labuschagne
Marnus Labuschagne was almost plucked from obscurity
According to Fox Sports, Australian happened upon Labuschagne by accident… and he would never have had the chance to play for Australia if it hadn't been for the country desperately needing replacements for three Test batters (Steve Smith, David Warner and Cameron Bancroft) following the "greatest cheating scandal to ever engulf the Australian men's cricket team".
At the time, Labuschagne's average was in the mid-30s and he was "picked for little reason other than the fact coach Justin Langer liked the cut of his jib, and that he offered some part-time leg spin". It nearly all went wrong when he was dismissed for a two-ball duck on his debut against Pakistan… but three years later and he's become the second fastest Australian to score six centuries (after Mike Hussey).
Fox Sports says it's not "hard to imagine an Australian Test team without the quirky right-hander, whose confidence has grown to the point that he occasionally refers to himself in the third person." Just yesterday, Labuschagne ducked a ball bowled by England's Ben Stokes, and then said "Well played Marnus!" and patted himself. Watch below (you can hear the commentators laughing.)
Watch Marnus Labuschagne congratulate himself, ducking a ball
🎙🎙🎙#Ashes pic.twitter.com/KNGhibosE5

— cricket.com.au (@cricketcomau) December 16, 2021
Aussie cricketing legend Shane Warne said today that Labuschagne has made himself into the "perfect No. 3" and called him a "class player" today who "scores all around the ground". Mark Waugh – former Australian cricketer – agreed, saying: "He plays well against spin and pace – he doesn't have an obvious weakness."