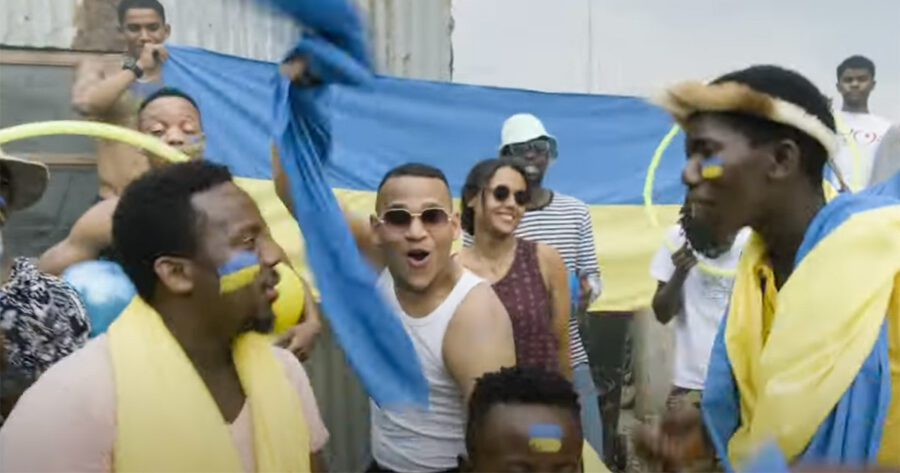 WATCH SA Township Musicians Sing Support for Ukraine, Led by Strictly Dancer Cameron Lombard: Peace Don't Go
Cameron Lombard, who made his debut as Strictly Come Dancing's youngest ever pro dancer last year, has filmed a rousing new video, Peace Don't Go, in support of peace for the people of Ukraine. Filmed in the township of Siqalo, in Cape Town – illuminated with bright flares of yellow and blue – Cameron leads […]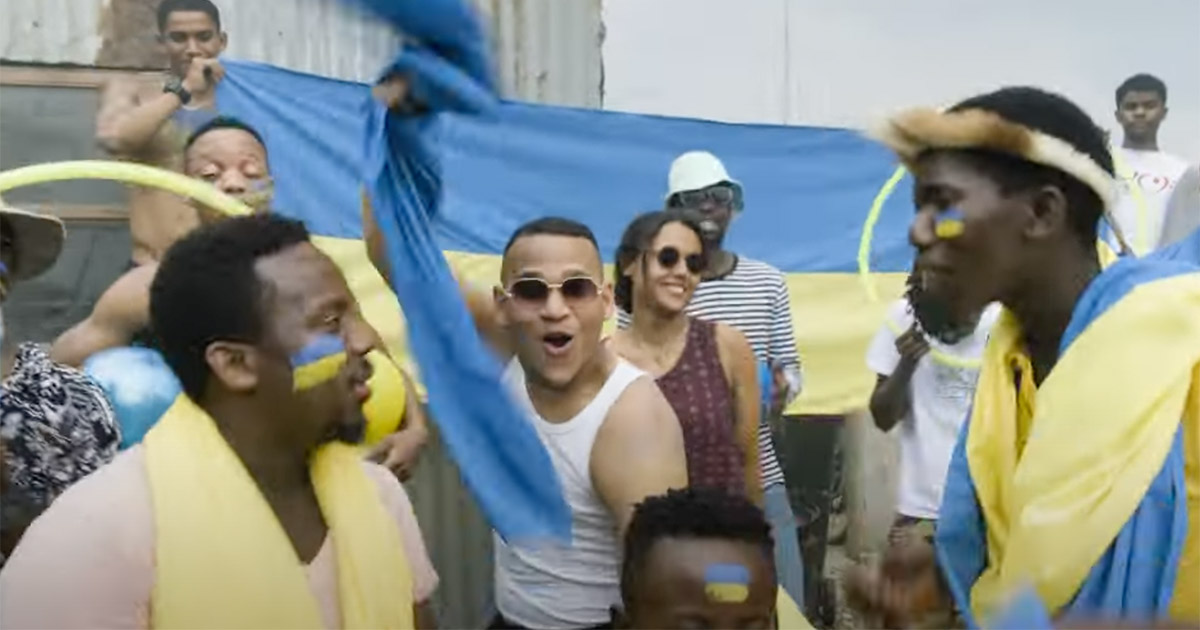 Cameron Lombard, who made his debut as Strictly Come Dancing's youngest ever pro dancer last year, has filmed a rousing new video, Peace Don't Go, in support of peace for the people of Ukraine. Filmed in the township of Siqalo, in Cape Town – illuminated with bright flares of yellow and blue – Cameron leads a dance, clad in the Ukrainian national colours to express love and solidarity with the people of Ukraine, in a symbolic gesture of Ubuntu (sharing). "People in townships don't have much, but they share… until there is just enough left to feed the family," says the video.
Cameron, who is usually based in London, says: "I came to South Africa (recently) for my 26 year-old sister Courtney's wedding… when the war broke out in Ukraine. I was horrified by the invasion. This Peace video is in support of my Ukrainian brothers in dance and all of the brave and resilient people of Ukraine."
The reigning South African Latin Champion, 21, is calling on "athletes, dancers and creative artists" and everyone from all corners of the world to "come together and dance for peace".
Collaborating with talented musician friends DJ Tom, Shack and NkosiKop for the video, Cameron has partnered with artists from a cross-section of diverse communities across his native South Africa, Mozambique and Zimbabwe to create an "international song and dance for Peace, Love and Sharing". (The lyrics include: "We share all, even though it's small; Go now, what's left, it's for family…")
The inspiring video teaser below begins with an introduction from Cameron paying tribute to the people of Ukraine. Please see the full song video further down this page.
WATCH abridged Peace Don't Go video with special message from Cameron Lombard
Cameron is the Youth Ambassador for Climate Actions Now  – a climate and peace solution-focused advocacy and movement which is creating and linking virtual and physical Climate Action Centres of Excellence in South Africa, Uganda, the UK and Ireland. CAN's mission is to help find and promote solutions to the existential threat of Climate Change – to make more young people more aware of the challenges and risks presented by our existential climate crisis, and to build resilience and skills for their future existence.
The Peace Don't Go video is very much part of Cameron's personal mission around climate change. He says:
"The war in Ukraine could turn nuclear at any moment and that will be the most immediate climate apocalypse we have all dreaded happening… the only power I have is the universal truth of music and dance, so it is my duty to share what I have to help the cause of peace, love and sharing."
WATCH Full Video: Peace Don't Go by Shack, featuring Nkosiyabantu with Cameron Lombard
Last November, Cameron took his climate change campaign directly to the gates of Buckingham Palace. He created widespread publicity when he danced a Global Warning outside the palace, after experiencing the devastating effects of climate change during his upbringing in South Africa. Cameron is using the medium of dance to drive home the Royal Family's pleas for immediate action on climate change and inspire younger generations to be more socially responsible and compassionate to our planet.
As Ukraine President Zelensky said at the Grammy Awards on Sunday night – music is the opposite of war… so let's all join Cameron Lombard in dancing for peace…