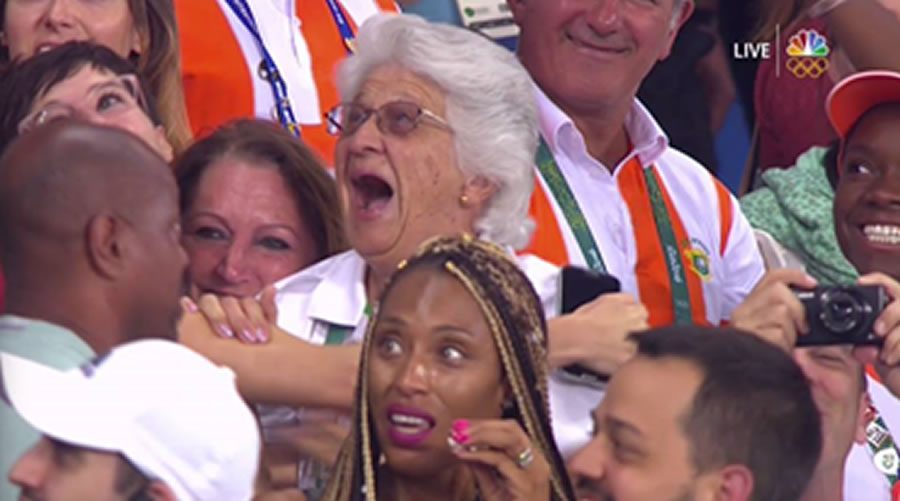 Van Niekerk's Coach – Great-Grandmother Tannie Ans – Grabs Headlines
South African great-grandmother Anna Botha (74) – more fondly known as Tannie Ans – is grabbing headlines around the world for her phenomenal and inspirational role in Olympic gold medallist Wayde van Niekerk's life – as his coach!!! Today Wayde paid tribute to Botha – crediting her for being the driving force behind his incredible record-breaking […]
South African great-grandmother Anna Botha (74) – more fondly known as Tannie Ans – is grabbing headlines around the world for her phenomenal and inspirational role in Olympic gold medallist Wayde van Niekerk's life – as his coach!!!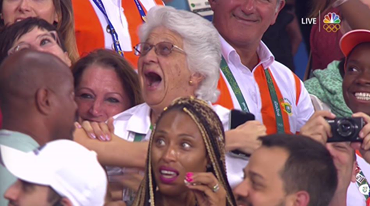 Today Wayde paid tribute to Botha – crediting her for being the driving force behind his incredible record-breaking win in the Men's 400m in Rio last night. In a speed of 43.03 seconds, he became SA's first sprinter since 1920 to win Olympic gold.
And while articles about Wayde have dominated sports' news today, so too have stories about his coach with headlines in French, Italian, Spanish and Mandarin.
Tannie Ans – who has four great-grandchildren – manages Wayde's athletics programme as head coach at the University of the Free State (Kovsies) and prepared him well in advance for the Olympics.
Fellow South African sprinter Arnaud Malherbe said that Wayde "hit all his splits perfectly in Beijing. Spot on at 100m, 200m and 300m. Tannie Ans will have a plan and Wayde just has to execute…" His Beijing medal (at the IAAF World Championships), for instance, had been planned three years in advance and in discussion with his parents to share their goals and ideals, and listen to his body. 
South African Olympic 100m sprinter Akani Simbine has also been coached by Tannie Ans – over the past three years – and also paid tribute to her, saying that her care allows athletes to thrive on the biggest stage.
The great-grandmother first noticed Wayde when he was at school competing in the 2010 IAAF World Junior Championships in Canada. They started working together in October 2012 when he enrolled at Kovsies to study marketing.
In an interview in August last year, Tannie Ans told City Press: "I'm very blessed because I don't have any health problems, and it is because I'm busy with young people – and you have to be high up there with them."
Botha was herself a sprinter and long-jumper and said her passion was too high to quit her career. She also apparently coached Namibian Olympic medalist, Frankie Fredericks.
According to City Press, in an emotional moment in Beijing, she confessed how huge the responsibility was to handle Van Niekerk. "I wouldn't say I'm afraid … but I have such a big responsibility to get this athlete to develop to his full potential. Also, I need to try to do my very best not to do something wrong that might break him."
Mission accomplished!!!
After the Olympic gold, the special bond between Tannie Ans and Wayde van Niekerk was apparent when they didn't say a word when they saw each other. They just hugged and cried…
Tannie Ans is a #gsport11 finalist for Coach of the Year.
On Twitter:
When the story of @WaydeDreamer and Tannie Ans travels around the world in French, Spanish and Mandarin… ? pic.twitter.com/DT6XFZNfhK

— Maryna Lamprecht (@MarynaLamprecht) August 15, 2016
Today's #RunningWoman is 74-year-old, Tannie Ans, coach to Gold medalist, @WaydeDreamer. https://t.co/Hrzq2e3GAo pic.twitter.com/zPUsAa9Y0n

— Two Oceans Marathon (@2OceansMarathon) August 15, 2016
#WaydevanNiekerk Coach Anna "Tannie Ans" Botha. I had many of these tannies watching my back in Pretoria. ? pic.twitter.com/OzmmsiRHSg

— Lynn Layman (@lynnlayman) August 15, 2016
We also honour Tannie Ans for the work she has done in Wayde's athletics career #MbokodoLead pic.twitter.com/Ad0U78rTm8

— Gauteng ANC (@GautengANC) August 15, 2016
Phenomenal woman! MT @gsport4girls "Tannie Ans" Botha, coach of #WaydeVanNiekerk… pic.twitter.com/MoGnfAh8jH

— Meruschka (@MzansiGirl) August 15, 2016