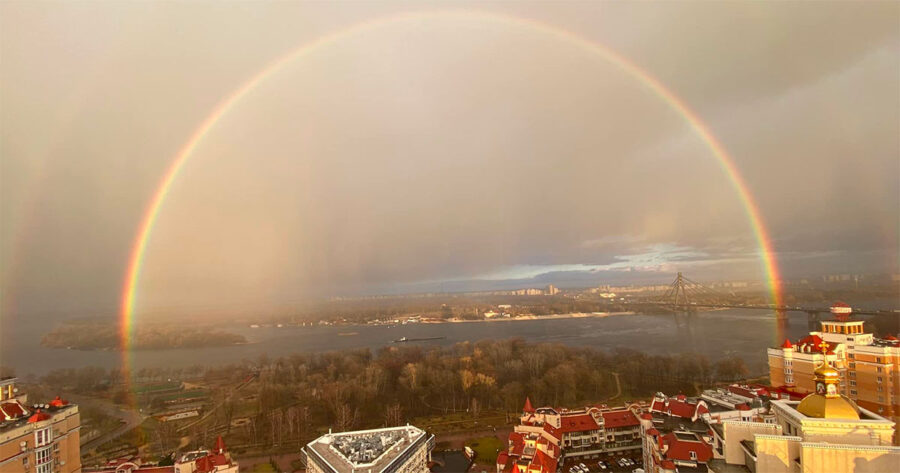 Hopeful Views from Ukraine Windows (While SA Remains Silent)
As the world watches politicians scrambling to impose sanctions and hold back Russian President Vladimir Putin from giving his troops the go-ahead to invade neighbouring Ukraine, residents in the targeted country have been reaching out to citizens around the world through Facebook page, A View from My Window, expressing their heartbreaking love and patriotism for […]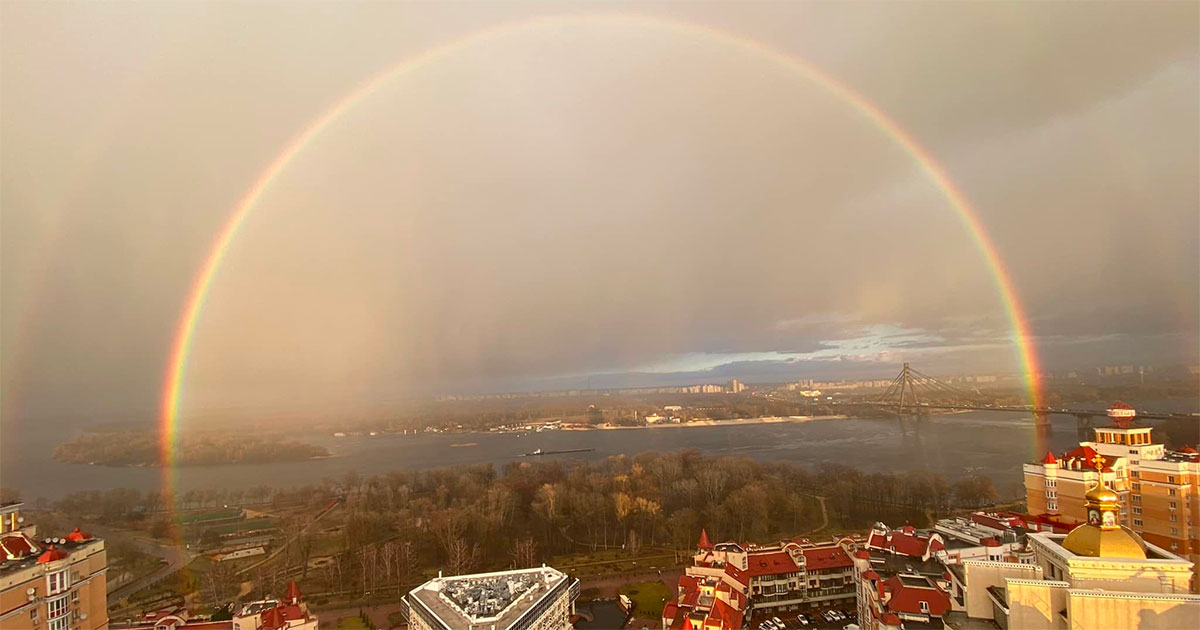 As the world watches politicians scrambling to impose sanctions and hold back Russian President Vladimir Putin from giving his troops the go-ahead to invade neighbouring Ukraine, residents in the targeted country have been reaching out to citizens around the world through Facebook page, A View from My Window, expressing their heartbreaking love and patriotism for their beloved country. Here are some of their photos and captions. Follow A View from My Window for more… UPDATE 24 FEB '22: Russian forces invade Ukraine
Many have spoken with hope, posted photos of a full rainbow over the capital city of Kyiv (the Ukranian spelling) a couple of days ago, and said that it feels like spring is in the air. Elena S posted her picture with trees, saying: "View from my window 10 km from Kiev, Ukraine. Warm sunny morning February 20, 2022. I want everything to stay that way, life is beautiful."
Julia K said: "Rainbow in February, I hope this is a good sign! Ukraine, Kyiv 18.02.22 view from the 18th floor. UPD: OMG, people you all amazing! I didn't expect so much support! thank you all so much! ? I wish all of us – world peace! I hope that we'll be able to travel and discover new places. I invite you to Ukraine ?? , we have a lot of interesting cities, beautiful nature, architecture, rich traditions, delicious food and great hospitality ☺️
Kiev in May is especially beautiful!"
Nina L said: "Rainbow in Ukraine / peaceful rainy day in Kiev / love my country / love my city"
Lyudmila D posted from Kyiv, saying: "?? Beautiful night view from my balcony. ?? UPD: Thank you, people of the world. I can't respond to everyone personally, but I read all your comments and I feel your support. I'm so grateful ❤️"
Olga Gurova posted the photo above from Kyiv on 17 Feb explaining "the view from my window, from the left side of the Dnipro river to the right. You can see at the left side, far away, the ancient Kiev-Pechersk Lavra, built in 1051, a cultural and historical reserve and a monastery. ?? I wish us all peace and good❤️? … UPD: I'm touched by your support! Support from people from many countries of the world?❤️ Such a lot of sincere warm words! Thank you very much! ✊??❤️"
Nataly Nataly posted the above saying: "My fabulous peaceful city. River Dnypro and the historical part of the city is in front. My best wishes is for peace in my country ??
UPD I am very touched by everyone's warm words. Thank you for your support and wishes."
Anna B posted a snowy photo and thanked "people of the world" for their overwhelming support. "It does mean a lot to us now, it truly does!" she wrote. "We Ukrainians believe in Ukraine and stay strong ?? ." She said she has lived in Kharkiv, Ukraine, for 19 years. "I find Kharkiv very special. It might not be the prettiest city, or most historical, but it's cosy and comfortable, I am attached to it. That's where I attended university, found my first grown up job, fell in love, gave birth to two wonderful sons, met loyal friends, adopted two cats. There were heartbreaks and tears, but one can only expect their fare share from life.
I really cherish what I have."
She said "this group has been a blessing, I can't even say how many hours I spent discovering the views from your windows!"
View from My Window said it has noticed "hundreds and hundreds" of beautiful comments, but unfortunately also some derogatory (which are removed), as well as messages sent to their admin accusing them of having an agenda. "We have no agenda other than allowing everyone to post their view," said the page, which has 3 million followers.
Ольга Недавня posted the above photo from her window in Kyiv, writing about her "quiet, gentle evening". She said: "It smells like fresh pastries, you can hear music and how somewhere nearby children sing a song, and their puppy "corresponds" to them ? . In the yard you can see the school on the left and the kindergarten on the right, and behind the tall buildings nearby is the Dniprо River. I like this tender evening view from the window. I wish everyone peaceful beautiful views from your windows!"
Алёна H said that "In May 2022 will be 1540 years old of my Kyiv! We love this city so much ) We love our country so much))) Peace for everyone!"
After an overwhelming response to his picture, Nick M said: "Dear friends, many thanks to you for your friendship, sincere words of support and wishes, for your care and indifference, for your prayers and love to Ukraine! We will win together!!! May the Lord bless you all ???"
Support has poured in from countries around the world, including South Africa where, for instance, Lesley S wrote on one post: "Beautiful view. Stay blessed and may you and your family and neighbors keep safe in this time of uncertainty. Blessed Be, In Love and light from Howick South Africa"
South African Government's (lack of) response to the Russia Ukraine crisis
In South Africa the silence from the ANC government has been deafening. Opposition party, the DA, said this week that it is "appalled by the ongoing silence from the ANC government on the tensions between Russia and Ukraine".
Darren Bergman – DA Shadow Minister of International Relations and Cooperation – said the DA condemns the Russian invasion of Ukraine under the guise of keeping peace, security and stability.
As reported by Carte Blanche in a special investigation on Sunday, it's estimated that Russia has stationed tens of thousands of troops at the Ukrainian border, an act of military aggression that might start a major armed conflict which would ultimately affect every town and village around the world, including in South Africa. UK PM Boris Johnson said it may be "the biggest war in Europe since 1945".
Bergman said that in a reply to a DA parliamentary question received on Tuesday, regarding the government's approach to the situation, DIRCO Minister Naledi Pandor "chose to wax poetic on South Africa's 'Diplomacy of Ubuntu' instead of condemning the Russian aggression towards Ukraine".
He said: "The continued silence by the South African government on this matter can only be viewed as the ANC condoning and enabling the Russian aggression in the East of Ukraine.
"A price of a full-scale war in Ukraine would be too high a price to pay – not only for Europe but for the rest of the world. The ANC government, therefore, cannot continue to hide behind past loyalties, it must use its place at the table to enter diplomatic waters deliberately and decisively."
SA's current affairs show Carte Blanche asked: "As Russian President Vadimir Putin plays Cold War-type brinkmanship games on the borders of Ukraine, global markets and the Rand get the jitters. But why has the South African government had so little to say about its BRICS (Brazil, Russia, India, China, SA) ally continuously threatening a sovereign nation that prizes its hard-won democracy?"