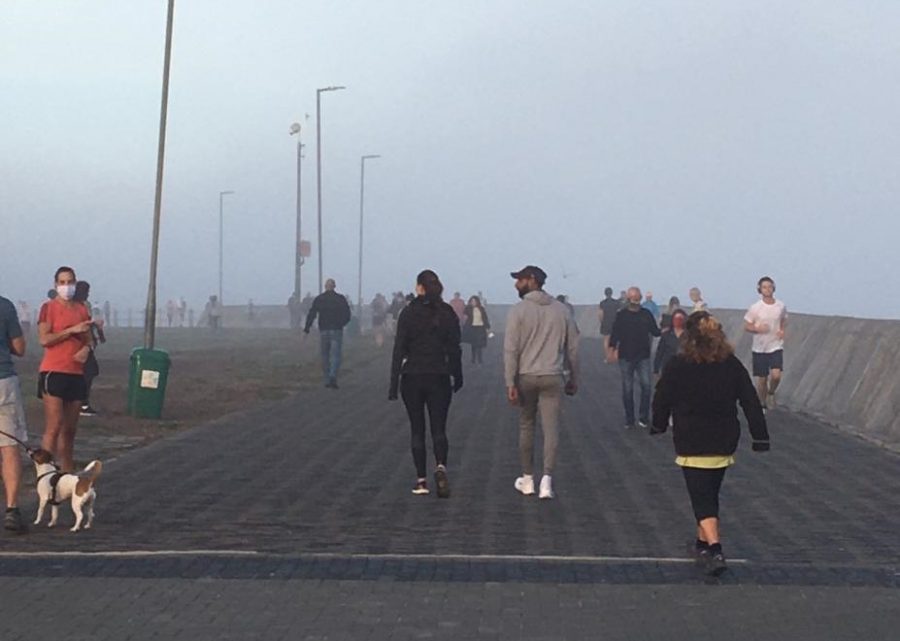 Sea Point Promenade Focus of 3-Hour Exercise Chaos as South Africans Feel Freedom Again
Depending on where you were today during the first hours of freedom for walkers, joggers and bikers since lockdown began 35 days ago, it was chaos or total quiet. Much attention on social media focused on the Sea Point Promenade in Cape Town, where a larger than usual crowd came out. Bloubergstrand was almost as […]
Depending on where you were today during the first hours of freedom for walkers, joggers and bikers since lockdown began 35 days ago, it was chaos or total quiet. Much attention on social media focused on the Sea Point Promenade in Cape Town, where a larger than usual crowd came out. Bloubergstrand was almost as bad, but Durban's promenade appeared slightly less crowded.
Many people commented on how irrational the government's regulation is that exercise can only be done between 6 and 9 a.m., leading to crowds in normally popular places trying to make the most of being allowed out only three hours every day.
Most of the pictures on social media were of the Sea Point Promenade, a busy area in normal times. In many other places, like Durban, people were keeping their distance, but there were fewer numbers. Our photographer Tom Brown found few people out on Centurion Golf Estate.
Atlantic Seaboard residents making the most of those last minutes of exercise time. pic.twitter.com/7TlpkhU5Ip

— CapeTalk on 567AM (@CapeTalk) May 1, 2020
Bloubergstrand:
https://twitter.com/mynameisjerm/status/1256148528910536707
Centurion:

Durban:
WATCH: The Durban beachfront is packed with people this morning who are taking advantage of #Level4Restrictions which allows for morning exercise. It's hard to tell we are in a pandemic from this. People have flooded the promenade. @News24 @TeamNews24 #COVID__19 pic.twitter.com/Gbr0YYr961

— Kaveel Singh (@kaveels) May 1, 2020
WATCH: The Golden Mile, Durban beachfronts premier public tourist and local destination is full of locals taking full advantage of the exercise allowance during #Level4Restrictions @News24 @TeamNews24 #COVID__19 pic.twitter.com/hJpzmO6hle

— Kaveel Singh (@kaveels) May 1, 2020
In Umhlanga
Unlike the Durban beachfront, the Umhlanga promenade is empty. Private security have closed off the area saying that it is too close to the actual beach. People are being diverted to run on the road. @News24 @TeamNews24 #Lockdownlevel4 pic.twitter.com/9uRfQCZdVx

— Kaveel Singh (@kaveels) May 1, 2020
Wakkerstroom