Ukrainian Woman in Cape Town Appeals for Humanitarian Support for Her Motherland
Kristina Oliinyk (31), who was born in Kyiv, Ukraine, and has been living in Vredehoek, Cape Town, in South Africa for the last seven years, was woken up at 4am on Thursday (24 February 2022) by a distressing phone call from her mother… as Russia's President Vladimir Putin announced his troops were entering Ukraine for […]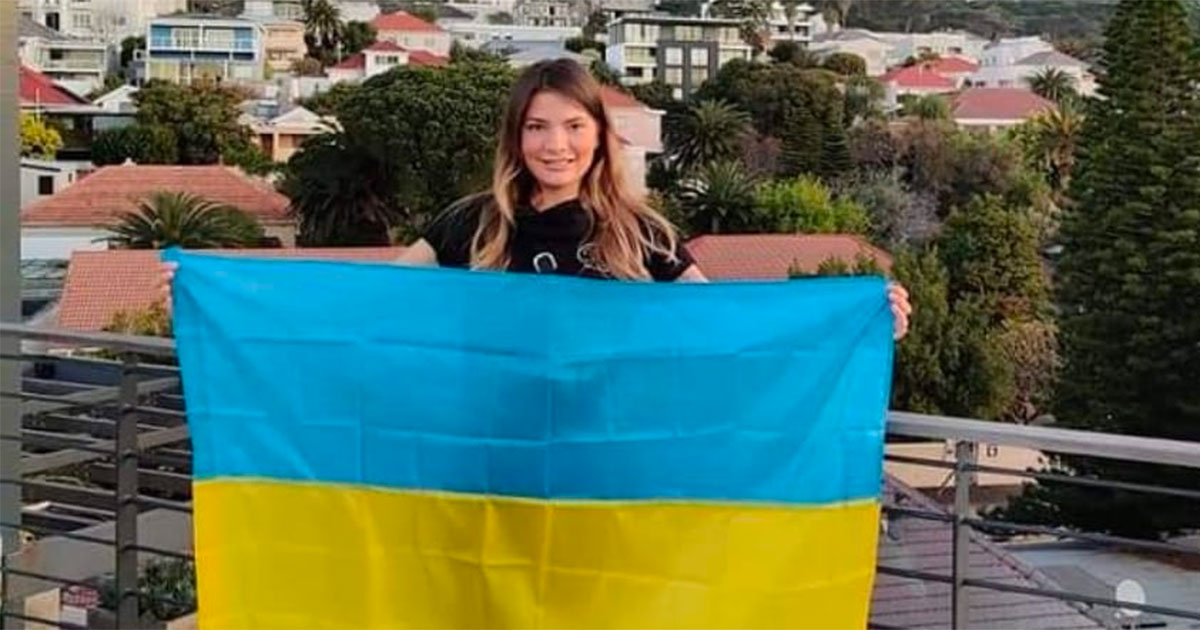 Kristina Oliinyk (31), who was born in Kyiv, Ukraine, and has been living in Vredehoek, Cape Town, in South Africa for the last seven years, was woken up at 4am on Thursday (24 February 2022) by a distressing phone call from her mother… as Russia's President Vladimir Putin announced his troops were entering Ukraine for a special military operation.
She then turned on the TV, and watched the news in horror with concerned individuals around the world.
"I was heartbroken and felt so helpless," says Kristina.
Since Russia began unleashing its series of attacks on Ukraine, at least 102 civilians have been killed, and 304 people have been injured, UN Human Rights Chief, Michelle Bachelet, told Sky News.
Seeking refuge, over 120 000 individuals – including South African expats – have fled their homes to neighbouring countries such as Romania, Moldova, Poland, and Hungary, to escape the devastation.
Olga, Kristina's mom, and many of her friends who have been unable to flee Kyiv have been staying at home, or living in their cars. Tanya, Kristina's sister, is currently looking after their grandmother, who is recovering from a stroke, in Lviv. They are evacuating to bomb shelters throughout the day to stay safe.
Overcome with worry for her family, friends, and the people of her country who are currently living in fear, unable to access resources, and who have been displaced or injured, Kristina is appealing to the world not to turn their backs on her beloved Ukraine.
"Every hour our soldiers are catching the rockets from Russia in the sky and it's very intense. It's only the beginning of this unforgivable war. People are staying in underground shelters with their little kids, pets, disabled parents. Some people don't have anywhere to escape to," says Kristina
"Putin ignores the fact that Ukraine has been a separate sovereign country since 1991 when the USSR collapsed. He still lives in the past and says that Ukrainians and Russians are "one". Human rights don't exist for Putin," she says.
Funding Humanitarian efforts
To assist humanitarian efforts in Ukraine and soften the impact of the crisis on the lives of ordinary people, Kristina has launched a crowdfunding campaign on, BackaBuddy, to benefit Nova Ukraine, a 501(c)3 registered non-profit organisation dedicated to strengthening civil society in Ukraine.
"Ukraine is not attacking anyone, and they never tried to expand their borders; My people are at home, protecting what belongs to them. We were born in Ukraine, and we are not going anywhere. Ukrainian people need all the support they can get at the moment," says Kristina
The fundraising target, which is expected to increase as more help is needed, has currently been set at R500 000 ($32,700), to help Ukrainian people and hospitals in need of essentials.
"This war is not only against Ukraine but against democracy and democratic values of the independent country which has its own traditions, language & borders, which was fighting for their rights to exist for generations. We can't just sit and watch while a catastrophe of this scale is happening in 2022. The only hope is for the world to hear us," says Kristina.
Support Ukraine by making a donation here: https://www.backabuddy.co.za/Kristina-Oliinyk-supports-Ukraine
Alternatively, donate via Snapscan: https://pos.snapscan.io/qr/KOSUkraine
Funds raised by this campaign will be transferred daily to Nova Ukraine.
BackaBuddy is a global, safe and secure fundraising platform, based in South Africa that accepts donations both locally and internationally.
Follow Kristina on Instagram for updates https://instagram.com/makeitbrightcapetown