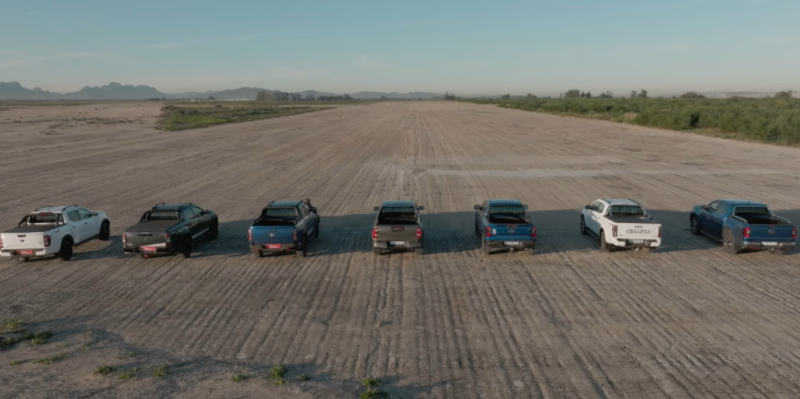 Epic bakkie drag race goes down to the wire – WATCH
Seven double cabs go head-to-head in an epic bakkie drag race. The result will blow you away! Our motoring friends at Cars.co.za have done what they do best and put together another epic bakkie drag race for us to enjoy. This one features a number of brand new, and fan-favourite double-cab bakkies on offer in […]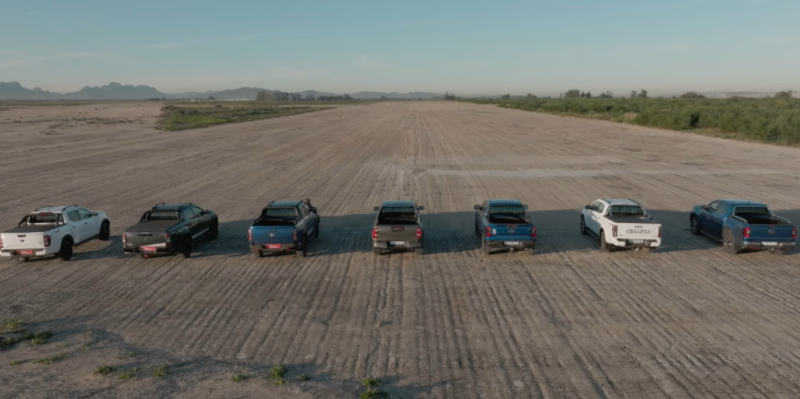 Seven double cabs go head-to-head in an epic bakkie drag race. The result will blow you away!
Our motoring friends at Cars.co.za have done what they do best and put together another epic bakkie drag race for us to enjoy.
This one features a number of brand new, and fan-favourite double-cab bakkies on offer in South Africa.
Which one of these bakkies will cross the finish line first? Skip to 3:30 in the video for the drag race itself.
EPIC BAKKIE DRAG RACE: WAIT WHAT?
The race features the latest Ford Ranger 2.0 BiTurbo XLT 4×4, Volkswagen Amarok 2.0BiTDI Style 4Motion, Toyota Hilux 2.8GD-6 Legend RS 4×4, Mitsubishi Triton 2.4DI-D 4×4 Xtreme, Isuzu D-Max 3.0TD LSE 4×4, Nissan Navara 2.5DDTi Pro-4X 4×4 and the recently introduced GWM P-Series 2.0 LTD 4×4.
ALSO READ: BMW looking to join the bakkie brigade
You won't find a better spread of double-cab bakkies going head-to-head anywhere in the world. That's why us Saffas really are an authority on pick-up trucks worldwide.
DOUBLE-CAB RECAP
However, the result of the epic bakkie drag race proves that power and torque isn't everything. Lightweight construction, a good transmission and fast reactions time are crucial if you want to cross the finish line first.
We actually would have loved to see multiple runs of the race to get a completely representative result. Nevertheless, credit where credit is due for the Mitsubishi Triton Xtreme, it showed some extreme performance in this instance.
ALSO READ: A Kia bakkie will be on sale by 2025
Here are the power, torque and kerbweight figures for each of the contestants:
Ford Ranger 2.0 BiTurbo | 154 kW/500 Nm | 2 284 kg
Volkswagen Amarok 2.0BiTDI | 154 kW/ 500 Nm | 2 132 kg
Toyota Hilux 2.8GD-6 | 150 kW/500 Nm | 2 029 kg
Mitsubishi Triton 2.4DI-D | 133 kW/430 Nm | 1 950 kg
Isuzu D-Max 3.0TD | 140 kW/450 Nm | 2 045 kg
Nissan Navara 2.5DDTi | 140 kW/450 Nm | 2 023 kg
GWM P-Series 2.0 LTD | 120 kW/400 Nm | 2 100 kg