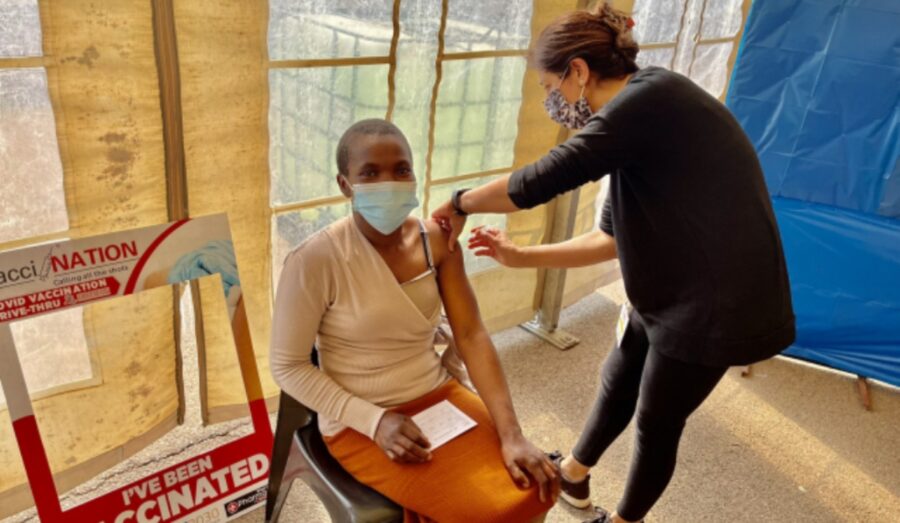 Minister Urges South Africans to Vaccinate as Fourth Wave Looms
Health Minister Dr Joe Phaahla has again urged all South Africans over the age of 18 to get vaccinated against COVID-19… as the country is expected to enter a fourth wave of the virus in November. In an update to the nation on the vaccination rollout, Dr Phaahla said: "We have opened [vaccinations] for everybody above […]
Health Minister Dr Joe Phaahla has again urged all South Africans over the age of 18 to get vaccinated against COVID-19… as the country is expected to enter a fourth wave of the virus in November.
In an update to the nation on the vaccination rollout, Dr Phaahla said:
"We have opened [vaccinations] for everybody above 18 years old. We urge everybody to please come forward so that we can all be protected. We know that it is almost accepted that somewhere towards the end of the year, we will have the fourth wave and we want to make sure that all South Africans are protected against that by taking the vaccination."
As of yesterday, 12 711 more COVID-19 cases were reported, with an increase of at least 357 more COVID-19 related deaths.
In the last 24 hour period, at least 265 484 more COVID-19 vaccines were administered, inching ever closer to the target of 300,000 per day.
Improvement in male uptake of vaccines
The minister said despite early indications of vaccine hesitancy, the male population has now begun to take up inoculation.
"As of yesterday, the female vaccinated population was 58.5% and the male was at 41.5%. So there's an improvement on the male uptake, which we really encourage.

"The last seven days have shown that as a country, we do have the capacity to administer vaccines and we do have the necessary supplies."
At least 1.5 million doses of either the Johnson & Johnson and Pfizer vaccines were administered over the past week.
A total of 8.8 million South Africans have received at least one vaccination, with 5 450 000 fully vaccinated.
Third wave lingering
Phaahla raised concern that the third wave of the virus is taking longer to subside than the first two, which could be harmful to health services with the fourth wave looming:
"The third wave is dragging for longer. Sometimes it looks like there will be a steep downwards [trend] and then it rises again. In the absence of new variants, what this means is that many of us are not observing the prescribed precautions.

"The risk of this is that by the time the fourth wave comes – which is predicted to come around sometime in November, possibly driven by a new variant – it may find us still at the tail end of the third wave, which will mean that our health facilities and our health workers would not have had much rest. This is something that is worrying and we urge all South Africans to observe the known protocols."
Herd immunity and fewer mutations through vaccination
The Minister said the virus may still be a factor in the near future and the best solution is to achieve herd immunity through vaccination.
"It's going to take some time and there's going to be a number of waves but what we are told and what seems to be the route to go is that the more we cover in vaccinations, the fewer mutations and if there are fewer mutations and less viral loads of this COVID-19, then there will be fewer waves coming."
Vaccines: The Ethical Dilemma
Globally, the move towards shifting the burden of the pandemic onto the unvaccinated is growing. In France, for instance, a lockdown is being averted with the use of a 'Health Pass' by which entrance to restaurants and cinemas etc. is restricted to those who've been vaccinated or have a negative PCR test, or have an antibody test that shows they had Covid in recent months. The attitude is that those who've been vaccinated should no longer be suffering Lockdowns and restaurant closures because of those who won't.
But, Carte Blanche asks this weekend, are we looking at a future wherein the unvaccinated will be marginalised? And how do we balance the freedom of individuals with the rights of society at large? France has tried to overcome this by not restricting the Health Pass to only the vaccinated. Citizens (or visitors to France) can take a PCR test which lasts 72 hours; and those who have natural immunity – because of having been infected – are also able to show their proof. However, there have still been weekly protests.
As Carte Blanche says, when the pandemic hit, the world cried out for a vaccine. Within a year, medical experts produced a variety of COVID-19 vaccines which have shifted the outlook for COVID-19's stranglehold on the globe – but only if a critical percentage choose to get jabbed. Are mandatory vaccinations the answer to get the world back to a pre-COVID norm, or do individuals who choose not to be vaccinated have a legal right to opt out?
Watch Carte Blanche on Showmax International overseas from Tuesday | Watch in SA on DStv Now on Sunday