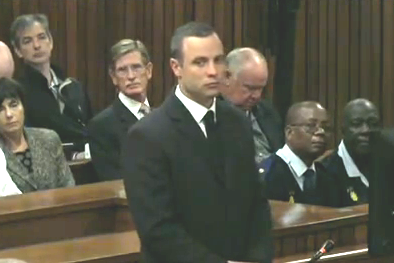 Oscar: the Final Countdown
CONSIDER YOUR VERDICT With only days to wait for the verdict of what some have dubbed the trial of the century, the undoing of Oscar Pistorius continues to make headlines in media around the world. Oscar admitted at the start that he shot and killed his girlfriend Reeva Steenkamp in the early hours of Valentine's […]

CONSIDER YOUR VERDICT
With only days to wait for the verdict of what some have dubbed the trial of the century, the undoing of Oscar Pistorius continues to make headlines in media around the world.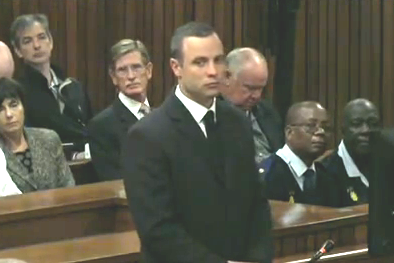 Oscar admitted at the start that he shot and killed his girlfriend Reeva Steenkamp in the early hours of Valentine's Day 2013, but denied the charge of murder against him. According to Oscar he mistakenly believed there was an intruder in his four-bedroom luxury home, located in the gated, high-security Silver Woods Estate in Pretoria.
In the five months since the trial began, we've eavesdropped on the experts in their fields, heard testimony from witnesses for the state and for the defence, and watched the protagonist watching proceedings in Judge Thokozile Masipa's courtroom.
Contrary to expectation, interest in the trial of the prosthetic-limbed track star affectionately (at the time) nicknamed the Blade Runner hasn't diminished. Despite a trial interrupted by numerous breaks in proceedings, which included a month-long stint of evaluation of Oscar's state of mind where he was found to be able to distinguish right from wrong, we're not going anywhere until we know the verdict.
A month ago we heard closing arguments from both sides as each advocate was afforded uninterrupted time to convince the court of Oscar's innocence or guilt.
In essence, prosecutor Gerrie Nel didn't believe a word Oscar said and was scathing towards him as he picked away at Oscar's testimony, and challenged the defence's version of the couple's relationship. Citing a WhatsApp message Reeva sent to Oscar as proof she was afraid of him, Nel surmised that on the night in question the couple had a heated argument, which resulted in Oscar deliberately firing four shots at her through the closed bathroom door.
Leaving no room for misinterpretation, Nel reiterated the state's view that Oscar is guilty of murder. Nel said this conclusion was informed by the fact that Oscar had time to reflect on his actions while he fetched his gun and walked towards the bathroom. And even if Oscar's version were true, he "intended to kill a human being."
Defence lawyer Barry Roux argued that Oscar should be acquitted because he lacked criminal capacity and he lacked a motive to kill Reeva because the couple had a loving relationship. Explaining Oscar's violent reaction towards an intruder, Roux said his client's lifelong disability made him comparable with an abused woman who snaps and kills her husband after years of abuse. The judge questioned his analogy and Roux responded that a "slow burn" of insecurities had built up Oscar's response to perceived danger.
The judge listened intently to two days of legal argument and then announced there would be a month-long court recess for her and her assessors, Janet Henzen-Du Toit and Themba Mazibuko, to consider their verdict.
***
The Oscar Pistorius trial for the murder of Reeva Steenkamp, his girlfriend of three months, is undoubtedly the story of 2014. Global interest in the Olympic athlete with prosthetic legs outstripped even the death of our world-revered former President, Nelson Mandela, in December 2013.
This week on 11 September, Judge Thokozile Masipa will deliver her verdict.
***
This tragic tale of Reeva's death and Oscar's undoing began last year, when in the early hours of Valentine's Day, the day romantics traditionally express their love for each other, Oscar shot Reeva through the bathroom door of his double-storey Pretoria abode.
A nation almost inured to violence and loss of life was in shock. "How can this be?" we asked, "there must be a mistake."
It wasn't long before Oscar's version of events emerged. The killing was a terrible accident. In his mistaken belief there was an intruder in his house, he grabbed his gun and walked towards his bathroom, where he fired four shots through the door.
In no time, the protection afforded the rich and famous kicked into place while Oscar's fans and detractors took sides via the social networks, regardless of the skimpy facts.
With the trial slated to begin in Pretoria High Court on March 3 this year, Judge Dunstan Mlambo, Judge President of the Gauteng Division of the High Court of South Africa, made legal history when he ruled that court would be opened to the media. Explaining his decision to allow the installation of small, fixed cameras to broadcast the opening and closing arguments of the lawyers, the evidence of experts, and the judgment and sentencing comments made by the trial judge, Mlambo said that it would go "a long way" to dispelling the perception that the rich and poor were treated differently by the country's justice system. Making provision for witnesses to remain off-camera, Mlambo permitted audio broadcasting of the entire trial.
While the armchair jury is still out on his decision – and no doubt the defence is hard at work preparing a possible appeal argument that the public broadcast prejudiced their client – for this observer, the Oscar Channel on DSTV was an addictive alternative to the real thing.
It made experts of amateurs and it was the subject of dinner table conversations everywhere. "We ought to be ashamed of ourselves, it's a media circus," opined some while others took the view that "it's the best thing to happen to justice in our divided society".
In the past five months, we've watched 41 days of court proceedings. We were privy to Oscar listening to testimony; we've seen him blank-faced, shell-shocked and emotionally distraught and vomiting into a bucket.
With him, we've seen the experts and the blunderers at work. Leading the stars in our legal firmament is the softly spoken Judge Masipa, who listened intently to all who stood before her, only speaking out when absolutely necessary to protect and keep the law foremost in all proceedings.
The advocates on opposing sides showed their equal worth as they played all their cards. Who scored more points, we are still asking – was it Barry Roux and his team for the defence? Or was it Gerrie Nel and his team for the state?
Judge Masipa has a reputation for being tough on gender offenders, but legal experts point out that she and her handpicked assessors will be guided only by the law and by what was presented in court.
And as we gather round our televisions on Thursday, it's inevitable some will take issue with her judgment, whichever way she rules. I just hope that the amateur know-it-alls are able to take her decisions in their stride and to resist attacking the judge, her verdict and the legal justice institution.
After all, Judge Masipa is not the offender.
Judge Thokozile Matilde Masipa is known for her commitment to making justice accessible to all.
Her quiet authority in court juxtaposed with our limited knowledge of her outside the courthouse, has made her a mysterious and powerful figure in this case that has captured the public's imagination.
A latecomer to her legal career, Masipa graduated with a degree in social work, a career she pursued until a few years later when she moved into journalism. Among the positions she held on publications including The World, Post and the Sowetan was that of crime reporter, which many believe informed her decision to study law. Aged 43, she obtained an LLB from the University of South Africa and was admitted as an advocate in 1991.
In 1998, she became only the second black woman judge appointed to the High Court.
The judge is married to a tax consultant and the couple has two children.