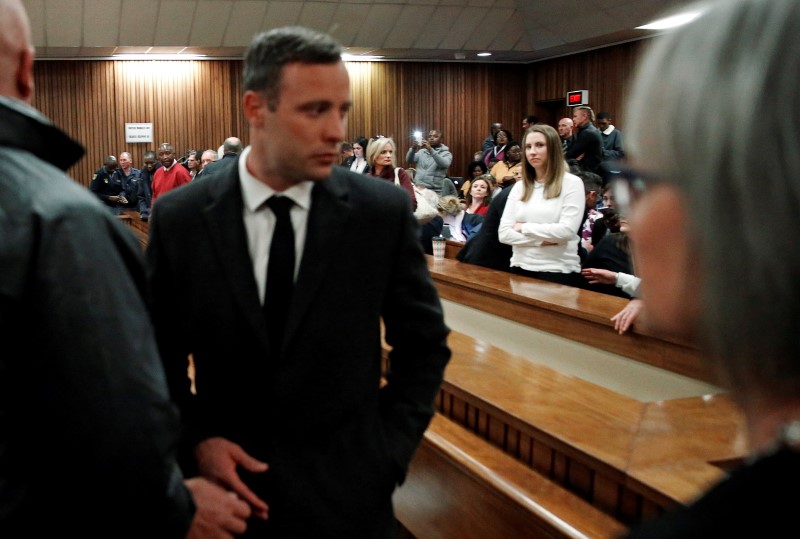 Oscar Pistorius to get 24-hour police protection if parole granted – report
Just weeks after the murder of South African rapper AKA – allegedly by hitmen – police reportedly fear the same fate awaits convicted killer Oscar Pistorius, should he be granted parole later this month. The former Paralympian has been granted the opportunity to file a parole application after serving more than half of his 13 […]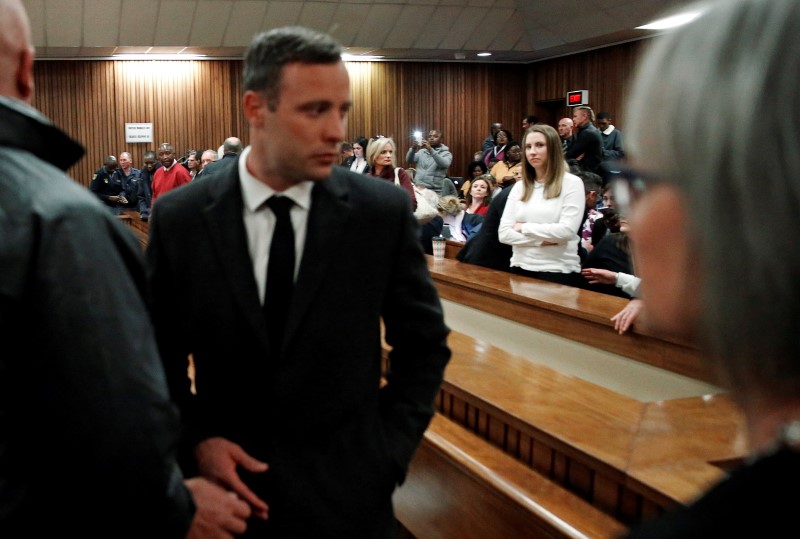 Just weeks after the murder of South African rapper AKA – allegedly by hitmen – police reportedly fear the same fate awaits convicted killer Oscar Pistorius, should he be granted parole later this month.
The former Paralympian has been granted the opportunity to file a parole application after serving more than half of his 13 years and five month sentence for the murder of his girlfriend, Reeva Steenkamp.
The decision has been strongly opposed by Reeva's parents who claim the 35-year-old is "not remorseful".
With threats from "underworld gangsters and contact killers" hanging over his head, Pistorius will likely be granted 24-hour police protection, revealed a police source.
Oscar's parole attempts come a decade after he shot and killed Reeva Steenkamp on 14 February 2013.
ALSO READ: Last Valentine's Day behind bars: Pistorius now eligible for parole
PAROLE APPLICATION TO GO AHEAD
This week, Oscar Pistorius's attorney Julian Knight confirmed that a parole hearing would take place on Friday, 31 March 2023.
According to South African law, offenders become eligible for parole after serving half their sentence.
The parole hearing does not necessarily mean the offender will be granted an early release. It does mean that the offender will be considered.
ALSO READ: 'Forgave him, take it back': Reeva's parents reject Pistorius parole
Pistorius's parole application will include testimonials from prison officials, social workers, and psychologists following his stay at Atteridgeville Correctional Facility where he's spent most of his sentence.
Pistorius was convicted of culpable homicide in October 2014 after the Valentine's Day tragedy for which he was handed a six-year prison sentence.
This was later upgraded to murder in December 2015 with the Supreme Court of Appeal increasing his jail term to 13 years and five months.
ALSO READ: 'I didn't say I forgive you': Reeva's dad details Oscar Pistorius meeting
POLICE PROTECTION: WILL HITMEN AVENGE REEVA'S DEATH?
Meanwhile, MailOnline reports that Oscar Pistorius's parole bid may see retaliation from "gangsters and contract killers" hired to avenge Reeva Steenkamp's death.
This follows Pistorius's conflict with the late Bafana Bafana soccer star Marc Batchelor, whom the former accused of having an affair with Reeva during their relationship.
During the murder trial, Batchelor testified how Pistorius threatened to "break both his legs" following an altercation.
ALSO READ: 'Trustworthy, positive': Why officials claim Oscar Pistorius deserves parole
According to reports, Batchelor had connections with the underworld and was even linked to controversial businessman Brett Kebble's convicted killer and hitman Mikey Schultz.
In a twist of events, Batchelor was shot and killed in 2019 in what was believed to be a hit. No arrests have been made.
ALSO READ: 'I don't want to see him': Reeva's mom refused Oscar Pistorius parole meet
PISTORIUS 'THREATENED' UNDERWORLD GANGS
An anonymous police source told MailOnline: "Pistorius killed a young woman, and that in itself is a major no-no as far as Johannesburg's criminal fraternity is concerned.
"He had also threatened Batchelor, who still has many friends in the city and who have a huge distaste for Oscar Pistorius".
ALSO READ: Tears, triggers & 'tampering': Bombshells from Reeva, Oscar doccie
The source claimed that authorities were obligated to protect Pistorius and offer assistance to his family in keeping him safe upon release.
The source continued: "The police do not, of course, have any liking of murderers but they deserve full protection from any harm, and that is what he will be given.
"South Africa cannot afford to have any more violence connected to Pistorius and police will work very hard to ensure his safety.
"'We have received information that there are people who say he deserved to pay for killing a young woman."