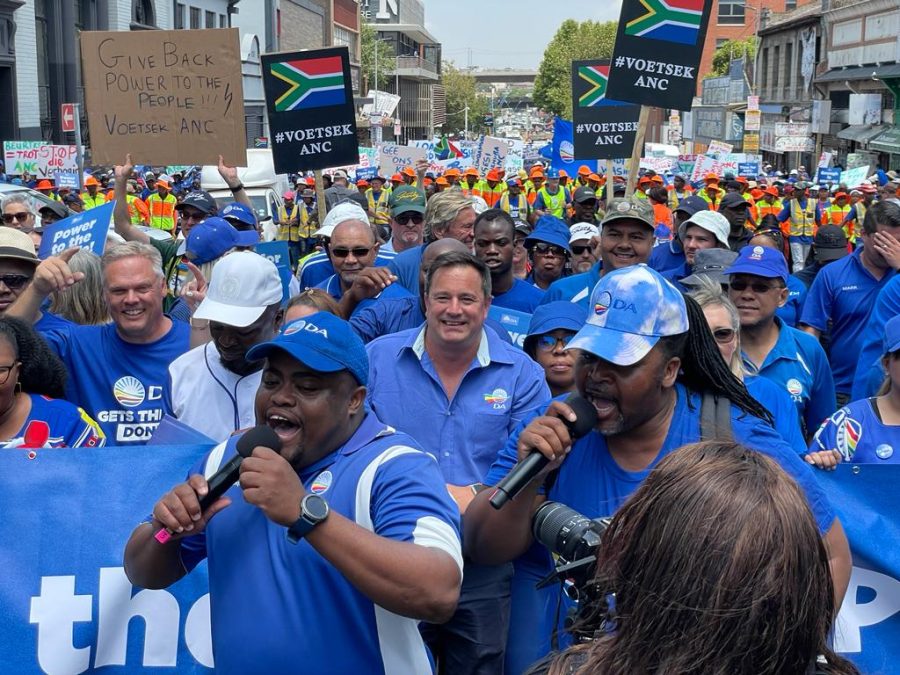 Rob Hersov Tells ANC to 'Voetsek' at Power to the People March in Johannesburg
Invest Africa CEO Rob Hersov had the crowds chanting 'Voetsek ANC, Voetsek Luthuli House' today (Wed 25 Jan), as South Africans joined DA Leader John Steenhuisen in the Power to the People March to the ANC's headquarters in Johannesburg. Steenhuisen said it was inspiring to see so many people who "still have the spirit for […]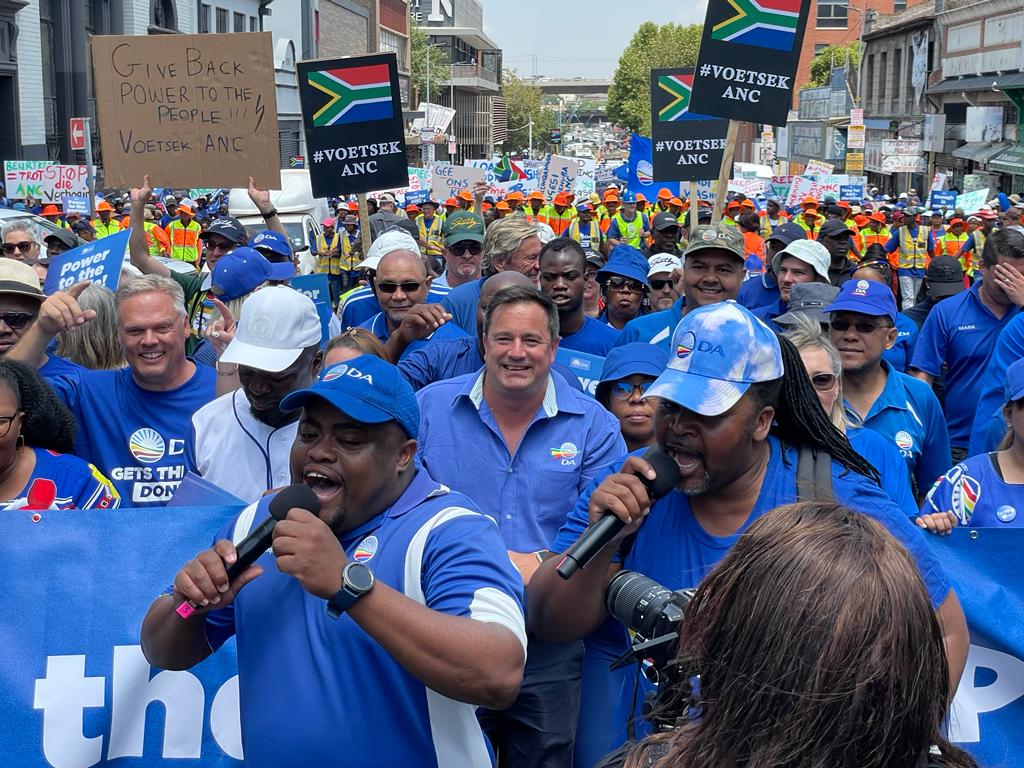 Invest Africa CEO Rob Hersov had the crowds chanting 'Voetsek ANC, Voetsek Luthuli House' today (Wed 25 Jan), as South Africans joined DA Leader John Steenhuisen in the Power to the People March to the ANC's headquarters in Johannesburg.
Steenhuisen said it was inspiring to see so many people who "still have the spirit for this fight" and that if South Africans kept that spirit alive, the problems could be overcome.
We have to restore power to the people before the situation explodes into chaos.
He warned that the energy crisis "threatens to derail not only our fragile economy, but our entire project South Africa. Because if we don't solve this problem soon and end load-shedding for good, our society will start falling apart… We have to restore power to the people before the situation explodes into chaos."
He said the march was about taking back the power from "a small elite" and placing it in the hands of the people of SA.
Luthuli House is ground zero of electricity crisis
Steenhuisen said the reason the march headed to Luthuli House and not Parliament or Eskom's Head Office is "you need to go straight to the source. And that building there, Luthuli House, is ground zero of our electricity crisis.
"That is where the destruction of Eskom was engineered through terrible, outdated policy, through disgusting greed and corruption and, above all, through the deployment of useless and often criminal cadres to the state power utility.
"Almost every single problem that has beset Eskom and has brought about 15 years of load-shedding can be traced back directly to the ANC's cadre deployment programme.
"By their own shameless admission, the intention of cadre deployment is to control every single aspect of the state from inside those party headquarters across the street… That is a blatant violation of the very first principle of our democracy: the separation of party and state. And they've never even tried to hide this.
"What you see happening to Eskom now – the looting, the purge of skilled staff, the neglect of infrastructure and the complete lack of a long-term plan – is the only way cadre deployment could ever unfold."
WATCH Rob Hersov telling the ANC to 'voetsek'
Businessman Rob Hersov echoed his sentiments, and whipped the crowd into a 'Voetsek ANC, Voetsek Luthuli House' frenzy. He didn't hold back on his sentiments about President Cyril Ramaphosa either. Watch here:
Rob Hersov, outside Luthuli House , told the ANC to "voetsek"
He called Ramaphosa a disgrace who should resign.#PowerToThePeopleMarch #DAMarch pic.twitter.com/dc1aTKzB5Q

— MDN NEWS (@MDNnewss) January 25, 2023
Alleged looting around SA's 2 largest coal power stations
Steenhuisen said: "Most of you will know about the looting that took place – and still continues to take place – around the construction of South Africa's two largest coal power stations, Medupi and Kusile. But it is worth repeating, now that we are standing at the very scene of the crime.
"When those power stations were being planned, the ANC's front company, Chancellor House, bought a stake in Hitachi Power Africa, and then quickly made sure Hitachi would get the mega-contract worth billions of rands to supply the boilers to those two stations.
"It was reported all the way back in 2015 that this deal gave Chancellor House – or let's just call them what they are: the ANC – a staggering 5000% return on their investment. That's a massive profit on the back of crooked contracts. And that wasn't a government profit, or an Eskom profit. That was purely an ANC profit.
"Today, fifteen years after those corrupt boiler contracts were awarded, these stations are still not fully operational. As we speak, Kusile is facing critical structural threats and has five of its six units out of commission.
"Those two enormous coal stations were meant to solve all our energy problems, and nothing else was added to the grid in the meantime. But thanks to the greed, incompetence and ancient Cold War-era worldview of the cadres in that building, Eskom now produces less power than it did before it started building them.
"That's why load-shedding has steadily increased every year for the past five years, instead of getting less.
"That's why we had 200 days of power cuts last year.
"That's why you now have to deal with Stage 6 load-shedding, week after week and have been told to expect permanent power cuts for at least the next two years.
"And that's why you are expected to pay 19% more from April for the little electricity you receive, plus another 12% next year. You have to pay more to make up for their corruption, incompetence and failed policies.
"That is the price of cadre deployment. That is the price South Africa has to pay for the party in that building.
Ramaphosa and ANC ministers don't get loadshedding
"But I'll tell you who doesn't have to deal with Stage 6 – or any stage for that matter – and who won't have to worry about any tariff increases. President Ramaphosa and his cabinet of pampered ANC ministers, that's who," said the DA leader.
"You see, while they've made you pay for their failures, they have exempted themselves from all these consequences. ANC ministers don't get load-shed at all at their official residences. And why not, you may wonder? Apparently, because they are so important that they need to have power 24/7.
"We are told that their need for uninterrupted electricity is in fact more important than that of hospitals, old age homes, businesses, schools or any of the things that keep our economy afloat and our people alive. In addition, these pampered ministers all have generators purchased for them by Minister De Lille's department and paid for by you, and she has given them hundreds of thousands of rands worth of free diesel to run their free generators.
"And when Nersa says you must pay 19% more and then another 12% more, on top of the 650% increase you've already paid these past 15 years, they don't care. Because they don't even pay for their electricity. You do, for all of it. So why would these ministers feel any urgency to fix a situation that doesn't affect them at all?
"And why would the people inside that building stop doing what they've been doing all these years when it's been so rewarding for them? Why would they stop deploying crooks to Eskom who let the party get rich off Medupi and Kusile? Why would they stop deploying the crooks who let the Guptas plunder Eskom for years?
"And why would they stop deploying the crooks who still want to tie South Africa to the Russians for decades in a nuclear deal? They won't change a thing, because enrichment is the only reason they're in government."
Steenhuisen called on South Africans to take part in "the most important election any of you will ever vote in" in 2024, saying "if we want to end load-shedding, we have to start ANC-shedding".
He advised South Africans to be aware of political tricks: "Don't be fooled if they run the diesel turbines for weeks around elections to temporarily halt load-shedding. Don't be fooled if Stage 6 suddenly becomes Stage 2."
Not long after the march, a deaf – or incapable – Eskom announced that some areas in Johannesburg would see their loadshedding increase from Stage 3 and 4 to 4 and 5!
The ANC Youth League were there to 'welcome' their guests…
[WATCH] A man carrying a placard saying 'No Power No Future' was spotted at Luthuli House. ANCYL members took it from him and destroyed it. #PowerToThePeopleMarch #Newzroom405 pic.twitter.com/b8xCnPzxRk

— Newzroom Afrika (@Newzroom405) January 25, 2023
POWER TO THE PEOPLE

Today will go down in history as the day the battle lines were drawn. A day where South Africans spoke out against an uncaring government. #PowerToThePeopleMarch pic.twitter.com/1XoYNucdUR

— Nicholas Nyati🇿🇦 (@NicholasNyati) January 25, 2023