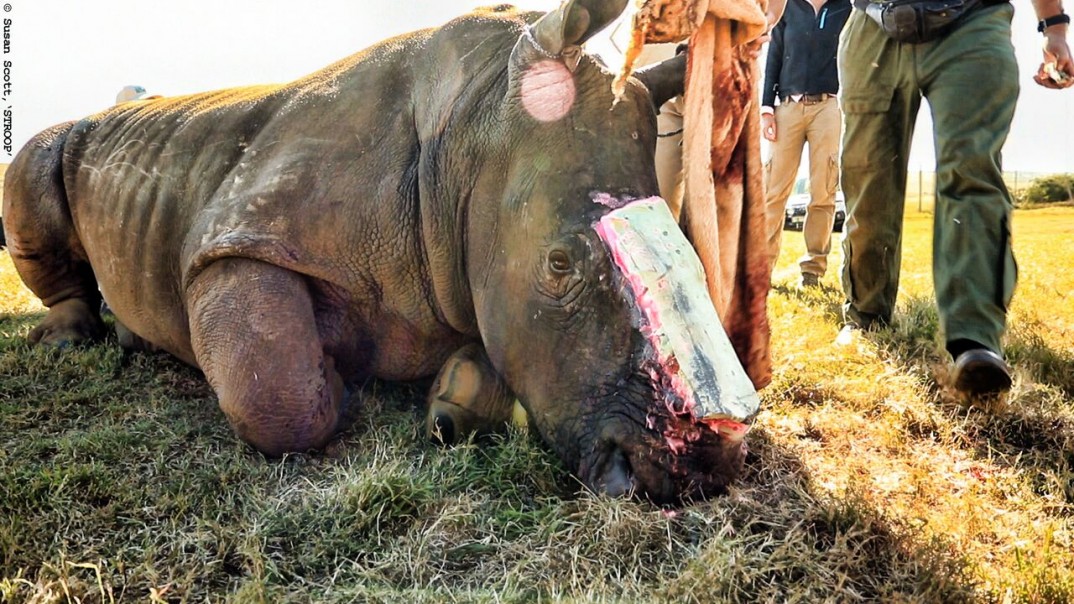 Hope for Poached Rhino Called Hope – a 'STROOP' Update with Photos
A rhino called 'Hope' is making headlines around the world since she survived a brutal poaching attack, and against all odds, continues to live. Wildlife television presenter Bonné de Bod, along with cinematographer Susan Scott, is currently making 'STROOP' – the Afrikaans documentary feature film (with English subtitles) on the rhino poaching crisis. The filmmakers were […]

A rhino called 'Hope' is making headlines around the world since she survived a brutal poaching attack, and against all odds, continues to live.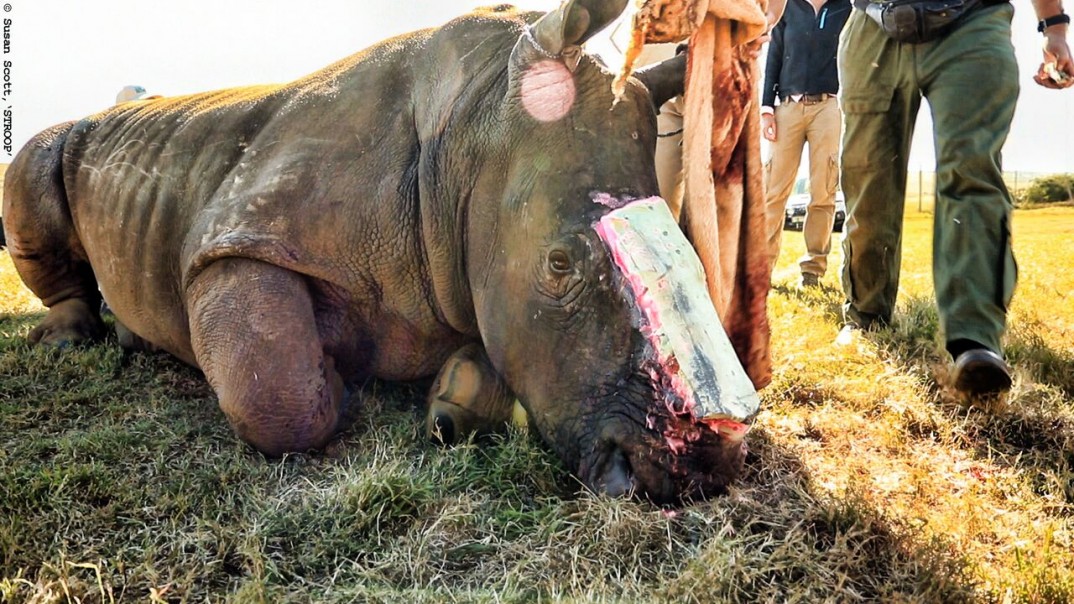 Wildlife television presenter Bonné de Bod, along with cinematographer Susan Scott, is currently making 'STROOP' – the Afrikaans documentary feature film (with English subtitles) on the rhino poaching crisis. The filmmakers were at the scene last week when Hope underwent her fourth operation.
Bonné talks to SAPeople about seeing 'Hope' for the first time…
What actually happened to 'Hope'?
Hope is a four-year old rhino cow who was living on a wildlife reserve called Lombardini in the Eastern Cape. Just over five weeks ago she was darted with a tranquilizer by poachers and her horn was brutally taken from her. Most of her face was cut away and she was left to bleed to death. She was found days later…
Unbelievably, she was still alive but severely injured with her face mutilated.
Why was she anesthetized and not shot when she was poached?
I don't know. But that also happened to Thandi, Thembi and Bull 3, three other rhino survivors here in the same area and it's also happening around South Africa.
[quote_center]"…it's puzzling because M99 is the drug used and it is only available to vets…"[/quote_center]
Obviously, this method is quiet because no gunshot is heard by the anti-poaching units but it's puzzling because M99 is the drug used and it is only available to vets…
And while I'm not saying vets are involved here…the question needs to be asked: How did these poachers get this highly controlled drug? And more importantly…white rhinos are partially awake when they are immobilized so they FEEL and HEAR while this horrific thing is happening. What kind of human being does this?
So where is Hope now and who is taking care of her?
Hope is being taken care of by Dr Johan Joubert and his team at a wildlife rehabilitation facility run by Born Free and Shamwari Game Reserve.
One of the aspects we are looking at in the film is the role vets play in this poaching crisis…some of the vets we're filming for 'STROOP' belong to an incredible team called 'Saving the Survivors'. They have done several operations on Hope, and I was there a few days ago to witness her fourth operation.
Wow, what did you feel when you saw her?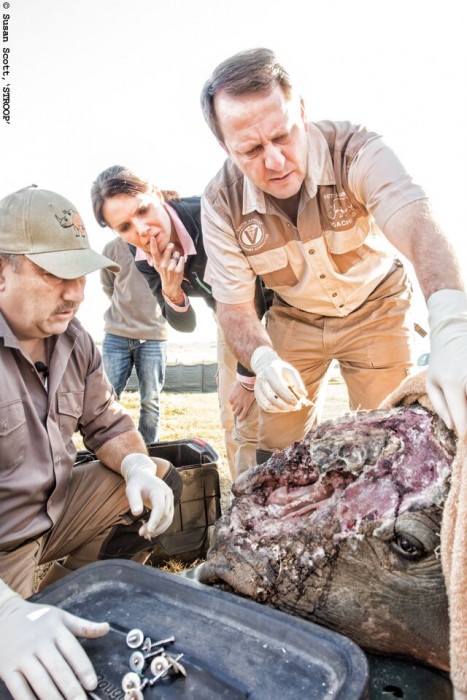 Well, I walked out on to the gantry with Dr William Fowlds who was going to dart her and there she was…calmly walking around but very aware of us.
[quote_center]I felt so privileged to be making eye contact with this animal who has been made ugly by human greed but has become so beautiful because of her desire to live.[/quote_center]
I stood behind William taking all of her in. I felt so privileged to be making eye contact with this animal who has been made ugly by human greed but has become so beautiful because of her desire to live.
Pictures of her horrific injuries and progress updates of her operations have been shared all over the world and she is now a social media phenomenon, so I kept looking at her wondering if she had any idea of how many thousands and possibly millions now know the rhino called 'Hope'.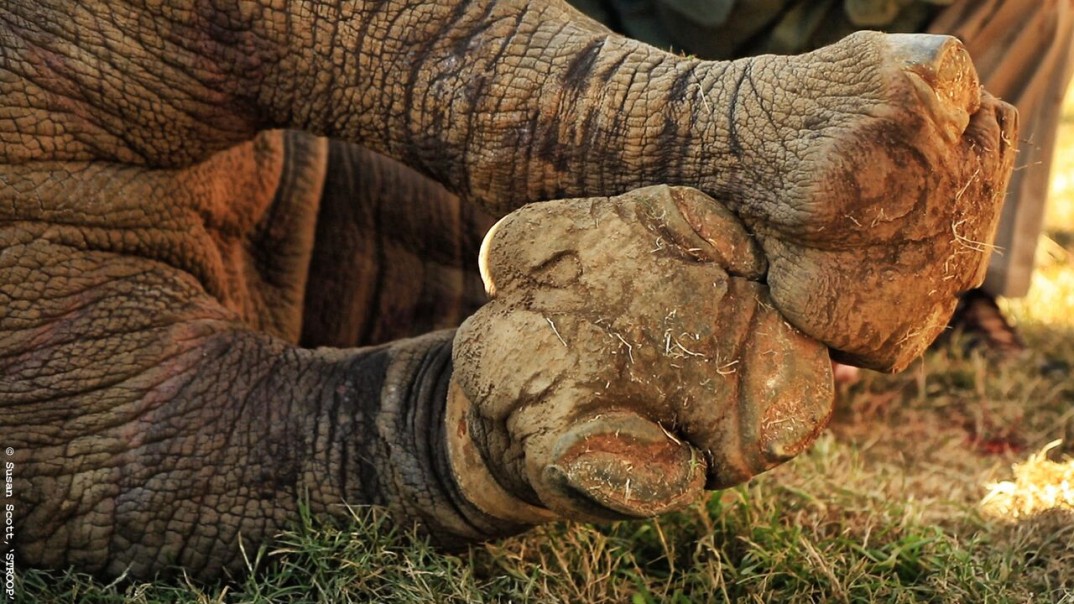 And when you saw her wound?
Well…nothing can prepare you for that. You can look at photos and feel a pull in your stomach at the brutality and how painful that must be for her…
But when you smell the fresh tissue and blood…when you hear her breathing through that mangled mass and you turn to look at what's left of her face and she looks at you and then blinks… Wow. You can't explain that. And that's my job…to explain to people who can't be there what this is…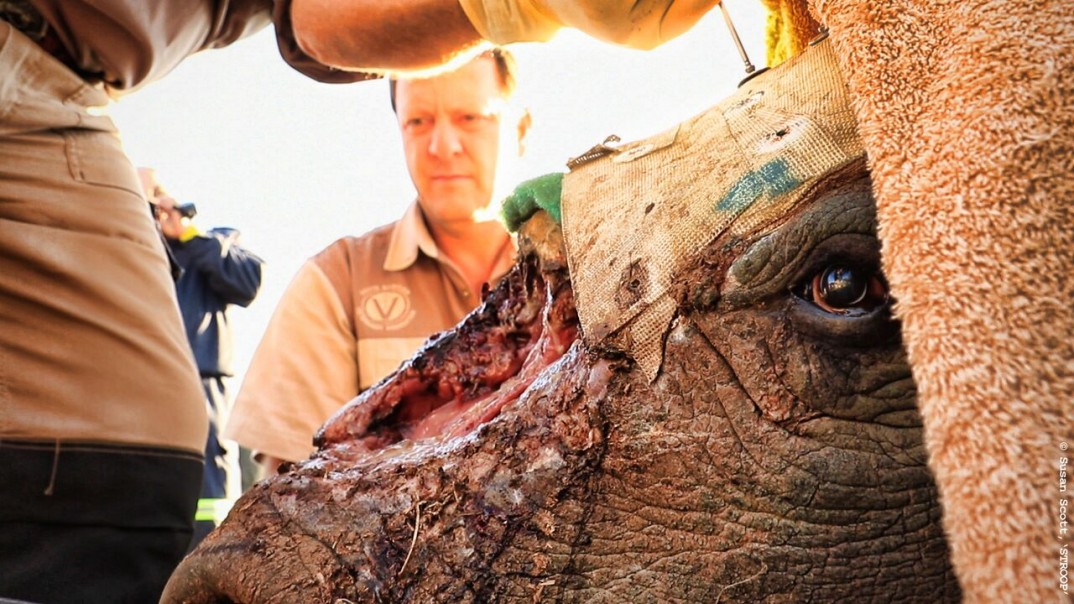 How do you do that when there aren't words made for this?
How did her operation go?
It was a success judging by how relieved and pleased the Saving The Survivors team was. I have seen the team work before, and it's amazing to see the groundbreaking stuff they are doing.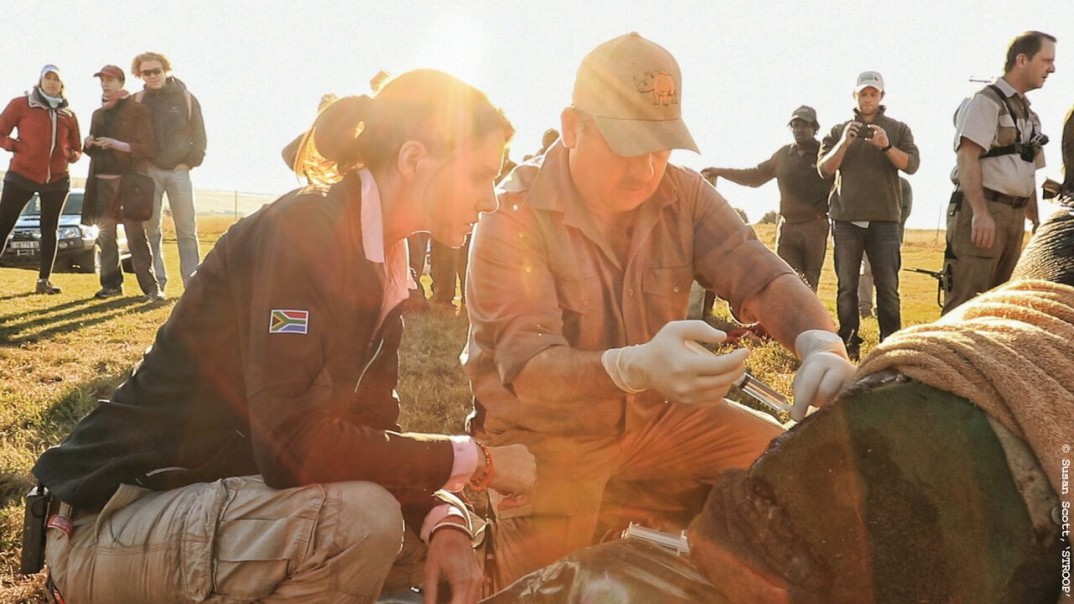 Early on in the procedure, Dr Johan Marais showed me the nerve block procedure which they do. This they pioneered on preceding survivors by injecting a local anesthetic into a facial nerve on either side of the jawline as soon as the rhino lies down. This helps the patient cope with the pain and without it, Johan said, that the rhinos quite literally stand up from pain when the vets are working.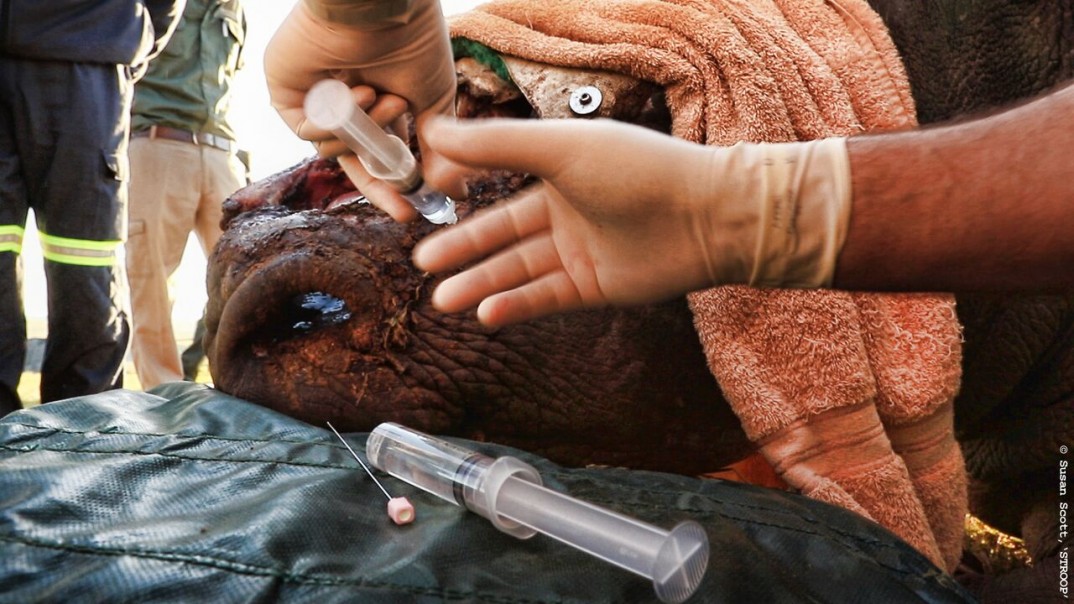 Dr Gerard Steenkamp is a veterinary maxillo-facial specialist and sitting just behind Hope's left ear, I watched him weave stainless-steel surgical wires through what's left of Hope's nasal cavities. It clearly was a tough job getting through everything, but also delicately. About ten minutes in, his fingers and arms were shaking from the strain and he still had quite a way to go.
He spent a long time sewing to get these wire whiskers for Hope. The Saving the Survivors team do this because there is no bone left at the front of Hope's face on which to attach a wound protecting shield… only a small piece of her shattered nasal bone is left at the top.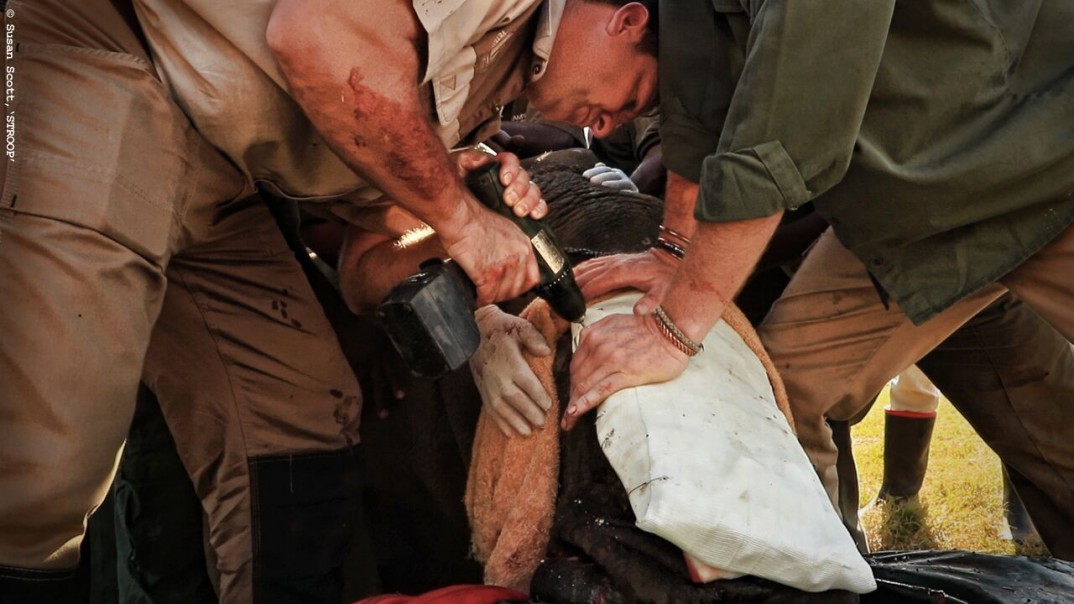 The vets' work on previous survivors has also shown that they have to cover the wound…which they have been trying to do on Hope's three previous ops, but the shield keeps working lose. It's a foreign object for her and her wound is healing so it must be itchy, which is why she scratches and bangs it.
For this fourth procedure they now decided to use a thin metal shield backed by fiberglass. Once held by the surgical whisker wires, the vets drilled screws into Hope's remaining nasal bone to bolt the shield in place.
The whole procedure took just under three-hours and we filmed every bit of it.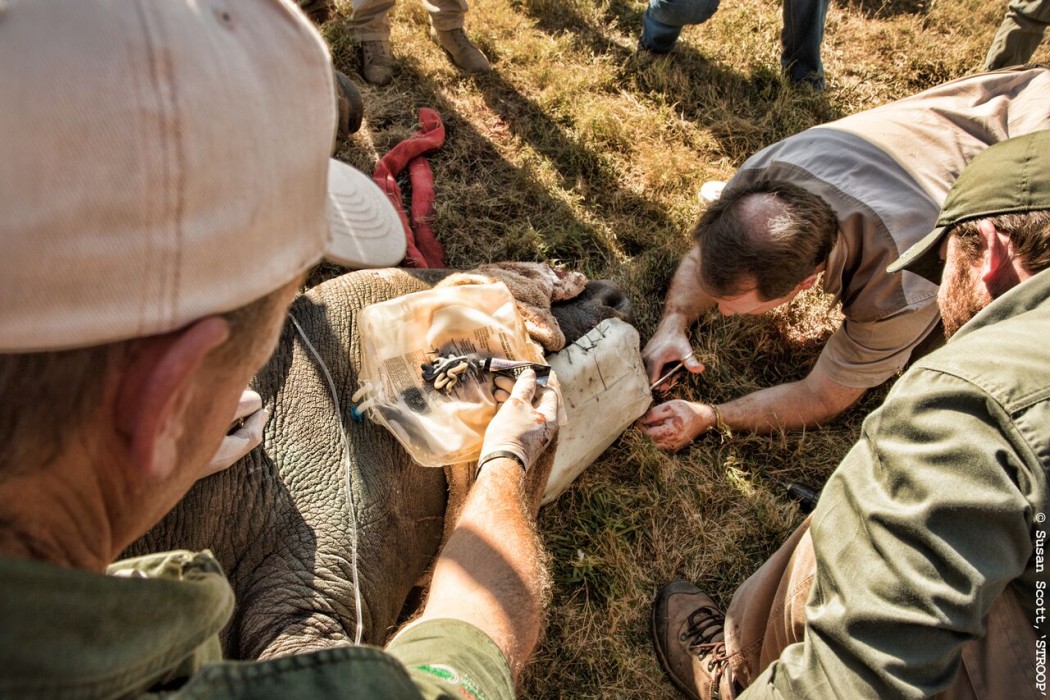 How is 'Hope' doing now?
Well, it's been a few days since the operation and I've just heard that she is doing incredibly well. She seems to be calmer and the shield is holding. She doesn't bang this new shield and she is walking about outside her boma. She only goes inside to eat her dinner.
She's eating and drinking… so all signs point to her getting better. How amazing is that!
We first ran an article on 'STROOP' in August last year (and many wonderful SAPeople followers supported Stroop's crowdfunding campaign). We can't wait to see the film…when will it be released?
I can't wait either!! Seriously though…myself and Susan have been filming for well over a year… and we still have much to film. Some people closely invested in the rhino issue have warned us that we will never stop filming because there is just so much… but we have to get this story done and out to the public who need to know what is happening.
So, while we are still filming, we are also in edit now and we have the end of the year as our deadline. We are taking this film to international film festivals early 2016 and thereafter releasing it in South Africa.
Well…that's the plan!
MORE INFO
For progress on the film and regular updates please 'LIKE' the film's facebook page:
Watch Video – STROOP Trailer:
[vc_button title="STROOPDieFilm on FB" target="_blank" color="default" size="size_large2″ href="http://www.facebook.com/stroopdiefilm"]