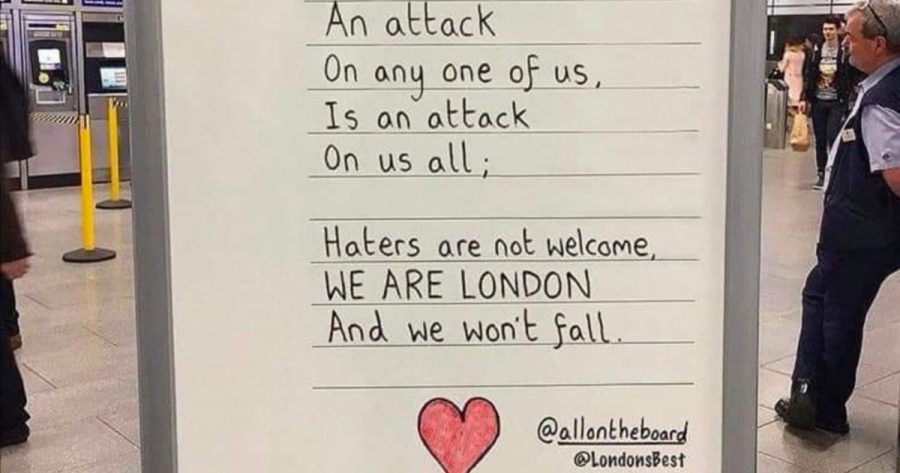 Praise Pours in for London Bridge Heroes After Fatal Stabbings
The "extraordinary bravery" of ordinary Londoners who bravely took on a knife-wielding attacker on Friday afternoon and wrestled him to the ground on London Bridge, after he had fatally stabbed innocent members of the public, has been highly commended all round. The passersby – six to 10 of them – can be seen in a […]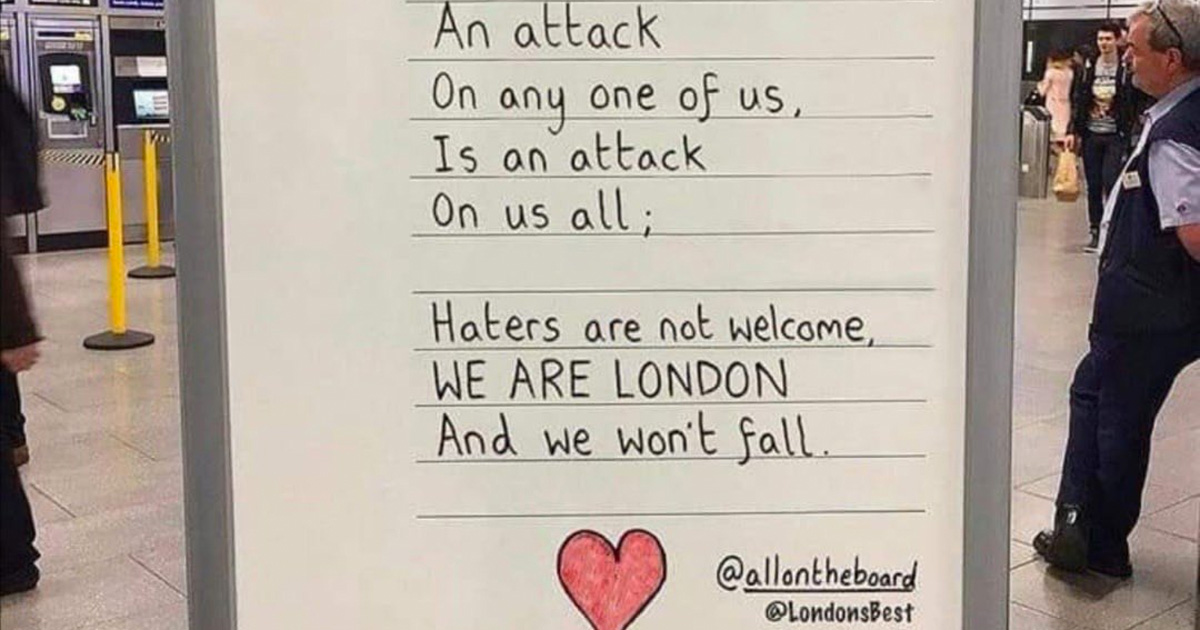 The "extraordinary bravery" of ordinary Londoners who bravely took on a knife-wielding attacker on Friday afternoon and wrestled him to the ground on London Bridge, after he had fatally stabbed innocent members of the public, has been highly commended all round.
The passersby – six to 10 of them – can be seen in a video surrounding the attacker and pinning him to the ground, with one civilian managing to get the long-bladed knife from out of his clutches. There's another who remains, holding the attacker down until the police arrive, risking his own life rather than fleeing to safety.
Shortly afterwards the lone knifeman – who was wearing a fake suicide vest – was fatally shot by police.
The attacker's stabbing rampage began just after 14h00 on Friday 29 November, targeting people at Fishmonger's Hall at the north end of the bridge, in the heart of the city's financial district, the same location as a deadly attack by Islamist militants two years ago.
Friday's attacker stabbed two people to death, and injured three others… before the passersby bravely pounced on him to prevent further bloodshed.
London Mayor Sadiq Khan praised the passersby for their "breathtaking heroism" in disarming the attacker despite him having a device which they did not know to be a hoax.
Actor David Schneider said: "So inspiring in these troubled times that there are people brave and selfless enough to risk their lives and intervene to save others. Such a wonderful response to those who want to divide us. #LondonBridge"
Prime Minister Boris Johnson praised the police and emergency services for their bravery in "going towards danger" as they always do… and added: "I also want to pay tribute to the extraordinary bravery of those members of the public, who physically intervened to protect the lives of others.
"And for me they represent the very best of our country and I thank them on behalf of all of our country."
On London Underground, a sign after the horrific attack, read: "An attack on any one of us, is an attack on us all; Haters are not welcome, WE ARE LONDON, we won't fall ❤️"
The PM also sent a message to those involved in the attack, or similar attacks, saying "this country will never be cowed, or divided, or intimidated by this sort of attack, and our values, our British values, will prevail."
He said that "police can confirm that this was a terrorist incident." According to BBC Security Correspondent Frank Gardner, armed officers were on the scene within five minutes of being called. (And ambulance services were there within a remarkable seven minutes.) An ITV Security Editor said the "attacker was a convicted terrorist released on license". He had apparently been released only recently from prison, and was wearing an electronic tag.
PM Johnson said tonight that it's time to ensure that violent criminals are not released early from prison.
Tour guide Stevie Hurst, who was one of the brave passersby, told a local radio station that "we were all kicking him and holding him to the ground" to "make sure… he wasn't going to harm another single human being".
London's NHS Chief Executive Simon Stevens said: "Our heartfelt thanks go to everyone who responded to this incident, both the extraordinarily brave members of the public and our emergency responders."
TV Director Amy Coop tweeted: "A guy who was with us at Fishmongers Hall took a 5' narwhale tusk from the wall and went out to confront the attacker. You can see him standing over the man (with what looks like a white pole) in the video. We were trying to help victims inside but that man's a hero."
London Ambulance Service confirmed it took three people to two hospitals following the London Bridge incident, and had declared it a "major incident".
Met Police Commissioner Cressida Dick said: "It is with the heaviest of hearts that I have to inform you that as well as the suspect, who was shot dead by police, two of those injured in this attack… have tragically lost their lives.
"My heart goes out… to everybody who has been affected by today's terrible and mindless events… we must emerge stronger still from this tragedy."
Earlier this month, Britain had lowered its national terrorism threat level to "substantial" from "severe", its lowest level since 2014.
Britain's opposition Labour leader Jeremy Corbyn said his thoughts were with those caught up in the "shocking" incident at London Bridge, and thanked the emergency services for their response.
He said the incident was an "attack on all of us," and suspended Labour Party campaigning for the rest of the day. (A fake tweet was shared in which it appeared that Corbyn had said something else, but this was not true.)
NBC Correspondent Rukmini Callimachi said that several other known ISIS-linked attacks have included the use a fake suicide vest, "including the former London Bridge attack in 2017; in the Barcelona / Catalonia attack that same year; and in several in France".
The UK Prime Minister reassured the British public that there will immediately be "an enhanced police presence on the streets. And we're not only, as you know, putting 20,000 more police officers on the streets of this country. But I have long argued that it is a mistake to allow serious and violent criminals to come out of prison early. And it is very important that we get out of that habit and that we enforce the appropriate sentences for dangerous criminals, especially for terrorists that I think the public want to see."
London ALWAYS fights back. 👊#LondonBridge #terrorattack #unitrerc pic.twitter.com/i6hWbY26CV

— Dawn Neesom (@DawnNeesom) November 29, 2019
#LondonBridge let's have some praise for this guy too. Seen lots of tweets for the guy who grabbed the knife and well done him. Took balls to do what he did but this guy stayed till he was dragged off by the police. Didn't put his personally safety before others. pic.twitter.com/g1lwk2H1f1

— Jason (@Jason07291347) November 29, 2019
Footage has emerged of the moment an alleged attacker, wearing a fake explosive vest, is pounced on by civilians, wrestled to the ground and then shot by police on London Bridge.

Read more here: https://t.co/7VqbTwDeZG pic.twitter.com/OI7x42wOjI

— Sky News (@SkyNews) November 29, 2019
Two members of the public have died after a stabbing attack at London Bridge, in which police shot dead the suspect, who was wearing a "hoax explosive device"

The Met Police has declared the attack a terrorist incident

[tap to expand] https://t.co/k2aNpfa0KS pic.twitter.com/JbpAXLItEd

— BBC News (UK) (@BBCNews) November 29, 2019
"My heart goes out… to everybody who has been affected by today's terrible and mindless events"

Met Police Commissioner Cressida Dick says "we must emerge stronger still from this tragedy", confirming 2 dead and 3 injured after London Bridge attack https://t.co/6ntnD2BqJu pic.twitter.com/A8G46RMY06

— BBC Breaking News (@BBCBreaking) November 29, 2019
I don't want to know this twat's name, I don't want to find out about his ex or what job he did or where he went to school cos I coundn't give a fuck. We need to stop offering pondlife the opportunity to get famous by doing stuff like this, lets remember the victims #LondonBridge

— Andy Bush (@bushontheradio) November 29, 2019
Prime Minister Boris Johnson on this afternoon's incident at London Bridge. pic.twitter.com/PGVtmcFh42

— UK Prime Minister (@10DowningStreet) November 29, 2019
In other breaking news on Friday evening, it has been reported that at least three people (minors) have been injured in The Hague, Netherlands in a stabbing incident – but Dutch TV says there is no indication that this was linked to terrorism. There are also reports that an explosive device was found in a bag at Gare du Nord in Paris, leading to an evacuation of the train station. Authorities later announced the item was an "inactive mortar round".
https://twitter.com/ramblingsloa/status/1200497969025495040