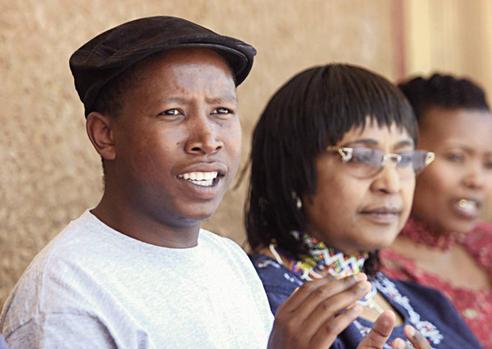 SA State Funeral Announced; and Malema Pays His Respects to Winnie Mandela
Freedom fighter Winnie Nomzamo Madikizela-Mandela will be laid to rest on 14 April 2018, during a state funeral. President Cyril Ramaphosa made the announcement on Monday night outside the home of the late struggle stalwart in Orlando, Soweto. He had earlier met with the Mandela family to offer his condolences and support. "At a national […]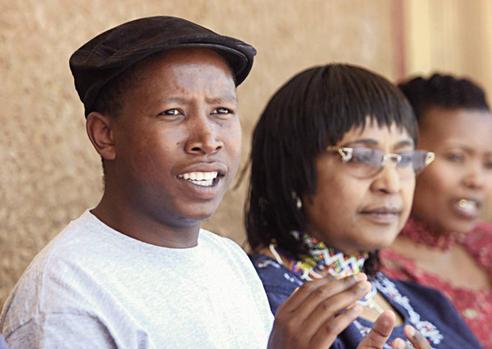 Freedom fighter Winnie Nomzamo Madikizela-Mandela will be laid to rest on 14 April 2018, during a state funeral.
President Cyril Ramaphosa made the announcement on Monday night outside the home of the late struggle stalwart in Orlando, Soweto. He had earlier met with the Mandela family to offer his condolences and support.
"At a national government level, we have declared that Winnie Mandela will have a national official funeral. We would like to express our gratitude and our thanks to the many across the country and the world who are wishing us well," said President Ramaphosa.
The official memorial service of Madikizela-Mandela, affectionately known as the Mother of Nation, will take place on 11 April 2018.
The President said Madikizela-Mandela had left behind a huge legacy.
"As we say in African culture, [she was] a tree that provided shade for the people of South Africa, for the people who were in the struggle who used to run under this tree for refuge and security. We are sad that this tree has finally fallen," said President Ramaphosa.
On Monday afternoon, South Africans and the world over learnt of the passing of the liberation fighter.
She passed away at Netcare Milpark Hospital in Johannesburg at the age of 81 after a long illness. She had been in and out of hospital since the start of the year, according to a statement released by her family.
Celebrate her life
The Mandela family urged those who loved Madikizela-Mandela to celebrate her life.
"The Mandela family are deeply grateful for the gift of her life and even as our hearts break at her passing, we urge all those who loved her to celebrate this most remarkable woman."
In his address to the nation following Mam' Winnie's passing, President Ramaphosa appealed for collective reflection on Madikizela-Mandela's "rich, remarkable and meaningful life" as the nation mourns.
"Let us draw inspiration from the struggles that she fought and the dream of a better society to which she dedicated her life. Today we have lost a mother, a grandmother, a friend, a comrade, a leader and an icon.
"As South Africans, we collectively pass our condolences to the Madikizela and Mandela families. Your loss is our loss as well," the Presidency said. – SAnews.gov.za
EFF Visit Winnie Madikizela-Mandela's Home
Economic Freedom Fighter (EFF) supporters have gathered around Winnie Mandela's home as their Commander in Chief Julius Malema is paying respects on behalf of the EFF. As many have said, Malema was the son she never had… and he has now "lost a friend, a mentor and comrade…"
When Zuma & Mantashe were out to harass Julius Malema through the Hannekom Disciplinary Committee, Winnie Mandela stood in loco parentis for the rabble-rouser.
Malema was the son she never had.#RIPWinnieMandela pic.twitter.com/Vo4CVM3UnN

— Bra Hloni (@BraHlonisky) April 2, 2018
Very true my sister and I just weep watching this video pic.twitter.com/6nPqJolF5k

— Lwandle Kaluwelwa Duma (@michael_nunu) April 2, 2018
The EFF are in Orlando to honour the late Winnie Madikizela-Mandela. Julius Malema expected to arrive shortly. #winniemandela 📷:@Ihsaan_Haffo pic.twitter.com/amzTEHKMAk

— EWN Reporter (@ewnreporter) April 3, 2018
WATCH: EFF leader Julius Malema arrives at Winnie Madikizela Mandela's home. #WinnieMadikizelaMandela #RIPwinniemadikizelamandela pic.twitter.com/hJwvMFgYh2

— POWER987News (@POWER987News) April 3, 2018
No South African politician has fought for the black man's dignity like Julius Malema.

Unapologetic and proud African pic.twitter.com/MMyNvUHsPo

— iType Yenu Nonke ⚪ (@THAB4NG) March 27, 2018
"When it happens every day of your life when that pain becomes a way of life, I no longer have the emotion of fear – there is no longer anything I can fear. There is nothing the government has not done to me. There isn't any pain I haven't known." ~ #WinnieMandela pic.twitter.com/X52Cu8pA4P

— African National Congress (@MYANC) April 3, 2018
Rest In Peace #WinnieMandela ⁰Go with love. Go with God… your fight for human rights will continue. pic.twitter.com/7A7wdtf3oK

— Forest Whitaker (@ForestWhitaker) April 2, 2018
Winnie Madikizela-Mandela last interview