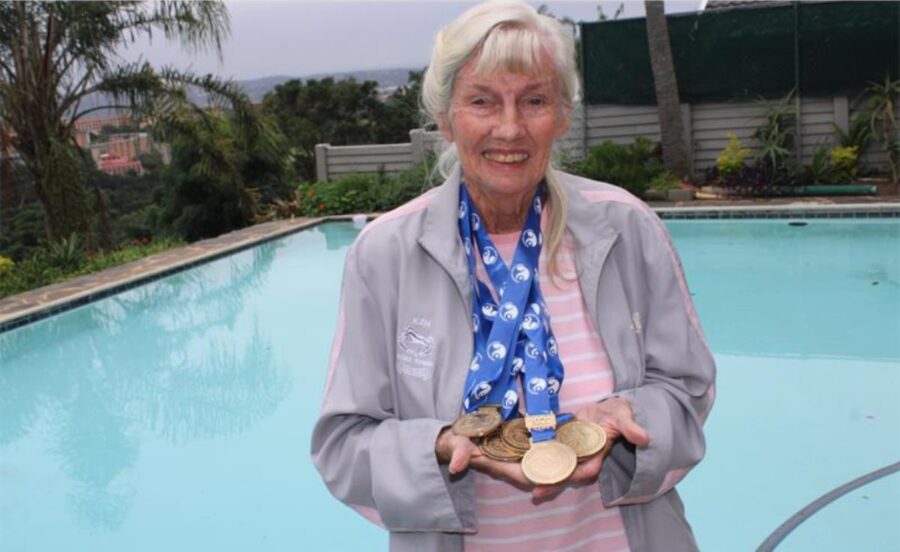 87-Year-Old Grandmother Bags 5 Gold Medals and Races to 5th in the World
A WESTVILLE grandmother proved recently that one is never too old to shine. Octogenarian, Wendy Saunders raked in five gold medals at the South African Masters Championships… writes Sanelisiwe Tsinde, Highway Mail. The five-day event, which was held in Cape Town recently attracted hundreds of swimmers who all competed in different segments. The 87-year-old swam […]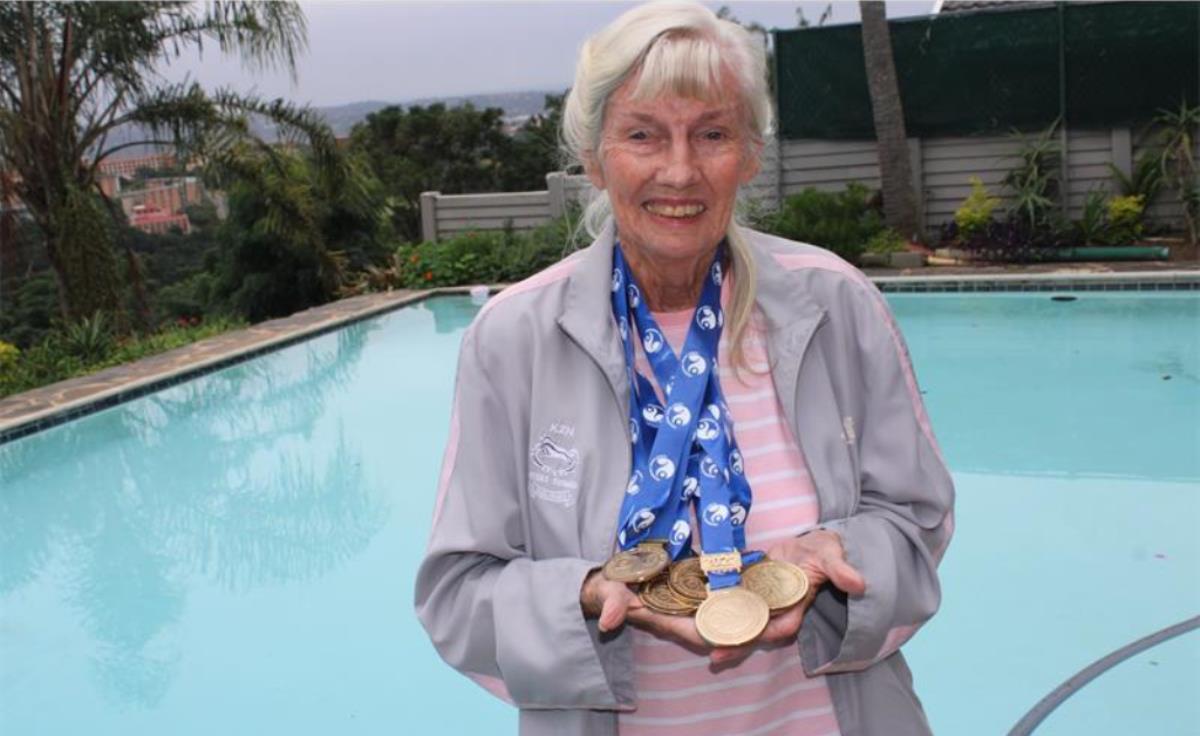 A WESTVILLE grandmother proved recently that one is never too old to shine. Octogenarian, Wendy Saunders raked in five gold medals at the South African Masters Championships… writes Sanelisiwe Tsinde, Highway Mail.
The five-day event, which was held in Cape Town recently attracted hundreds of swimmers who all competed in different segments.
The 87-year-old swam in the 85 to 89 years category.
For someone who only took up swimming at the age of 73, Wendy has done extremely well as she boasts many medals under her name.
This year, she won five gold medals in the 50m breaststroke, 100m breaststroke, 200m breaststroke,100m freestyle and 50m freestyle.
Fifth in the world!
She was also announced fifth in the world in her age group for the 100m and 200m breaststroke which she said was her favourite.
"Unfortunately I could not do the backstroke due to an injury on the last day," she said.
Before she took up swimming, Wendy was a big fan of her husband, Jim who is also a SA swimming champ.
"I was more a tennis and badminton type of girl, I always admired the fact that my husband could swim so well. I went to all of his galas. Even though I loved to watch, I wasn't the slightest bit interested myself until the club needed an older person to compete in relays. I was 73 at the time and practised in our pool at home until I felt I could compete. In my very first competition I came first and third," said a proud Wendy.
Wendy's husband Jim said he was proud of his wife and the couple thanked their club Synergy for their support and encouragement over the years.
"They are good people who have been helpful and we are proud to have them in our lives," said Jim.
Wendy smiled and said she was looking forward to the annual championship next year.
Wendy is also very well-known for collecting antiques and dolls.
This feel-good story by Sanelisiwe Tsinde first appeared in the Highway Mail, and is republished here with the Highway Mail's kind permission.