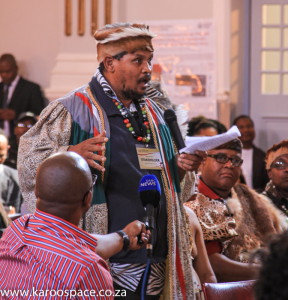 KAROO DIARY: The Farce of Fracking Consultations
Since early 2011, the ANC Government has been promising the people of the Karoo that they would be consulted before any decision to exploit shale gas in the region was taken. The then Minister of Mineral Resources, Susan Shabangu, vowed her people would speak to everyone in the Karoo. In September 2012, when the moratorium […]

Since early 2011, the ANC Government has been promising the people of the Karoo that they would be consulted before any decision to exploit shale gas in the region was taken.
The then Minister of Mineral Resources, Susan Shabangu, vowed her people would speak to everyone in the Karoo. In September 2012, when the moratorium on fracking was lifted by Cabinet, she said:
"We will be carrying out a thorough process now with all stakeholders, going out to meet with affected communities."
Nothing happened. Years passed.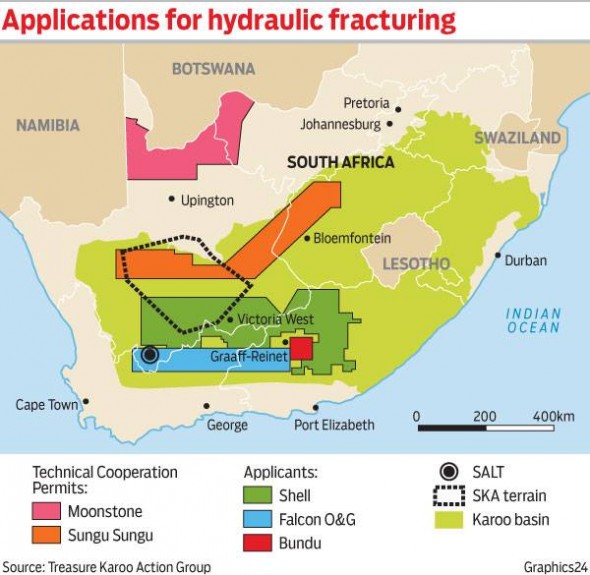 In 2014 alone, the DMR announced several meetings with stakeholders in Cradock, Sutherland and Beaufort West, but they were all cancelled at the last minute.
It fell to President Jacob Zuma to show how meaningless Government's promise was when he announced that fracking in the Karoo would be a game-changer in this country during his State of the Nation address, before one single meeting between government and Karoo people.
Any 'stakeholder engagement' after that could only be pure window dressing – something perfectly illustrated at a gathering organised by the Eastern Cape province in Graaff-Reinet on 10 October.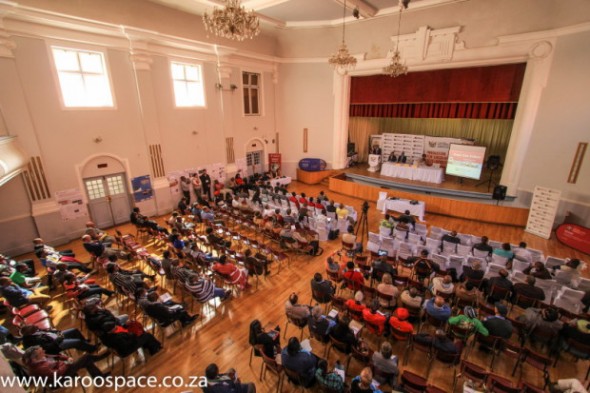 On that Friday afternoon, the Graaff-Reinet town hall was packed with people who had been transported in from the affected Karoo municipalities. There were farmers, religious groups, Khoi, San and Griqua leaders, ANC youth league representatives and at least one red beret-clad person from the Economic Freedom Fighters.
Outside, there was a small group of people holding up placards reading "Fracking Poisons" and "Clean Water is a right."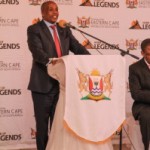 The Eastern Cape Premier Phumulo Masualle told the crowd: "We must create channels of dialogue between Government and the community – the people living in the Karoo. Both opportunities and costs will be weighed rationally. This is the beginning, not the end, of engagement with the Karoo community."
MEC Sakhumzi Somyo said: "The Government cannot authorise anything to the detriment of the people. It would be irresponsible to take decisions that will lead to contamination of water."
It would have sounded positive if President Zuma had not already made Government's intentions so clear.
This was not helped by the fact that the Eastern Cape politicians could barely hide their lack of interest in what the public had to say.
The stakeholders were keen to be heard but first a dozen schoolchildren were brought on stage and took up an hour of valuable time staging a mock debate on fracking, reciting their arguments by rote or reading them from scraps of paper.
Then the floor was opened.
Fewer than 10 people were allowed to speak, and were constantly admonished to get to the point, keep it short and ask their question. All show of 'consultation' was over within 40 minutes, and no questions were answered.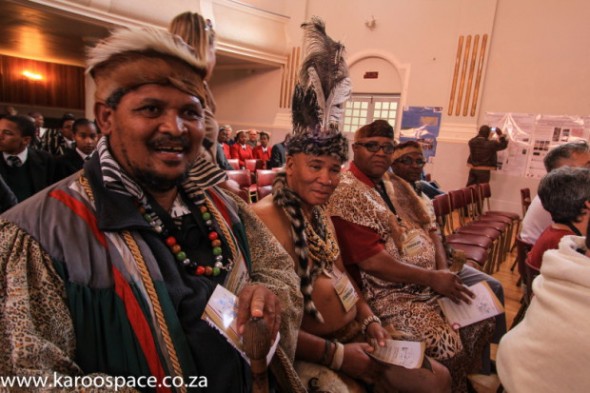 Khoi Inqua Chief Daantjie Japhta took the organisers to task for the fact that he had only received an invitation the night before, and pointed out that almost no one knew what fracking meant.
"Why do you want to cut the Inqua from such an important issue? People need to be consulted and informed before Government takes a decision.
"The Karoo people that you say you are so concerned about don't even know what you are talking about. How are they supposed to oppose your decisions when you haven't educated them about your intentions?"
Lawyer Derek Light, representing hundreds of landowners, said "Today you are here talking about wanting to engage with the community. Where were you when we were supposed to have had this meeting in 2009 (when Bundu applied for a licence near Pearston), in 2011 and 2012?
After the meeting ended (30 minutes earlier than scheduled), one University student who is studying the politics of shale gas exploration remarked "this 'consultation' was just for record purposes. They've made their decision."
San traditional leader Toetie Dow, who opposes fracking, concurred. "They are not here to consult. And the people making these decisions are not from the Karoo. The communities I have spoken to don't want fracking."
Even those who support fracking were disappointed. "The ANC are going ahead with this. So it's not really consultation," added Kenneth Bowkers Waterboer, chief of the Waterboer Clan and Relevant Griquas, who announced himself to be pro-fracking.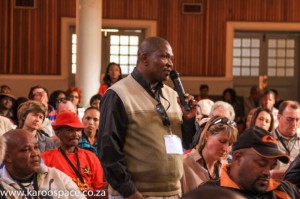 Derek Light echoed the others' views.
But, surprisingly, he did say there were a few positive signs. There had been mention of establishing a steering committee, he pointed out, which might be helpful.
And the Eastern Cape's funding of baseline studies by the Nelson Mandela Metropolitan University was good, "although it should have been done prior to any decisions being taken. You cannot take a decision to proceed before you have done research."
Then there was the fact that Eastern Cape provincial politicians had said decisions would not be made before full consultation with the people. Did they really mean it?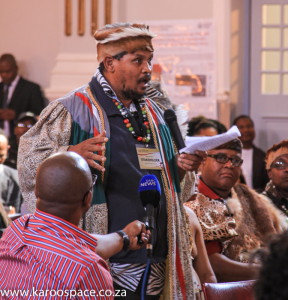 Referring to a recent decision by the ANC in Gauteng not to support e-tolls, in defiance of the national party, Light asked: "Will the Eastern Cape province really have the guts to seriously consult the people and stop fracking if that is what the community wants? To be at variance with central Government? It takes very strong people to do that."
Photographs by Chris Marais
[wpbrad id=61]