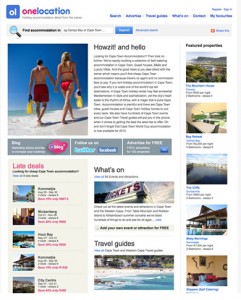 OneLocation CEO Steve Villiers
UK-born Steve Villiers (41) has various South African connections. He's married to a South African painter, has a child who was born in Cape Town (plus two with dual-nationality), and gave up an award-winning career in London to move his family to Cape Town three years ago. He's also the founder/CEO of onelocation.com, a holiday […]

UK-born Steve Villiers (41) has various South African connections. He's married to a South African painter, has a child who was born in Cape Town (plus two with dual-nationality), and gave up an award-winning career in London to move his family to Cape Town three years ago.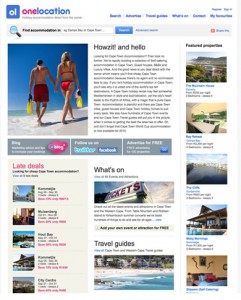 He's also the founder/CEO of onelocation.com, a holiday rental website for Cape Town and the Western Cape. As Steve and family settle back into London life, we got Steve's take (as a Londoner digerati) on the do's and don'ts of setting up a digital business in Cape Town:
You were an award-winning graphic journalist running your own digital creative agency in London (with a client list that included some of the world's major brands). So what made you give it all up to move your family to Cape Town?
I had the opportunity to set up onelocation.com and I didn't want to miss the chance to live in one of the most beautiful, vibrant, colourful cities in the world. I think it was a brave (and according to my wife…foolish) decision at the time which has had its highs and lows, but I wouldn't change it for the world.
What made you choose this career path?
I've always enjoyed making things work and then refining them to make them work better. Design is exactly that process. I originally trained as a product designer and then moved to newspaper design through a chance meeting with a friend in Edinburgh, Scotland. After a few years as a graphic journalist at The Guardian in London I set up my own Digital Creative Agency at a time when the web was still in it's infancy. onelocation.com is a culmination of all the things I love. Travel, websites, user-centric design and running multi-disciplined creative, technical and marketing teams.
What's the biggest sacrifice you've had to make for your success?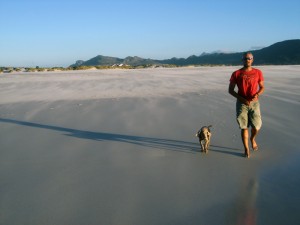 I make small sacrifices every day. I think it's part of life's great juggling act. I've been my own boss for nearly 15 years which means I can juggle my time between family and work more than most. I'm not materialistic at all so the biggest sacrifices I make are to do with time. Above all I think the biggest sacrifice is 'me' time. Running a start-up business and a young family means I just don't have any.
Most inspiring thing someone ever said to you when growing up?
Has to be Guardian cartoonist Peter Clarke. He once told me that he has two rules in life. The first was to never make a threat you wouldn't carry out. He apparently stabbed an annoying dinner guest in the back of the hand with a fish knife as a result; and the second was to never get romantically involved with somebody you work with. Good advice which I wish I had followed.
Your most useful character trait?
Self-belief. I've never been one to look at the wall and give up. Where there's a will there's a way and I know if I stick at it then the answer will come. This self-belief has been tested to the limits on onelocation.com but we're still here and looking healthier than ever.
Most inspiring person you've met?
The late Anita Roddick [founder of The Body Shop]. She was a client at the digital agency I ran in London. Incredible energy and passion. Her belief and dedication to raising the awareness of child labour was something I will never forget. She worked tirelessly and with a dignity that only truly great people possess.
Bravest thing you've done to date?
A catwalk swimwear modeling show in front of my school friends. I was terrified. I actually shoved a pair of carefully rolled socks down my speedos before the show for a bit of extra confidence. It seemed to do the trick and for some reason I became really popular in school after that. Who said girls weren't shallow 😉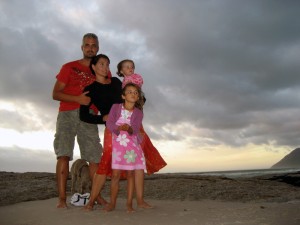 Proudest achievement?
Sounds corny but it has to be my 3 daughters. When all the chips are counted, as I stand before Peter at the pearly gates, that will stand head and shoulders above anything else I will have achieved. However, if I ever invent perpetual motion, find the cure for cancer or eradicate world poverty then it might be a different story. I'll keep you posted.
Favourite holiday destination?
Barcelona. Amazing City that has everything. Culture, sunshine, amazing beaches and fabulous bars. Also Menorca in the Spanish Balearics. I'd never been until recently as it had a reputation for partying, gaudy water slides and kiss-me-quick hats. It does have all that, but it also has some of the quietest and best beaches on the planet. The water is warm and crystal clear and the restaurants and bars are 100% authentically Spanish.
Please finish the sentence: One day I plan to…
…do all the things I should have done by the time I was 30!! As each year goes by the list of things I should have achieved gets longer and longer and I find myself saying 'this time next year' a lot. I guess it comes with the territory … but … 'this time next year' … !!!
If you could change one thing in your life, what would it be?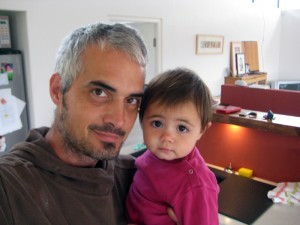 I wish I was born in either Manchester, Barcelona or Madrid. I was born in Leicester in the East Midlands of England and as much as I love my football team I can't help thinking my life would have been far easier and more enjoyable had I been born elsewhere. There's nothing quite as real as watching Leicester City play Yeovil Town on a freezing and damp Tuesday night in front of a few hundred people whilst the rest of the population are at home or in a warm cosy bar watching Man Utd against Real Madrid in the Champions League.
What's your definition of  "success?"
Being with somebody for 20 years, raising children and still being able to laugh at the same jokes. Success for me is measured in the quality of the relationships you have with the people you care about most. Business success is just a part of that. It provides options, creates stability and also a self-satisfaction that you could do it, but nothing more. Single-handedly climbing a mountain is a great personal success but climbing that mountain with your friends, family and loved ones to share the journey with is far more rewarding.
Tell us about your stint in Cape Town – what did you learn about running a digital start up in South Africa?
I spent three years in Cape Town. The first six months were fantastic. Everywhere I went people would know my name, say hi, invite me to a fish braai the following week and generally share a few words about the weather, the cricket team or some other generality. I loved it. Cape Town was such a friendly place to be … the welcoming arms of the mother city. With this kind of embracing warmth then starting a digital start up would be a breeze. However after six months and still no invite to the Fish Braai it dawned on me that this was as far as it went. Cape Town is openly friendly but beneath that thin veneer the doors are very firmly closed to outsiders. And business is much the same. The door is open, promises are made but that's where it stops. Some people say you need to live in Cape Town for at least 20 years before the invites start arriving from the locals. Others say if you don't have childhood friends then forget it. Either way it's tough for an outsider in what is still a very small marketplace in South Africa.
So where are you now with onelocation.com and what's next?
We're currently working on version 2.0 of the site. Ironing out all the issues with version 1.0 and opening our doors to properties from around the world. The site is going from strength to strength and our owners are fantastic at giving useful feedback. Because we're a small team we can implement changes on the site quickly and react to market changes far quicker than bigger rivals so it's only a matter of time before we challenge them on their own doorstep. Our aim is to become the number 1 Holiday Website on the planet within seven years.
What advice would you offer anyone starting an internet company – having been there done that?
The advice would be simple. Start with one very simple idea. Try and make it as remarkable as you can and then get it live as soon as possible. As soon as it's live and people start using it you will gather more information about the direction you need to take than you possibly could by sitting around a table and trying to imagine what people want.
What would you do differently, given the chance?
I'd have followed the advice I gave in the question above !!
Do you have any insight into the digital future of South Africa?
Having spent all but three of my professional years in London I think South Africa still has some way to go in the digital space. There are without doubt very talented individuals and companies, possibly some of the most talented I've experienced but the digital infrastructure isn't there. Internet usage is still very expensive and painfully slow, almost ten times slower than the UK. I think the cost and speed issue has resulted in a general apathy towards the internet in South Africa. Although nearly 10 % of South Africans are now online the level at which they engage and use the technology is still largely limited to email and general browsing. Two things need to happen in order for this to change. They need high-speed lines and unlimited, affordable bandwidth. As soon as this happens there will be an online explosion.
Where do you think the internet opportunities lie for those that can crack it?
There are definitely lots of online opportunities for digital start-ups everywhere in South Africa. The .co.za domain name search is a good starting point and still amazes me. Think of any idea, do a domain name search and more often than not the URL is still available. I've picked up some cracking domain names recently with the intention of starting online businesses. My problem at the moment is time but if you do have time then good opportunities lie in classified listings, particularly niche markets. These work well in South Africa because they don't rely on the SA Postal Service unlike many mail order offerings. In the UK you can get anything delivered. In South Africa you just have to take your chances. Amazon has stopped shipping to South Africa as a result of this problem. So avoid anything mail order. Classifieds are good because they are easy and relatively cheap to set up and require very little maintenance. The second hand car market has always been one that has interested me. There's only a handful of sites out there and they are all very poor. If I was setting something up I'd go super niche. "Cape Town Second Hand Cars" or "Plett used cars". The system would be the same but each site would be super niche, tailored for search engines and marketed locally.
THE PROMO SPIEL