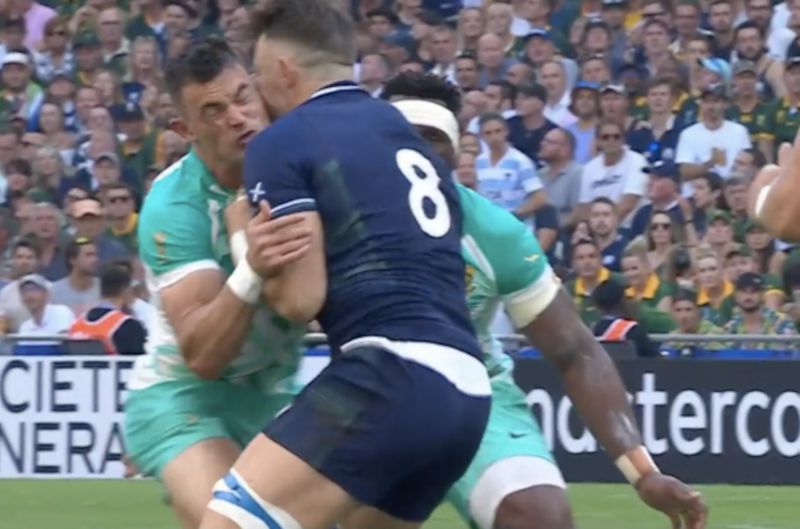 Springboks' Jesse Kriel escapes without citing: Here's why!
Springbok centre Jesse Kriel has not been cited for a dangerous tackle, with Rassie Erasmus having explained why they weren't worried.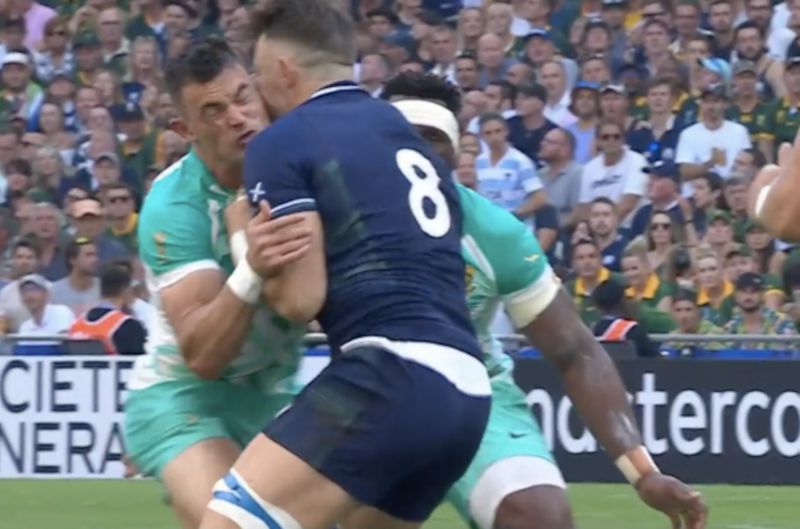 During the first half of Sunday's Rugby World Cup clash between the Springboks and Scotland in Marseille, Jesse Kriel was involved in an upright tackle that led to some nervy moments.
ALSO READ | Kobus Wiese calls Tom Curry's red card a JOKE
Less than 24 hours after England's Tom Curry saw red for a head-to-head clash against Argentina, Kriel's collision with Scotland No 8 Jack Dempsey was not even reviewed.
ALSO READ: Could Rassie Erasmus exercise exit clause after World Cup?
TV replays showed a clear contact and with Jesse Kriel upright and seemingly with a clear line of sight of his opponent, whose head bounced back in the collision, he would have been sweating on a potential sanction.
UPDATE: Etzebeth in doubt for blockbuster Ireland battle
This is an area of the game where the officials have become extremely strict, but Jesse Kriel appears to have got away with it, and Rassie Erasmus has explained their view point as to why this was probably the case.
"There definitely wasn't head-on-head contact, it was a tackle on the ball. He moved up after making the tackle on the ball.
"I've seen a few stills where that were taken just after Jesse made direct contact on the ball. You can make any tackle like that look really bad. If you look a millisecond or a second or two back, you will see that he clearly tackled on the ball.
"So, yeah, we are very happy with how it was refereed. We are happy with the decision that was made. I will be very surprised that, with first contact on the ball, there will be anything from that."
VIDEO: Faf de Klerk leaves fan in tears during special moment
DIFFERENT VIEWS ON JESSE KRIEL TACKLE
The lack of action taken was something former Scotland captain John Barclay described as "bizarre" after the match, which finished 18-3 to the Springboks.
At half-time in the clash, when the game was still well poised at 6-3, Barclay let rip at the failure to review Kriel's tackle.
Revealed: Why Springboks are using 'traffic lights' system
According to the Rugby World website, he said: "The confusion is you hear captains speak to the referees and they say, 'We are always looking'. You are two minutes into the game and we've got an incident that is a red card. It's a red card.
"He comes from a distance, clear line of sight, no drop in height and he applies force. It's head on head. That's a red card. The way the game is refereed now, whether you like it or not, that is a red card. And we saw a very similar incident last night (with Tom Curry) which was given as a yellow then upgraded in the bunker to a red.
"This is where the game gets a bit messy as in these instances where they look very similar, yeah from slightly different positions from a kick or whatever, but that's a red card. And the fact that has not even been seen or reviewed is inexcusable."
ALSO READ | When are the Springboks next in action, and against who?