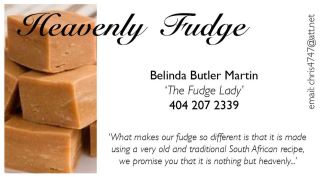 South African Fudge for Expats
submitted by The Fudge Lady EXCITING NEWS TO SHARE!!!! Heaveny Fudge by the Fudge Lady can now ship to other countries too! We can shrink wrap the fudge to hold in the freshness and highest standard of quality. Here are the steps that will need to be followed for all customers wishing to order that […]

submitted by The Fudge Lady
EXCITING NEWS TO SHARE!!!! Heaveny Fudge by the Fudge Lady can now ship to other countries too! We can shrink wrap the fudge to hold in the freshness and highest standard of quality. Here are the steps that will need to be followed for all customers wishing to order that live outside of the United States: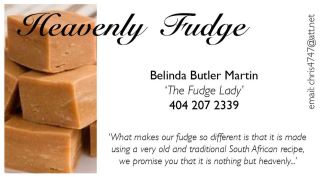 1. Send me an email at chris4747@att.net requesting an order and how many you would like.
2. Payment will need to be made using PayPal (you can pay by credit card that we have now set up).
3. If you don't have PayPal, it takes literally a few minutes to log in and set it up on your computer.
4. The price of the fudge is $20 with an additional $15 to ship to you. Total of $35 will be due prior to preparing the fudge and shipping it out to ensure that you, the customer, receive the finest and best quality South African home made fudge possible!! There will be approximately 20 to 25 pieces of fudge for your enjoyment!
ORDER TODAY…. YOU WON'T BE SORRY…. READ SOME OF MY CUSTOMER' COMMENTS AND RECOMMENDATIONS FOR TOTAL PEACE OF MIND!
Look forward to your business!
Belinda Martin
The Fudge Lady 🙂 🙂