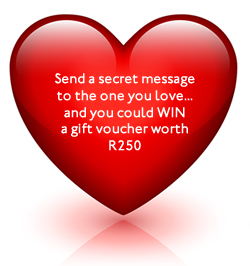 Valentine Messages – 5
PREVIOUS VALENTINE MESSAGES | NEXT VALENTINE MESSAGES For: Blondie Hi Blondie, When I'm with you my heart beats faster,When you touch me it's like an Angel has passed by. When you kiss me it's like time stands still, and when we make love it's like we are the only people in paradise! Your secrete admirer […]

PREVIOUS VALENTINE MESSAGES | NEXT VALENTINE MESSAGES
For:

Blondie
Hi Blondie,

When I'm with you my heart beats faster,When you touch me it's like an Angel has passed by. When you kiss me it's like time stands still, and when we make love it's like we are the only people in paradise!

Your secrete admirer
For:

Ksenia
You are the sweetest thing I ever had in my life, happy valentines love

Themba
For:

Sandra, Pretoria
A friend is like a Valentine,

Heartwarming, bringing pleasure,

Connected to good feelings,

With memories to treasure.

Seeing a special Valentine

Brings happiness to stay,

And that's what you do, friend,

You brighten every day!

The one who will always love you!
For:

Steven Davids
Steven, I have loved you for a long time! You are my best friend and as such I will treasure you in my heart forever!

Your Special Friend Val
For:

Jenny from Melbourne
Dearest Lovey,

You are the sweetest person I know

and I love you soo…!!

My Heaven and Earth

My soul

My mate –

Forever xxxxxxxxxxxxx

Together one day to Heavens Gate

Anonymousxxxxxxxxxxxxxxx
For:

Nolundi Bakana
Wish you a very Happy Valentine's Day.

This is a message is to let you know that you are thought of always.

May God give you everything you wish for

Anonymous best friend lol??????
For:

Patience Mutonga
You are my rock through all the bad times,

The most beautiful waterfall in all the good times,

My Friend, My Love, My All.

You are the most amazing part of waking up every morning,

I love you, with every beat of my heart and every breath I take.

Thank you for being in my life and my world

Hubby
For:

Sharllote
You are my everything and always thinking about you

Swavava heyi
For:

Belinda
My Darling,

You are My Valentine for 365 days a year and this year even more so.

I love you with all my heart, all the time, 366 days a year.

All my love, All Ways,

Sweetie Pie
For:

mzamo, bloemfontein
I am so blessed to have you in my life, you make me feel so free and loved. You everthing I need in a man. When I say I love you am not passing just words. I love you with all I am.

you know from who
For:

Rudi
•"For it was not into my ear you whispered But into my heart, It was not my lips you kissed, But my soul." Victor Hugo

Anonymous
For:

Craig Laing, Gauteng
You are the blood flowing through my heart. You are the reason for every breathe. You have made my life so full of fun and excitement. Beside you i hope to stand and grow old with until finally we come skidding in shouting about what a fantastic life we have had.

Your Frangipangi
For:

Chris
…See you under the jungle gym?

So-Secret-Admirer
For:

vicky pretoria
Happy Valentine's day

Anonymous
For:

Piet Cilliers, Johannesburg
Hi die ou wat so besig is op die internet met sy familie. Ek dink ek is baie lief vir jou. Geniet die dag

anonymous
For:

Shany, Pretoria
It will be a great regret not to tell you how special you are.You are truly cared for.A love that cannot be made sense of, nor will perish in the greatest storm ever, must be the purest , if not the craziest kind of love!It appears that love is not meant to be understood.Love and madness co-exist.So even as this love is not meant to be, it is at least not relegated to a dark untold secret.

Be Happy on Valentine's day

Anonymous
For:

phelo soga
i love you

me
For:

Merwyn Pretoria
Hey big guy. Tough love is cool.Have a super Valentine's day

anonymous
For:

Rajendh Salig, Pretoria
All great loves were torture.It is sad you will ever know how much you are loved.Happy Valentine's day.

Anonymous
For:

kurt, adelaide

I want to grow old with You…. I want this journey to never end….

Your Babes
For:

Sumayya

You Make My Heart Go DOOF DOOF(H) Be my valentine??

Mr A. Mous
For:

Charmaine

# #

# # ## ### ### # #

### # # # # # # ###

# # ### ### ### #

# # # # ###

# # # # #

# # ## # ### ## ### ## ### ##

# # # # # ## # # # # # # ## #

# # ### ## ### # # ## ## # # ### ##

#

##

# # ## # #

# # # # ###

# # ### #

## ###

Secret Admirer
For:

lyndsey van vuuren

I love this day because it brought us together through this site.You are my wife, my lover,my best friend and confidant.

You still take my breath away

Water polo boy
For:

Safraaz

Just never had the guts to tell you that I think You're #SuperHot:)

Ms A. Mous
For:

givemore

I will always love u & u will always be the special man in my life. Thank you for being the father & husband that you are. Lots of love….

wifey
For:

JHB

If you're willing to chase me, I promise to run slow.

Anonymous
For:

Bernadette

Olive branch of Roses…. peace and beauty….all for you

Me
For:

Michelle dragon slayer, fore shore

M

I wish so much we could ride off together.

knight in shining armour
For:

Ian Milner, Boksburg

I thought we weren't doing the V-day thing?! You're naughty and you're gonna get a spanking! Love you madly my Sweetie-pie! Mwah!

PYT

For:
Thembeka

Have wonderful valentines day. i hope you will enjoy it. just know dat , you are perfect and wonderful women u deserve more!!

secrete admirer
If you haven't already sent a Valentine's Gift – click on images below for some fab ideas from NetFlorist (for SA recipients only):