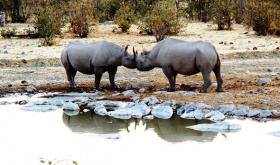 The US Department of Justice revealed yesterday that two South African brothers who own Out of Africa Adventurous Safaris have been charged with conspiracy to sell illegal rhinoceros hunts in South Africa in order to defraud American hunters, and engage in money laundering and the secret trafficking of rhino horns. The announcement was made by Sam Hirsch, [...]
FAB SA Stuff!

Students in South Africa surprised a homeless man in Cape Town with an act … Read More...

One of the most popular videos on social media this week is one filmed in … Read More...
Dr Buyisiwe Sondezi, a student at the University of Johannesburg (UJ), is … Read More...
If you recognise these words - "Alan! Alan! Alan! Oh wait, that's not Alan. … Read More...

So this is a true Karoo Moment... Jules and I are sitting on the front … Read More...

Four friends from the UK won the trip of a lifetime to South Africa earlier … Read More...

South Africa's President Jacob Zuma has wished a Happy Diwali to … Read More...
Your Stories

Karoo towns are never the first choice for those seeking the bright … Read More...