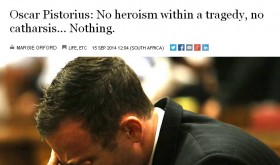 For those of you who have been following the Oscar trial (I have to admit, I've steered well clear of it, watching nothing, listening to nothing, reading nothing, other than telling people that there's only one person who actually knows what happened – 'And you're not it, let alone a lawyer' – mainly because [...]
FAB SA Stuff!

With eTolls, Nkandla and strikes, it is so easy to feel disheartened about … Read More...
Your Stories

Today I met a very friendly family in Durban, while I was shopping. My … Read More...