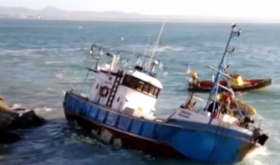 The daughter of the skipper who was saved in yesterday morning's dramatic rescue operation in the Port of St Francis, Eastern Cape, has thanked all those who took part in the rescue of the 13 people aboard the Sikelela. The 13 squid – or chokka as they are known in South Africa – fishermen were saved thanks [...]
FAB SA Stuff!

A photo of a homeless man who wanders the streets of Johannesburg with his … Read More...

As the exchange between the ANC and the Public Protector's office heats up … Read More...

His jewellery has been worn by actress Charlize Theron, and has been … Read More...
How to get through South African Immigration as a child (with … Read More...

Jack Parow's latest music video is a wonderful tribute to all the workers … Read More...

It has always been Richard John Pelwana Maponya's dream to see Soweto grow … Read More...
South African writer, director and producer Grant de Graf has entered a … Read More...
Your Stories

Today I'm celebrating my FIRST YEAR in South Africa. I arrived in Durban, … Read More...