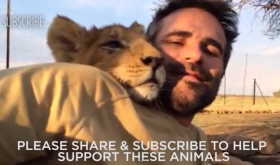 South Africa's legendary Lion Whisperer Kevin Richardson has received two rescued lion cubs from Spain…and it's clear from the video on this page that the cubs couldn't be in better hands. A few hours ago Richardson posted the following excited message on his facebook page: "THE CUBS ARE HERE, THE CUBS ARE HERE!! Meet George and [...]
FAB SA Stuff!

Thirty percent of South Africans have an alcohol problem or are on the … Read More...
After years of talking about it, months of organising it, and one crazy day … Read More...

South Africa's dance community has come together to support prize-winning … Read More...
Oops, it appears the very smart people at Forbes Africa have created … Read More...

A young South African - who celebrated her 20th birthday yesterday - has … Read More...

The 2014 edition of the HSBC Expat Explorer survey spins a really good … Read More...
Most of us, particularly in KwaZulu-Natal, have complained at some point … Read More...
Your Stories

Karoo towns are never the first choice for those seeking the bright … Read More...