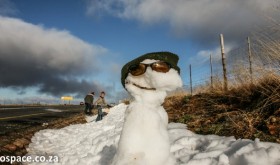 If you're warm and you're safe, it's such a jol to be in the Karoo when it snows… This weekend the forecasters predicted a serious cold front and there was a ripple of expectation as soon as Snow Report posted their map of likely snowfalls. Everyone close to high-lying ground took note and precautions. This [...]
FAB SA Stuff!

South Africa has been carpeted in an endless display of flowers during the … Read More...

After firsthand experience - through a close friend - of how the victims of … Read More...

In true Nando's style, the popular restaurant chain has launched a new … Read More...

Following Born Free USA's shocking "Out of Africa" report - released two … Read More...

The daughter of the skipper who was saved in yesterday morning's dramatic … Read More...

A photo of a homeless man who wanders the streets of Johannesburg with his … Read More...

As the exchange between the ANC and the Public Protector's office heats up … Read More...
Your Stories

Today I'm celebrating my FIRST YEAR in South Africa. I arrived in Durban, … Read More...