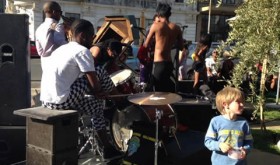 A strange thing has been happening to Johannesburg lately – people are noticing it. While the rest of the world, especially glossy magazines and TV lifestyle programs, have been focusing on Cape Town, Johannesburg has slowly been getting on with business. The latest to pay attention is Good Magazine, an American quarterly brought out by […]
FAB SA Stuff!

South African expat and truck driver Jaun-Deo (JD) Jardine was stuck for 36 … Read More...

A young South African is making his country (and sister) proud in Las Vegas … Read More...

Her country fell in love with her before she was even crowned first runner … Read More...

There are probably few places that conjure ambience more than a library … Read More...

A kind and unassuming waiter by the name of Vincent has become the most … Read More...

A non-profit organisation that works with teachers in the Western Cape's … Read More...

Every year thousands of tourists flock to the Arctic to view the … Read More...
Your Stories

Karoo towns are never the first choice for those seeking the bright … Read More...