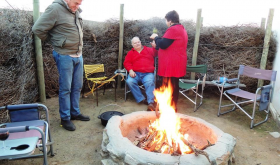 It's Heritage Day in South Africa tomorrow – 24 September 2014 – so wherever you are in the world, feel free to celebrate your "South African-ness"! Wave the SA flag, wear 'Nou Gaan Ons Braai' shirts, turn up Nkosi Sikelel' iAfrika and throw a lekker tjop on the braai (or barbecue if you're overseas). National Heritage [...]
FAB SA Stuff!

The Mercy Ship, a floating hospital that strives to bring hope and healing … Read More...
Your Stories

Karoo towns are never the first choice for those seeking the bright … Read More...