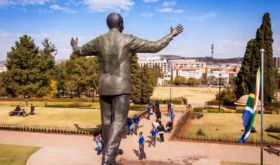 For those who haven't had a chance to visit the new Mandela Statue at the Union Buildings, check out this awesome time lapse sequence which conveys just how large this 9-metre high bronze sculpture is as it towers over the crowds below. (Scroll down for video.) The 2 minute 55 second video was compiled by Rushdi Nackerdien [...]
FAB SA Stuff!

Johnny Clegg need look no further in his search "for the spirit of the … Read More...

On Thursday I witnessed three kite-surfers risk their lives to save a dog … Read More...

Whether you live in South Africa's most dynamic metropolis, or you're just … Read More...

South African opera singer Pumeza Matshikiza stunned the audience at the … Read More...

Here's another one of those emails - with a compilation of old and new … Read More...

Here are some cool moves from Africa! This six-minute video showcases some … Read More...

Penny Heyns did not know she had just made history. Standing on the podium … Read More...
Your Stories

South Korea has become a popular destination for young South Africans who … Read More...