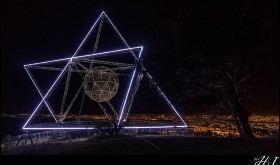 Cape Town has a new beacon of light, shining brightly into the night…and the future. It's the new 24-metre high art installation, designed by artist Christopher Swift, that is now providing a physical and figurative glimmer of light on Signal Hill in Cape Town. Powered by solar energy, the light from the eight-pointed star (which […]
FAB SA Stuff!

If there's one thing that anyone who's ever lived in - and left - … Read More...

Saturday 15 November marked a new beginning for the city of Joburg as one … Read More...

South African Post Office (SAPO) has announced they are pleased with the … Read More...

It's a month today until Christmas Eve, and the festive posts on social … Read More...

A strange thing has been happening to Johannesburg lately – people are … Read More...

South African expat and truck driver Jaun-Deo (JD) Jardine was stuck for 36 … Read More...

A young South African is making his country (and sister) proud in Las Vegas … Read More...
Your Stories

Karoo towns are never the first choice for those seeking the bright … Read More...