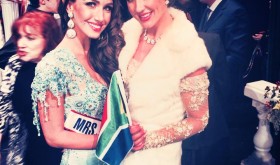 Her country fell in love with her before she was even crowned first runner up at Mrs World on Wednesday evening. And to many South Africans watching, Sarah-Kate Scott will always be their winner. The thirty-one year old mother of two sons is a successful business woman who has conquered one of the toughest challenges […]
FAB SA Stuff!

There are probably few places that conjure ambience more than a library … Read More...

A kind and unassuming waiter by the name of Vincent has become the most … Read More...

A non-profit organisation that works with teachers in the Western Cape's … Read More...

Every year thousands of tourists flock to the Arctic to view the … Read More...

African music, Nelson Mandela once said, is about the aspirations of … Read More...

Peter Tshisevhe is more than just a poor boy from a poor family. He is one … Read More...

South Africa's top jazz acts, including legendary jazz pianist Abdullah … Read More...
Your Stories

Karoo towns are never the first choice for those seeking the bright … Read More...