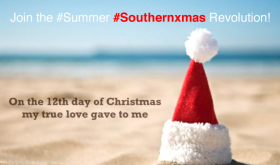 It's the Christmas Song that's swept South Africa this season – the local-is-lekker version of Twelve Days of Christmas. And it's not just the melody and words that make it so great…but the way it's changing perceptions, and making a Summer Christmas just as cool and 'real' for kids as the snowy winter one they see in More Info »
FAB SA Stuff!

Ncome, near the scene of the Battle of Blood River, presented a moving and … Read More...

This is the video that keeps on giving...giving laughs. It's the one where … Read More...

For those of us who weren't able to watch the Miss World Pageant live on … Read More...

South Africa's favourite DIY Goddess Suzelle is releasing four Christmas … Read More...

It's been an exciting past 24 hours for Miss South Africa Rolene … Read More...

As the jokes continue to flow about Eskom, "load shedding" (a.k.a. power … Read More...

Fans of the 'Mad Max' series are going mad for the latest official trailer … Read More...
Your Stories

Karoo towns are never the first choice for those seeking the bright … Read More...