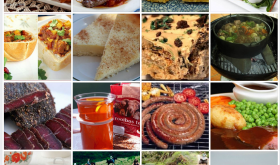 You know the drill. You move overseas and your first foreign friend (or even a guy in the queue at the post office) asks you whether lions roam the streets of South Africa, if Joburg's roads are paved with gold, and whether we all live in trees. And it's the same if you stay in More Info »
FAB SA Stuff!

South African Airways (SAA) will this week become the first airline … Read More...
Let us make 2015 the year of unity and cooperation amongst all South … Read More...
The partnership between the South African Police Service (SAPS) and the … Read More...
Bafana Bafana head coach Ephraim Shakes Mashaba has opted for an offensive … Read More...
Due to a shortage of generation capacity, Eskom has moved to stage two load … Read More...

 The Amajita, South Africa's men's under-20 national team, beat Finland 2-1 … Read More...

Wits scientists have found three extremely luminous gamma-ray sources in … Read More...
Your Stories

Karoo towns are never the first choice for those seeking the bright … Read More...