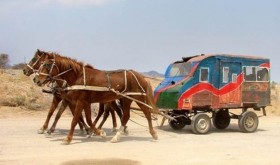 Here's another one of those emails – with a compilation of old and new photos from Africa – doing the rounds at the moment…showing that Plato was right when he said necessity is the mother of innovation.
FAB SA Stuff!

Here are some cool moves from Africa! This six-minute video showcases some … Read More...

Penny Heyns did not know she had just made history. Standing on the podium … Read More...

Wow - he did it! South African salvage master Nick Sloane - with the help … Read More...

For many decades, the little village of Nieu-Bethesda in the Sneeuberg … Read More...

As a travel journalist, you can wander the world, see all its peoples, … Read More...

Here are three of our favourite Mandela Day moments from today: 1. These … Read More...

My girlfriend and I were born about 20 minutes apart. … Read More...
Your Stories

South Korea has become a popular destination for young South Africans who … Read More...