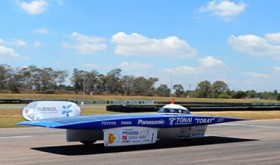 Renewable energy spells big things for South Africa' economic future, if sustainable and affordable solutions are found. Working towards making solar power a feasible source of motoring energy, the Sasol Solar Challenge invites renewable energy addicts from across the globe to compete in an eight-day country-wide endurance challenge. Held every two years under the auspices [...]
FAB SA Stuff!

Storytelling is the new rock n roll, says Rian Malan. Known for his own … Read More...
Your Stories

Karoo towns are never the first choice for those seeking the bright … Read More...