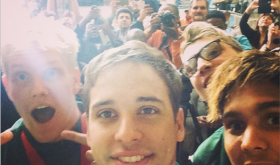 Chad le Clos returned to South Africa this morning an even bigger hero than when he left…having now made South African history by finishing the Commonwealth Games with seven medals! The 22-year-old sportsman was met at OR Tambo International Airport this morning by a throng of fans who were delighted when he posed with them for [...]
FAB SA Stuff!

Pretoria mom Drika Venter has sent a special message of thanks to all those … Read More...

Today, 31 July 2014, we thank and celebrate all the Rangers around the … Read More...

Standing 1.93 metres tall, Nelson Rolihlahla Mandela was a giant of a man … Read More...

As you stroll past Frans Boekkooi's studio in the Karoo village of … Read More...

After a day in which members of the public were upset that the police … Read More...

The popularity of South Africa's super-successful expat, Elon Musk, … Read More...
People have an amazing ability to adapt to their circumstances. The mind … Read More...
Your Stories

South Korea has become a popular destination for young South Africans who … Read More...