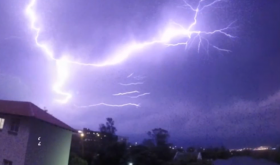 If there's one thing that anyone who's ever lived in – and left – Johannesburg misses, it's the incredible thunderstorms on the Highveld and the way the big African sky lights up, like a laser show. So for those who live in places where the skies are a little less dramatic and passionate, here's a video […]
FAB SA Stuff!

Saturday 15 November marked a new beginning for the city of Joburg as one … Read More...

South African Post Office (SAPO) has announced they are pleased with the … Read More...

It's a month today until Christmas Eve, and the festive posts on social … Read More...

A strange thing has been happening to Johannesburg lately – people are … Read More...

South African expat and truck driver Jaun-Deo (JD) Jardine was stuck for 36 … Read More...

A young South African is making his country (and sister) proud in Las Vegas … Read More...

Her country fell in love with her before she was even crowned first runner … Read More...
Your Stories

Karoo towns are never the first choice for those seeking the bright … Read More...