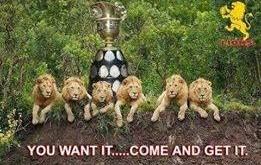 As the competition's heating up for the big event that kicks off at 5 pm today in Cape Town, social media is alive with the jokes that are being shared. Here's just a sample of some that have been sent in to SAPeople from rugby fans, including a Lion's video that has been dug up [...]
FAB SA Stuff!

A wonderful production of Thumbelina opened at the Artscape Theatre in Cape … Read More...

The US Department of Justice revealed yesterday that two South African … Read More...

Students in South Africa surprised a homeless man in Cape Town with an act … Read More...

One of the most popular videos on social media this week is one filmed in … Read More...
Dr Buyisiwe Sondezi, a student at the University of Johannesburg (UJ), is … Read More...
If you recognise these words - "Alan! Alan! Alan! Oh wait, that's not Alan. … Read More...

So this is a true Karoo Moment... Jules and I are sitting on the front … Read More...
Your Stories

Karoo towns are never the first choice for those seeking the bright … Read More...