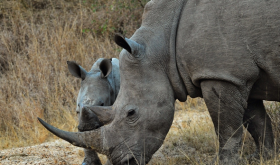 Several people in South Africa were upset by the controversial broadcast on Sunday night of a segment by Carte Blanche that cast doubt over the rhino horn infusion method. In a country where latest statistics show that over 700 rhino have already been poached this year and that their future is precarious, many viewers expressed concern that the [...]
FAB SA Stuff!

Some South African stories fill you with such hope, love and wonder. Nicole … Read More...

When Pretoria boy Ted Botha moved to New York City, he was not so much an … Read More...

When the big swell hit Durban beachfront this morning, local photographer … Read More...

Irish rock band The Script were so blown away by the "amazing" crowd of … Read More...

South Africa has been carpeted in an endless display of flowers during the … Read More...

After firsthand experience - through a close friend - of how the victims of … Read More...

In true Nando's style, the popular restaurant chain has launched a new … Read More...
Your Stories

Today I'm celebrating my FIRST YEAR in South Africa. I arrived in Durban, … Read More...