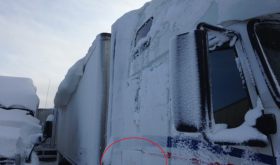 South African expat and truck driver Jaun-Deo (JD) Jardine was stuck for 36 hours in Buffalo during the recent record-breaking snow storm, where he took the photos on this page. "I'm originally from JBay (Jeffrey's Bay)," he says, "so it's a bit of a change!" And even though he's thousands of miles from the sun and surf of […]
FAB SA Stuff!

A young South African is making his country (and sister) proud in Las Vegas … Read More...

Her country fell in love with her before she was even crowned first runner … Read More...

There are probably few places that conjure ambience more than a library … Read More...

A kind and unassuming waiter by the name of Vincent has become the most … Read More...

A non-profit organisation that works with teachers in the Western Cape's … Read More...

Every year thousands of tourists flock to the Arctic to view the … Read More...

African music, Nelson Mandela once said, is about the aspirations of … Read More...
Your Stories

Karoo towns are never the first choice for those seeking the bright … Read More...