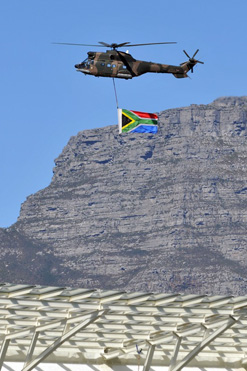 With less than 40 days to go to the kickoff of the 2010 Fifa World Cup, both individuals and companies are being urged to take up the national "Fly the Flag" challenge – to buy, distribute and fly the South African flag.
From 1 May, fans and companies can make their flag pledges by texting the word "flag" to 32175 and thereby "celebrate the first time the 2010 Fifa World Cup is being held on African soil," said Sophie Masipa, marketing manager of the International Marketing Council of South Africa (IMC), the custodian of Brand South Africa, in a statement this week.
"It is our quest to literally 'Flag' South Africa," Masipa said.
Each text message costs R1.
Masipa also urged government departments, provinces, host cities and municipalities to fly the flag.
"We want to see our national flag, a symbol of unity and hope for future generations, flown far and wide across the country," she said. "From building wraps to office park entrances and in our neighbourhoods, we want to paint the nation with pride through our country's most visual representations."
Masipa added that the initiative is a demonstration that the national flag is for every South African – a representation of our people no matter where we live in the world, regardless of background and without relevance to personal beliefs.
"Our flag unites us all under a common future and makes us a strong nation," she said. "It is representative of our future aspirations as a nation."
Nation branding
As hosts of the World Cup, the IMC says that South Africans and Africans are on the eve of welcoming thousands of potential Brand South Africa advocates to our country and continent.
South Africans can demonstrate their support for the nation brand by joining in celebrations such as these, through which we are welcoming the world to our country, the statement read.
Other South African mobilisation campaigns include Football Fridays, the People's Bus and the Diski Dance.
"It is imperative that we actively show our support for our national football team, Bafana Bafana – a South African brand ambassador representing us on the World Cup's centre stage," added Masipa.
South African flag suppliers
Ikamva Contract Publishing
Karen Lundie
+27 11 4310322 / 082 3872906

National Flag
Marc Coetzee
+27 11 8870143 / 082 4551116

Stone Moon Design
Unathi Rafu
+27 11 4621753 / 082 8307822

GMD Products & Graphic Design
Lombe Chalungumana
+27 11 3386248 / 076 3256780

Head Masters
Ivan Lazarus
+27 11 6261424

Gift Wrap Trading
Aletia Van Niekerk
012 9982579
Aletia@giftwrap.co.za