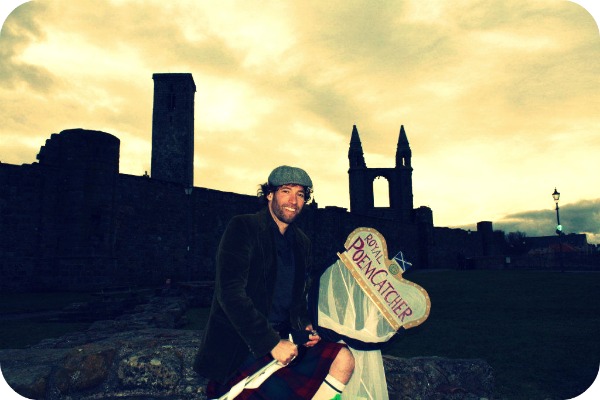 Andrew Newman is a South African (well, Afro-Celtic now) healer and PoemCatcher. He has a geography degree in army avoidance (!) from the early '90s and has just published 'Royal Wedding Poems', an anthology of donated poems inspired by Prince William and Kate Middleton.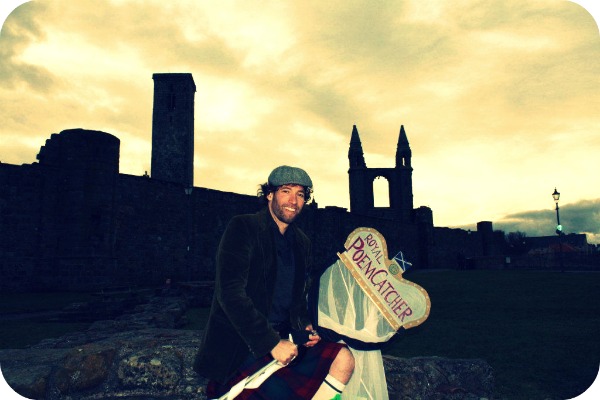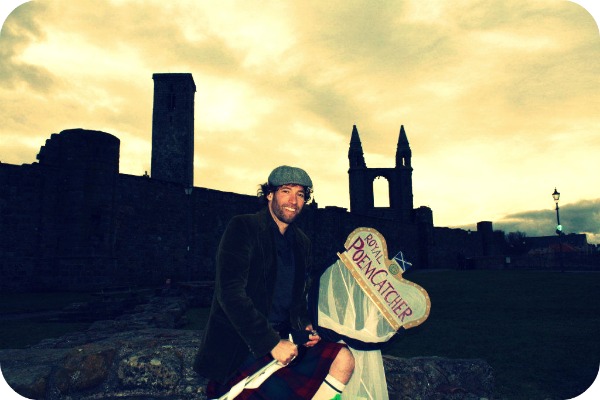 After working in the family jewellery business for many years, Andrew went through a significant personal transformation, studying hands-on Healing with 'Hands of Light' author Barbara Brennan. Now living in Scotland, and about to enjoy the Royal Wedding, Andrew (or 'Sam' as his friends know him) took the time to talk to SAPeople about Haiti, poker, Prince Charles and the value of playfulness…
1. So what do you do for "work"?
I'm a healer and a PoemCatcher. I wander the streets of festivals or events inspiring fresh creativity – inviting spontaneous poems to be donated. I publish the anthologies within 3 weeks of the event, creating a poetical picture book that captures the memories.
It started last year after the Haiti earthquake. There was such devastation. They had nothing. so I made something from nothing and sat down on a pavement to beg for poems. I got 139 in 4 days and made a book – "QUAKE – Built from nothing". It raised hundreds of pounds for SOS children's villages in Haiti.
2. And where do you live now and why?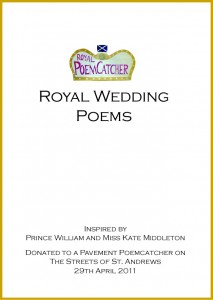 Edinburgh. My mother grew up here and I used to visit my grandparents. I came in backpacker mode in 2003 for the festival, and loved it. I returned to Cape Town for a year working with Habitat for Humanity as volunteeer co-ordinator. We built 65 houses in 11 months with 4500 volunteers. It was amazing but I needed to fly to study modules in Europe 5 times per year, so I moved back to Scotland.
3. Where do you wish you lived?
Cape Town, of course. Perhpas Boulder Colorado as plan B.
4. Proudest achievements?
a)10 books made in a year, nearly 1000 poems published.
b) my work in the townships, and
c) completing my healing training. It was tough at times. I had to look at many personal issues I didn't want to face. I'm proud I did it.
5. Who's your inspiration?
Poetically – David Whyte and Rumi
Spiritual Teachers – I have many, at the moment Jason Shulman for his Integrated Kabalistic Healing
6. Your most useful character trait?
Playfulness. If someone calls me a crazy, I know I'm doing the right thing
7. Most interesting peson you've met, or know?
Dr Barbara Brennan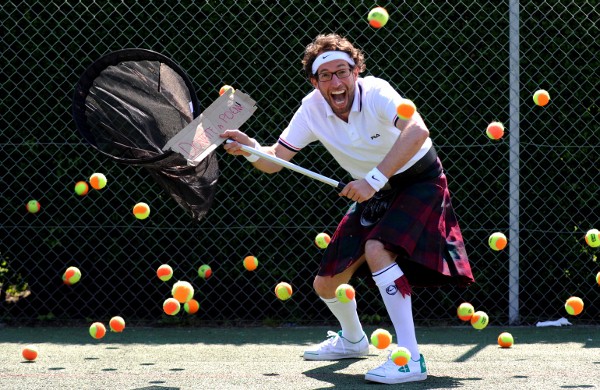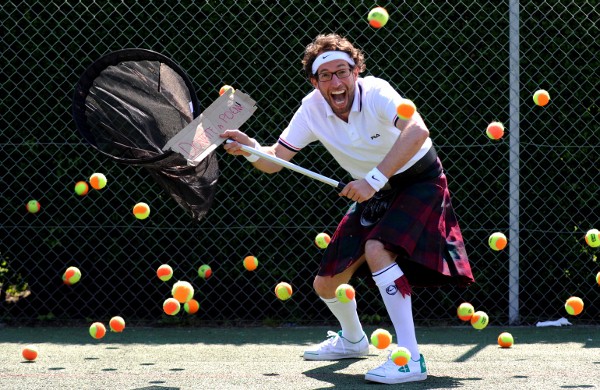 8. Biggest regret?
Letting the bullies, bully me. Not asking for help.
9. Dreams for the future?
PoemCatcher is growing from a hobby into a business. I want to inspire fresh creativity, and help people find paths to health. I'm seeing a USA tour – perhaps with summercamps, and I want to work with Oprah's Magazine. They understand the importance of creativity and poetry. I've built a Spiritual Tourism program to the Western Cape (www.lifewalkers.com) and want to see that succeed. It's good for South Africa and for the folk who visit.
10. Was there any teacher at school who changed your life, helped set you on the path to your destiny?
No. School was tough. It was about keeping my head down, and staying afloat at the same time. I found my inspirational teachers later in life.
11. Ever had a life-changing moment, and what did you learn from it?
Spinal Surgery at 26. I woke up after it and changed my entire life. I found courage and faced the inevitable after that.
12. What's the best bit of advice you ever got?
Breathe
13. Do you still reconnect with any of your old friends from school?
Absolutely. There's always a poker game when I'm in Cape Town,
14. What are your poems usually about?
As PoemCatcher I choose different event themes. Wimbledon Tennis, Halloween, Mushrooms, Salty Seaside Poems, Royal Wedding poems, Mice. I've made 10 different books in a year.
My personal poems are around waking up, dreams, racism, desire, passion and intimacy.
15. Did you enjoy poetry at school?
No, I started journaling in my 20's and realised later that I had written poems. They seemed to contain wisdom that was bigger than me. I liked that.
16. Tell us a bit about your latest book  ROYAL WEDDING POEMS and where we can get it.
ROYAL WEDDING POEMS is an anthology of donated poems that were written in St Andrews, Scotland. I wandered around the town for 4 days in my kilt, with my poemcatching net and people were inspired to write fresh poems on the pavement – all about Wills and Kate. It's delightful. You can buy it through www.poemcatcher.com or download the ebook from http://www.smashwords.com/books/view/50313
17. Have you ever met or seen anyone from the royal family?
No, but my first book "QUAKE- Built from Nothing" was officially presented to Prince Charles. I was well chuffed. See pics online.
18. Where will you be watching the Royal Wedding?
Camp Royale on Clapham common will be home for 3 days – selling books, reading poems, having fun.
19. Pls finish these sentences:
South Africans are so…vibrant
I wish South Africans wouldn't…be so violent
I love being South African because…diversity and forgiveness are ordinary to me.
THE PLUG
Buy Andrew's books at: www.poemcatcher.com