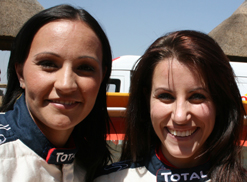 South Africans Stefanie Botha and Angela Shields have shattered all stereotypes by competing as the only all-female rally racing crew in the country for 2011, showing they're every bit as skilful and capable as their male counterparts.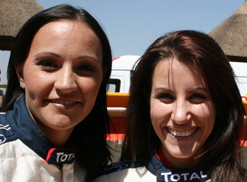 The two are currently competing in the eight-round 2011 South African Rally Championship and are one of four crews belonging to Team Total, the country's largest privateer rally squad.
This means Team Total's drivers own their rally cars and do all the maintenance themselves. Factory crews, such as the Castrol Team Toyota, compete in vehicles fully prepared, built and maintained by the company sponsoring them.
Botha and Shields, both in their 20s, say it helps being best friends, as they have to trust each other completely during a rally. Shields is the co-driver, or navigator, and Botha takes the wheel.
"Stefanie and I understand each other and have a huge amount of respect for each other. I don't think we have an edge over the other teams because we are women, we have to work just as hard as the others," Shields says.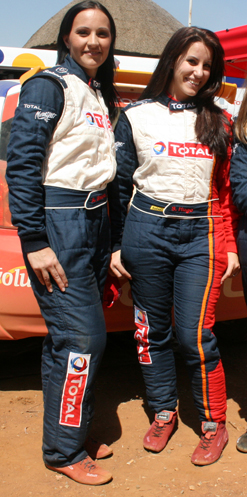 Botha admits that it does get heated at times, as they operate under extremely stressful conditions: "But luckily we trust each other completely – this is the most important aspect of a rally team. I am driving 'blind' and have to trust each call she gives me and drive accordingly. Angela also has to trust me to get us around each corner and not start panicking."
When push comes to shove
And when it comes to the maintenance and mechanics of their Toyota RunX S1600, Botha and Shields take it in their stride.
"Unfortunately we do not have all the technical knowledge or physical strength when something goes wrong, but sometimes we have to change wheels or get stuck and have to push the car out," Botha says.
During a race the crew is only allowed to service their vehicle in a designated service park, which is usually placed every second or third stage during a competition. A typical national rally is held over two days and consists of between nine and 13 stages over various surfaces and terrain, covering a total of about 180km. A stage can be anything between 2km and 60km.
During servicing, the technical team changes the car's tyres if necessary, puts in petrol and attends to major mechanical work.
"But if anything breaks in between, we have to fix it ourselves," says Botha.
"We are not all that clued-up, but at least know the basics like how to change tyres, put water back in if the car overheated and get the fan going. We help to prepare the car whenever we can so we keep learning. Of course we get gawked at whenever we have the bonnet open and have our hands in the engine bay, getting to the service bay all oily and muddy," she adds.
Made for speed
Rallying runs in Botha's blood, having attended her first event when she was just two weeks old.
"My dad has been racing and rallying ever since I can remember. It's always been a family activity. My grandmother would not miss a rally and my mom would make sandwiches and bring coffee and (in later years) my sister, my friends and I cheered him on with all our might. Speed has always been such a part of my daily life, I just can't imagine it being otherwise. I cannot remember if I ever specifically decided I wanted to be a rally driver. I just always knew."
It was this sense of conviction that saw Botha joining her dad in a rally team when she was just 15 – long before she had her driver's licence.
"When I started navigating at 15, there was a fight with the motorsport controlling body as they didn't want to allow this at first. I enjoyed the sensation of sliding around corners so much I used to forget reading the instructions, but my dad helped me a lot. I guess my bum was made for the driver's seat and not the navigator's."
Shields is more of a newcomer and got her first taste of rallying in 2009: "I went for a 'hot seat' experience with a friend and I was blown away by the speed and adrenaline. I immediately knew that I wanted to be a navigator."
Shields then contacted Leon Botha, CEO of RallyStar Motorsport Academy near Bapsfontein in Gauteng, and signed up for a navigation course. "I had a day of theory, learning what all the different symbols in the route notes meant, how to read the notes and change my tone of voice for different calls. Then I had a few practical sessions reading for a trained rally driver. I navigated for a good friend in the 2010 RallyStar Sprint Series and we came second overall."
Despite their success in the field, they still have to deal with prejudice for being women in a male-dominated environment.
"It is very challenging to convince people to see me as a rally driver, and not as a female rally driver and to give me a chance to make my mistakes and build up experience. I have heard many comments like 'typical female driver never in the right gear' – after having a broken gearbox with only one gear – or 'she drives well for a girl'. I don't have to reply on these. I know what I am capable of – we just have to prove it," Botha says.
Shields adds that she sometimes has to give physical proof to those who doubt her claims: "On many occasions I have had to show people photos to get them to believe that we're an all-female team in motorsport. If I had to say something to these individuals it would be 'I can do anything you can do and probably better'."
Between ripping up the dirt and challenging preconceptions in rally circles, the two friends work hard at their day-time jobs. Botha is a graphic designer and is currently opening up her own photographic studio in Middelburg, Mpumalanga, and Shields works as an IT support consultant for a multinational software company.
Source: www.mediaclubsouthafrica.com