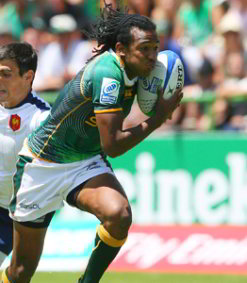 Eastern Cape-born Cecil Afrika, top points and try scorer in the 2010/2011 HSBC Sevens World Series, was recently named the International Rugby Board's (IRB) Sevens Player of the Year.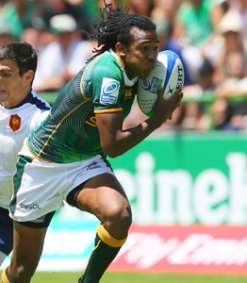 The award ceremony took place at the Vektor Arena in Auckland, New Zealand on 24 October, following the successful completion of the seventh Rugby World Cup which was won by hosts New Zealand. The awards also celebrated the 125th anniversary of the IRB.
Sevens rugby fans will hardly be surprised, as the slightly built Afrika dominated the sevens rugby scene this year, despite a recurring jawbone injury which caused him to miss the Wellington leg of the tournament early in the season.
Playing in the flyhalf position, pacy Afrika shone on the rugby field from a young age, where he first represented his country in the school side in 2006. In 2008 he was part of the under-20 squad which reached the third place playoff at the 2008 IRB Junior World Championships.
The first tournament of the upcoming HSBC Sevens World Series season kicks off in Australia on 25 and 26 November.
From there the series moves to Dubai early in December before arriving at the Nelson Mandela Bay Municipality for the South African leg on 9 and 10 December.
Top try scorer
Afrika's abilities overshadowed fellow nominees Tomasi Cama and Tim Mikkelson, both Kiwi players. Scoring 40 tries, the South African notched up an unrivalled 385 points, 86 more than Cama despite playing in one less tournament.
The three shortlisted players were chosen by the management of all the participating teams.
The 23-year-old Afrika helped South Africa secure tournament wins in Las Vegas, London and Edinburgh. But, like their counterparts in the main rugby event, the New Zealand sevens team were too strong for the competition and clinched the series with a convincing 150 points scored during the season.
National sevens coach Paul Treu says Afrika's best attribute is his ability to play consistently across all games, while his strong defence has saved many an almost-certain try.
Treu remembers Afrika's determination to make it to the top, saying that the flyhalf was not picked for the team three years ago. Despite this setback, Afrika trained with the team without a contract so that he could one day be considered.
His determination paid off and he finally made his debut in the Dubai leg of the 2009/2010 series.
"What he has achieved since then is just incredible and his rise through the ranks from a very humble childhood in Port Elizabeth to a star performer on the world stage is an incredible and inspiring story," adds Treu.
Arika dedicated the award to his teammates: "I am extremely proud of the award but I view it as an accolade for the team. My teammates, the coach and management all worked very hard and we endure the joy and pain together."
Source: www.mediaclubsouthafrica.com