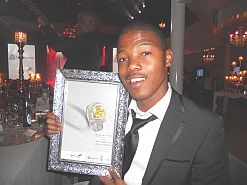 Jewellery design students from the Durban University of Technology (DUT) have proven their creative worth by coming third in the PlatAfrica 2011 design competition.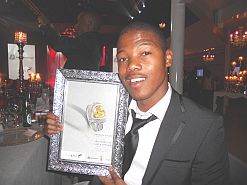 The competition, sponsored by Anglo Platinum (Amplats) in conjunction with Metal Concentrators and Johnson Matthey, culminated in an awards ceremony at Arena Royale in Fourways, Johannesburg, on 22 October 2011.
The theme for this year's event was "Platinum Romance" and the aspiring entrants had to romanticise platinum in their designs.
The competition was open to professionals, students and design apprentices.
Mary Jane Morifi, Amplats' corporate affairs executive, said: "The PlatAfrica 2011 winners have all demonstrated that South Africa has some of the best platinum jewellery design talent in the world.
"This year's entries were of a very high calibre, and firmly reflected the platinum romance theme through an array of visually captivating and precisely crafted designs."
There were three parts to the competition: the professional category, which recognised the contributions of industry professionals; the student design category; and the student and professional collaboration category.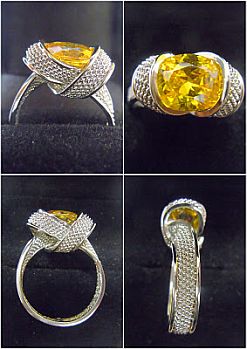 The professional category was won by Noeline and Michael Angove, along with Kevin Palmer of Lazer Options; second was Wooshen Pillay from Woosh Designs Jewellery Studio; while Dorothea Annandale from Dorothea Annandale Studio was placed third.
Wilma Greyling of Stellenbosch University took home the first prize in the student category, with Catherine Slade from the College of Cape Town coming second and Kieran Tinsley from Cape Peninsula University of Technology taking third place.
The DUT designers came third in the student and professional collaboration category; Cape Peninsula University of Technology students led by professional designer Vassiliki Konstandakellis took honours; while the team from Mizane Jewellery, Ken Brandt and Donovan Johnston were runners-up.
Team effort
The design team from DUT comprised Lungelo Dlamini, Sphelele Mbhatha, Jongani Mzukwa and Collin Ngiba. They were led by professional designer Vijay Shah of Vijay Shah Jewellers.
Shah said: "After winning the professional category twice, I discovered I had a greater hunger to learn and share my knowledge. I have a long-standing relationship with the Department of Jewellery Design and I opted to mentor students and the outcome has been quite remarkable."
The jeweller won the designer category of the competition for two consecutive years in 2009 and 2010.
Shah holds a degree in Fine Art from the University of Durban-Westville and boasts 20 years of experience as an established designer.
Samantha Vincent, DUT jewellery design lecturer, said: "We are extremely proud of our students' performance. They have exhibited great skill and exceptional talent in their design and craftsmanship. Students worked on this competition for five weeks from conception to finished product."
The team won a cash prize of R8 000 (US$1 000) for being placed third, while Songezo Baleni, a BTech student at DUT, received a merit award for his woven wedding ring design in the student category.
Baleni named his ring the Love knot to last a lifetime and said he hoped this was the first award of more to come for his woven jewellery.
DUT has taken part in the competition since 2006, and in 2009 included it into its third-year Work Integrated Learning curriculum.
Romanticising platinum
The DUT team's design theme was "For richer, for poorer" which envisioned a marriage between a middle-class man and an upper-class woman.
"Together we created five unique pieces as part of our range, 'For Richer, for Poorer'. My professional input assisted students with their design concepts and technical construction of their pieces," said Shah.
Ngiba made cufflinks for the father of the bride and called them Sabiduría, which is Spanish for wisdom. Mbatha made the groom's wedding ring, Dlamini created a brooch for the groom's brother and called it Flor, which is Spanish for flower; while Mzukwa made the bride's ring and named it Te Amo, Spanish for I love you.
The students' designs were complemented by a hair ornament for the bride's mother from Shah. Shah called his design Diva.
Source: www.mediaclubsouthafrica.com