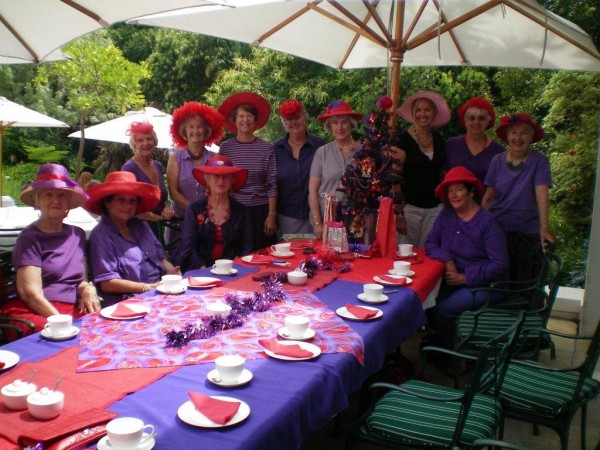 Capetonian Jo Maxwell – also known as 'The Queen' by those close to her – talks to sapeople about her brilliantly unique sleeping  bag invention…which tends to put a smile on everyone's face. Jo invented The Good Night and God Bless Waterproof sleeping bags back in 2005 as a temporary emergency measure for night shelters, homeless people, refugees or those living in damp shacks.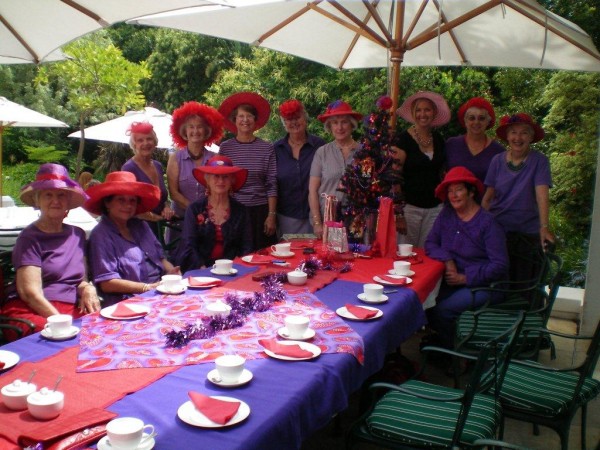 Made from 60 micron recycled plastic bags, newspaper and packing tape the total cost is around R6 and to date over 20,000 have been made by volunteers and distributed to those in need.
The bag itself is 1500 x 900 cms and has 10 layers of newspaper on each side.  (The reason why extra layers are not added is because one can't fold them for storage when not in use.)
Who Distributes the Sleeping Bags?
The sleeping bags have been distributed through SANTA, Salvation Army, The Night Haven's and the TAC, but most church groups work with disadvantaged communities and distribute directly to them.
Most schools and church groups in and around Cape Town have been involved since I started the project and I have been as far afield as George to demonstrate where people from outside of George have then taken the project to their areas.
As I am a private community worker by choice, all funds from the public or my Rotary Club go directly into one of my projects. The sleeping bag project has been sponsored by the Rotary Club of Claremont as well as the public. And it's proven popular on Nelson Mandela Day for groups like Cape Talk 567, Old Mutual and Western Province Prep School.
You Recently Demonstrated the Sleeping Bags Overseas…
It was through Christine Davies, one of the founders of Group Relations International that I was invited to demonstrate the making of the sleeping bag when I visited Wales in May this year.
I was also told by a volunteer that she had sent the instructions to a friend in  Japan after the tsunami for those living further north in freezing conditions.  I have no idea whether they were able to make them.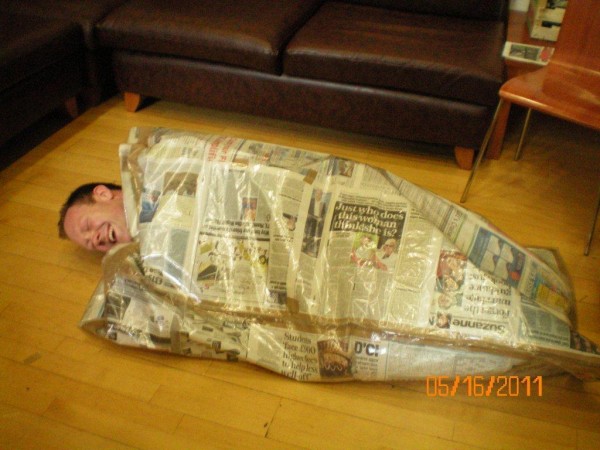 What was your inspiration to create these sleeping bags?
I have no idea – it just happened, but it took me almost six months to find the correct size and weight of the bag, and Traidcor keep a stock for me paid for by my Rotary Club.
Apparently they're also used as Floor Mats and Mattresses?
The mattresses were actually a mistake when I had the whole of Herzlia Junior School in Vredehoek making them, and the children just got carried away and made them so thick I couldn't roll them.
Because of the flooding in the townships shacks (a regular occurrence) I have been told by various field workers, that they have been put down on the wet floors.
This has been one of my most successful projects because volunteers have continued to make them. I only demonstrate and, when necessary, get them to
organisations who distribute them.
Tell us about one of your other projects…
Another project I started at my Rotary Club is Coins for Causes.  At each weekly meeting a bottle goes around and everyone empties their pockets and handbags of their small coins.  Since I started in March we have raised nearly R2000 which will be used for ingredients for three soup kitchens and
school stationary for township children.
Do you have a website?
Unfortunately because all funding must go to each project, I cannot take funds to pay for the creation of a website.  Well I guess I could because no one would know except myself, but there is a principal involved and people trust me with their money.
I have never registered as an NPO because I believe this is now big business and I ask nothing nor take any money for my community service. My travel, printing and telephone costs come from my own pocket.  My small contribution towards those most disadvantaged.