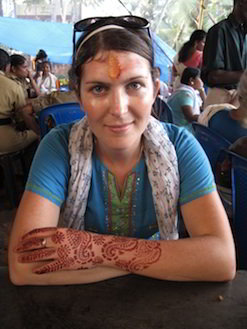 About eight years ago, a South African couple left their home comforts to set out on a journey of a lifetime that would be the envy of many spirited adventurers. Now they are making their way back home, and they have many stories to tell.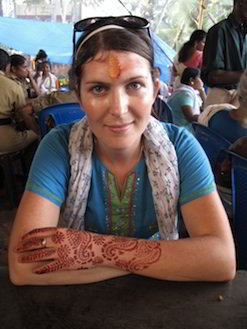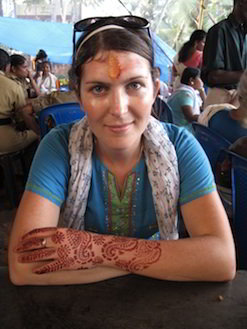 Iain Manley and Claire van den Heever have written an absorbing travelogue based on their eight years of living abroad. Old World Wandering is a collection of stories about their explorations of the regions and cultures of Europe, Asia and Africa.
Old World Wandering tells the story of two overland journeys. The first was from London to Shanghai over 18 months, covering 39 000 kilometres and passing through 18 countries.
Their second journey started in January 2011, after three years in China. They are making their way home to Cape Town via India, Southeast Asia, China, Central Asia, the Middle East, and East and Southern Africa.
Leaving home for London
Manley and Van den Heever, who both studied at the University of Cape Town, left for London a few months after graduating. Manley studied journalism and literature and Van den Heever has a degree in English literature and drama.
Their intention was to work in London until they had saved enough money to travel.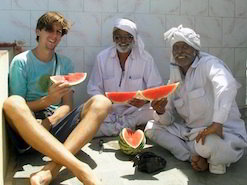 "It is a rite of passage for many young South Africans. Our move to London became the jumping-off point for a life we never expected to lead," Van den Heever says.
But as the weeks in London became months, exploring the world seemed to be slipping further from their grasp. "The city was sucking up every penny we earned," she says.
Then one day, ignoring their diminishing bank balance, Manley traced a vague line on the world map that hung, hopefully, on their bedroom wall. "We could get all the way there by land," he said, pointing to Shanghai on the east coast of China.
This was the beginning of the couple's great adventure.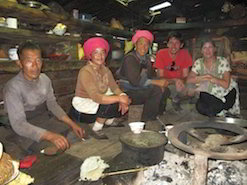 "With almost no idea about logistics, costs or dangers we agreed that, as far as possible, we would try. With the idea in place, the plans formed around it," says Van den Heever.
In June 2006, armed with money saved while managing a pub in the English countryside, they left England for a journey to Shanghai.
After spending 18 months on the road travelling through 18 countries, they arrived at Shanghai Train Station, wearing scruffy clothes and with dirty backpacks in hand.
Manley says that overland travel is the only way to experience a slow transition between places. Travelling by train is always their first choice, but often they have to rely on buses, minibuses, rickshaws, and occasionally cars or boats.
"When you go by bus or train from one country into another or between provinces you notice the differences and the similarities – between cultures, cuisines, languages and landscapes – that hold the world together," Manley says.
Working and travelling
During their first journey, they spent two months in McLeod Ganj in northern India, home of the Tibetan government in exile, volunteering as English teachers for Tibetan monks and refugees.
When the couple finally reached Shanghai, they found jobs teaching English to businesspeople. A year and a half later, both were commissioned to write separate Asia-focused books.
Manley wrote Tales of Old Singapore, a book about colonial Singapore.
Van den Heever's first book, which delves into the thirty-year existence of Chinese contemporary art, will be published in September next year.
After three years in China, they set off on their second overland journey.
"Our experience in Shanghai made working from the road as freelance writers possible," Van den Heever says.
Seeing amazing places
By the time they get back to Cape Town, they would have visited about 45 countries. But Manley quickly adds that he is suspicious of counting countries.
"Both India and China are as linguistically and culturally diverse as the whole of Europe, for example, and visiting Shanghai to say that you have seen China is like visiting London to say that you have seen Europe," he explains.
Instead, they prefer to immerse themselves in the beauty and diversity of every town, city and region they visit.
They also find it difficult to name the most memorable places they've seen. For Van den Heever, India comes to mind.
"India manages to amaze and stun in manifold ways – some more positive than others. We have spent so much time there now that, for better or for worse, I suspect it will always have a hold on us," she says.
Many of the most unforgettable places, such as Syria, came as a surprise. "We spent a few weeks travelling through the country in 2005, drinking endless cups of tea with people who were more hospitable than anywhere we've ever been. Sleepy little Laos was another unexpected gem," she says.
Manley says that their journey has changed their perspective about the world. "Stumbling on a chatty stranger in a noodle bar or taking a wrong turn down a quiet street can sometimes teach you more than the best-written guidebook or any museum's horde of treasures," he says.
Homeward bound
Initially they expected to be back on home soil in December this year, but now it seems that December 2012 is a more realistic estimate.
"I think neither of us knew how important travelling slowly would be when you earn a living on the road. We allowed ourselves to spend a month or longer in several countries along the way," says Van den Heever.
"We never imagined then that we would be away for so long, or that we would travel so far," adds Manley.
Although India, England and China are all places they can imagine living in again, they are ready to get to know South Africa.
"Neither of us have experimented with lives lived on our own terms at home. We've missed out on eight exciting years in a rapidly evolving country, where there is as much room for optimism and pessimism as there is anywhere. It's time to fix that," he says.
Manley is planning to go back to the University of Cape Town in an academic research capacity to explore the relationships between China, India and African countries.
Van den Heever (who according to Manley, speaks Mandarin better than he does), is going to set up a consultancy for people in South Africa who need help doing business with China, particularly in the travel and tourism industry.
She says that they are looking forward to living in the same country as their family and friends again, and enjoying everything that is uniquely South African.
"I am looking also forward to getting to know the country I left as a much younger person. I often think of all the natural beauty I left behind, the good wine and delicious meat on a braai."
Source: www.mediaclubsouthafrica.com