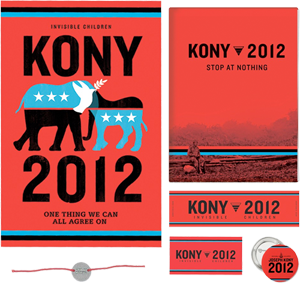 Kony 2012 is taking the internet world by storm. KONY 2012 is a film and campaign by Invisible Children that aims to make Joseph Kony famous, "not to celebrate him, but to raise support for his arrest and set a precedent for international justice". (Scroll down to view video)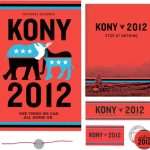 Kony is the guerrilla leader and head of Lord's Resistance Army (LRA) in Uganda, and is known for his extreme atrocities in the country where he has recruited over 60,000 child soldiers in the past 26 years through violent means, attacking villages where his soldiers reportedly kill the adults, rape the girls, and forcefully kidnap the boys to join his army.
The Kony2012 video and website encourages people to pledge their support for "the international effort to arrest him, disarm the LRA and bring the child soldiers home".
Since actress Kristen Bell kickstarted the Twitter campaign, Twitter and Facebook have been inundated with messages of support from celebrity parents including P. Diddy, Alyssa Milano and Nicole Ritchie. American Talk Show host Oprah – who has an all-girls school in South Africa – has also rallied behind the movement.
Oprah wrote: Thanks tweeps for sending me info about ending #LRAviolence. I am aware. Have supported with $'s and voice and will not stop.#KONY2012.
P Diddy (aka Sean Combs) wrote: Dear Joseph Kony, I'm Gonna help Make you FAMOUS!!!! We will stop YOU #StopKONY ! All 6,OOO,OOO of my followers RT NOW!!! Pls!
The half-hour video was made by Jason Russell and has already received over 46 million hits on YouTube since its release on 7 March.
Since the documentary has swept the internet, it has also received a skeptical backlash, with some saying that Kony is no longer as powerful as he used to be with a dwindling army, and that he fled Uganda long ago and is now in hiding in South Sudan or the Central African Republic.
One commenter said "People need to educate themselves, this is one big scam. Kony hasn't been in Uganda since 2006. This has been going on for approx 20 years, so why are they publicising it now and why have the US intervened? Because they found oil in Uganda in 2009!! Invisible children support the Ugandan military who have committed the same atrocities as Kony. People must be aware!!"
Whilst others have said "At least it is making people aware so they can demand that the Government can do something. Majority of people didn't even know who he was before this. Share it and then someone else will be more aware. How can some people rip this organisation apart when they are actually trying to make a difference in this world?"
From within Uganda, most have welcomed the campaign with the Uganda People Defence Force spokesman, Lieutenant Colonel Felix Kulayigye, telling the BBC that "I wish it had come earlier" and that the Kony 2012 campaign would "help us to expose who Kony is".
You can watch the video here:
httpvh://www.youtube.com/watch?v=Y4MnpzG5Sqc
HOW TO HELP:
Visit: http://kony2012.com
Donate to Invisible Children: https://stayclassy.org/checkout/set-donation?eid=14711
For info on Invisible Children: http://invisiblechildren.com