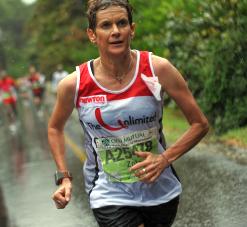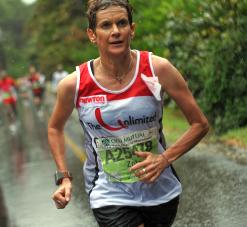 Zola Budd-Pieterse is no longer the naïve young darling of South African athletics, but the 46-year-old still has what it takes. She finished her first ultramarathon in April 2012, running a cold and rainy Two Oceans in Cape Town in under 4 and a half hours.
At 56km, the Two Oceans was the longest race Budd-Pieterse had run in her entire career.
"If you can do this race in these conditions, you've really accomplished something," she said afterwards.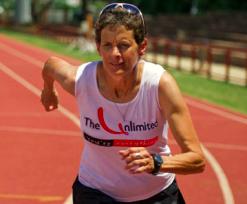 With a successful first shot at the 50km Loskop Marathon also under her belt, the petite athlete now plans to tackle the daunting Comrades Marathon – at around 90km, one of the world's toughest races – in June.
Her sponsor for these events is insurance and financial services provider The Unlimited, which runs a comprehensive wellness programme for its employees.
Running into the record books
Budd-Pieterse, a 5 000m specialist, set many running records in the 1980s. She broke the world record in this event in 1983 and 1985, running in her famous barefoot style which, she has said, only applied to grass and track events. On the road she always wore shoes.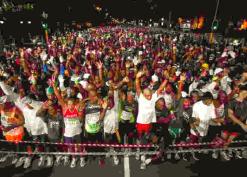 Her popularity was such that even today her name is used informally to describe minibus taxis, and the late singer Brenda Fassie had a big hit with her single "Zola Budd", an ode to the super-fast township taxi which took you anywhere you wanted to go.
In 1984 Budd-Pieterse was granted British citizenship through her grandfather, in order to compete in that year's Olympic Games in Los Angeles, as her home country was banned from all international competition because of its apartheid policies. She was just 18 years old at the time.
Running in front of a hostile crowd in the women's 3 000m final, she collided with the American Mary Decker, who fell and was unable to finish. Budd-Pieterse came in seventh and in her 1989 autobiography admitted that she deliberately slowed down to avoid the possibility of having to collect a medal to the noise of boos and jeers.
An inquiry afterwards found her not guilty of causing the incident and years later, Decker attributed it to the fact that she, Decker, was inexperienced in running in tight groups.
Never far away from Africa
Although she won the world cross country championships in 1985 and 1986, representing her adopted country, Budd-Pieterse's UK career didn't last much longer and she came back to South Africa in 1988.
She announced her retirement from international competition shortly afterwards, but returned to the track to represent South Africa at the 1992 Barcelona Olympics – the country's first Summer Games since its banishment in 1960.
Currently she and her family live in California, where she has competed successfully in the senior racing circuit since 2008. Although the drive to compete and achieve is still there, she said in a 2008 interview with the New York Times, it's not as all-encompassing at it used to be, and now she runs for enjoyment and not because there are records to be broken.
Even in the few years since her relocation, she said, the demographics of running in South Africa have changed.
"There are a lot more women running, which I am very thankful for, so yes there is an upliftment in running. You can see it in the figures that ran Two Oceans; there were more women running, which I am very proud of."
The family plans to return to South Africa as soon as possible.
"We moved to the US about four years ago, only to live there temporarily for two years and then it went on for four years," she said. "Our business is still in South Africa and our home and everything, so South Africa is still our home. It depends on my kids, when they finish high school, and when we are going to move back."
It's not IF, asserted Budd-Pieterse – It's more a question of WHEN.
Asked how she'd react if one of her own children developed Olympic ambitions, she said straight away that she wouldn't volunteer to be the coach.
"My first advice would be to get a good coach for my kid," she laughed. "I would be really proud of them but first of all I would make sure it's something they really want to do and they are passionate about, and that's more important for me than anything else. And then I would support them as much as possible."
And there's no question of where the allegiance would lie – "We are all still South Africans, definitely."
Tackling new challenges
The feisty mother of three is far from done with her running career. On 7 April 2012 she completed the Two Oceans in unfavourable weather in a time of four hours, 29 minutes and 51 seconds, and is now looking forward to the Comrades.
This year on 3 June the entrants will take on the 89km down run from Pietermaritzburg to Durban, the final third of which is said to be tougher than any other stage, whether up or down.
Her preparations are being helped along by none other than nine-time Comrades winner Bruce Fordyce, who was present in the stadium to witness that doomed 1984 Olympic final. Fordyce said in a newspaper column that he feels Budd-Pieterse is quite capable of getting a silver medal by coming in between six hours and seven hours 30 minutes.
But she hasn't set herself any unrealistic target for the big race, and says she'll be happy if she finishes in a time of around eight hours.
"Although my preparations for the race have gone smoothly, I am a bit concerned because I did not do enough mileage, as I hear other people have done," she said, "but for what I want to achieve I think it was good enough. Bruce has really been great, advising me when to do my hard runs, how to taper and all of that."
Budd-Pieterse has also secured the agency for Newton athletics gear and running shoes in South Africa. Operating out of her home city of Bloemfontein, she's busily promoting the gear, the running shoes of which are said to be almost as good as running barefoot.
By: Janine Erasmus
Source: www.mediaclubsouthafrica.com