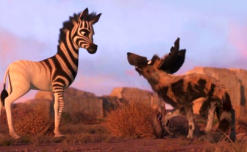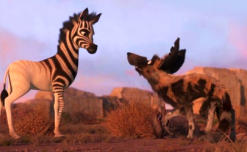 Triggerfish is already Africa's largest animation studio, and with world-class features like Zambezia (2012) and Khumba (2013) under its belt, the company is now in the big league and the sky is by far NOT the limit.
Headed up by award-winning animator Stuart Forrest, this 3D animation studio now has its sights on competing with industry bigwigs such as DreamWorks, Disney and Pixar.
Over the next 20 years, Cape Town-based Triggerfish aims to build a proudly African film and entertainment company that stands shoulder to shoulder with its rivals. "We want to produce around 15 feature films over that time," says Forrest, who is passionate about growing his company into a colossus.
"Some of those will be sequels and some will be new ideas. We're searching for a film that is a major breakout hit that challenges the big studio pictures. Simply stated, our goal is to have a film that performs better at the US box office than all the US studio films, by the end of 2033."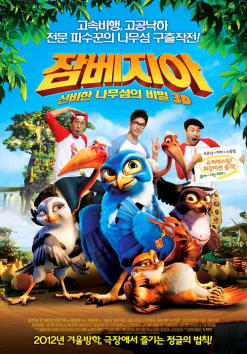 Zambezia, which cost an estimated R173-million ($20-million) had its world première at France's Annecy Animation Festival in June 2012 and has already been sold in over 50 countries, including a distribution deal in English-speaking territories with Sony.
It centres on the young falcon Kai, who leaves his father to seek his fortune in a bustling bird city, Zambezia, located in a baobab on the edge of the majestic Victoria Falls. Here he discovers the truth about his origins and, in defending the city from vicious marabou storks, learns how to be part of a community – "no bird is an island", reads the tagline.
With Leonard Nimoy, Jeff Goldblum, Deep Roy and Samuel L Jackson lending their voice talents, this movie was the first African animation to be nominated for two highly prestigious Annie Awards, given for excellence in animation. It was named the best South African feature film at the 2012 Durban International Film Festival and won the award for best animation at the South African Film and Television Awards. It was also nominated for a 2013 Africa Movie Academy Award.
Khumba, the second big-budget film from Triggerfish, is scheduled for release in October 2013, and features the voices of AnnaSophia Robb, Jake T Austin, and veterans Laurence Fishburne, Steve Buscemi, Richard E Grant, and Liam Neeson.
It tells the story of a half-striped zebra who is blamed for the drought by his superstitious herd. He leaves his home in search of the magic waterhole where, legend has it, the first zebras got their stripes. Young Khumba teams up with a feisty wildebeest and a flamboyant ostrich, as he journeys through the Great Karoo to earn his stripes.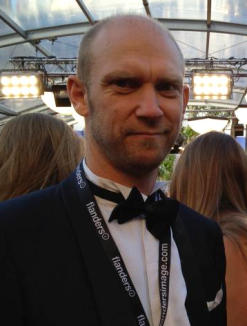 The original story was penned by Triggerfish writers Raffaella Delle Donne and Anthony Silverston in consultation with Jonathan Roberts, the co-writer of The Lion King. Khumba was recently screened at the Cannes International Film Festival.
Attracting the best in the country
Triggerfish, based on a farm in the Mother City, has a distinct company culture that has formed over 17 years. It attracts people from around the country that connect with that culture, and that want to be a part of what the company is doing.
"It isn't found anywhere else in the world. That's the most important thing we have going for us – the ability to attract the best people in the country and bring a fresh unique voice to audiences around the world. It's those people who make the films what they are," says Forrest.
The company started in 1996 as a boutique stop-frame studio, producing work for TV commercials. In 2001 it won a tender to produce 40 minutes of animation for Takelani Sesame, the localised version of evergreen kids' show Sasame Street. Following this, Triggerfish also started producing animation for the US Sesame Street while continuing to work with the South African version.
From 2007, the Triggerfish team started writing their own scripts, while producing longer format work mostly for the DVD market in the US, and from 2009 they've been producing only feature films for the international theatrical circuit.
Competing with established studios
Asked if it was always Triggerfish's idea to take on the likes of Disney, Pixar and DreamWorks, Forrest says no. "Initially we were happy to be a service provider. But then we went through a difficult time and were forced into writing our own scripts, and we found it was much better to be in control than to serve someone else's goals. So now we are competing for screen space and audience with the majors."
Zambezia lost both its Annie Award nominations to Disney's Wreck-It Ralph. "Given Disney has 52 films behind them and we only have two, I think we've got some catching up to do!" says Forrest. "But the great advantage is that we have access to a lot of insight that has been developed and published by all the studios, and we can choose what we like and apply it to our own processes. Technology has also been an incredible leveller, giving us the tools with which we can compete," he added.
Explaining how the company plans on competing with established global animation companies, Forrest says: "The key success driver in feature films rests largely on script. We plan to build the best script development department in the world. We want to be developing 100 ideas in order to choose two or three to actually produce. We plan to hire consultants from all over the world to help us build this department. We want to hire the best concept artists, writers and storyboard artists we can find."
With the film landscape changing rapidly, Triggerfish is very attentive as to where the trends are headed and according to Forrest, is "very excited about opportunities that are opening new doors" for the company.
The company also intends to establish itself as an integrated digital entertainment enterprise by developing games and other products around each of its film properties.
"Initially, these games will be mostly to promote the film itself, but within five years we'd like to see us earning as much revenue off the games as we earn off the films," Forrest says.
"After 10 years, we expect to be receiving the majority of our income from our gaming business, and we expect the bulk of that to come from emerging markets. Our goal here is to acquire an enormous audience of people who like our products, and engage with them directly. We also expect to be producing TV series within the next five to 10 years."
Animation in Africa
According to Forrest, the industry on the continent is at a very exciting stage. "For a long time we've struggled to get momentum, and there are a lot of 'chicken-or-egg' problems with starting new industries. You can't get jobs if you don't have trained people, and you can't train people if there are no jobs for them. You need experience to get someone to trust you with their animated project, and you need animated projects to get experience."
He says that Far East companies, with their deep budgets and years of experience, are also major competition. "That's why I believe that the model for South Africa is to develop our own films and show the world we can do it. Then we'll start attracting new projects and build the industry that way."
Forrest names the Department of Trade and Industry's rebate system as one of the factors that has made development of the local animation industry possible, as well as the Industrial Development Corporation and the National Film and Video Foundation as key drivers of the sector.
With Triggerfish now swimming in the big pond, it is much harder to choose a script, Forrest says. "It was easier when we didn't know so much. But the great thing is – we can make 15 movies for the price of one studio movie, and that frees us up to take more chances with each one.
"One of the big struggles with the major studios is in appealing to all people across both genders and all ages in all cultures. This can flatten down the enjoyment for any specific group and can lead to predictable, familiar stories. We can take a bit more risk with our subject matter, knowing that we don't have to tick all the boxes to be financially successful," he says.
By: Romaana Naidoo
Source: www.mediaclubsouthafrica.com