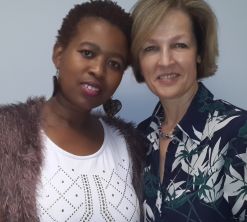 Clay is usually used to make bricks or mould beautiful ceramic creations. It's not something most people think of putting into a jar and using as a cosmetic. But Adolphina Setsena, one of the winners of the South African Breweries Foundation Social Innovation Awards of 2013, finds it as natural as brushing your teeth every day.
Setsena's ProYouth Naturals offer women a portfolio of skin care, foundation and body wellness products, many with a mix of African herbs known for centuries to provide healing and wellness. And now she has developed a new product, SNE54 Complex, which uses clay as the basis of her cosmetics and healing products, says Setsena.
She grew up with two traditional healers – her grandmother and her aunt – and learned from the best how to mix different clays and plants to create natural remedies for ailments like arthritis and skin conditions. "I use the ingredients and compound them into cosmetics – I learned what in nature to use for wellness," she says. It gives women the ability to "look great without the facelift".
Based in Pretoria, Gauteng, Setsena is a graduate of the Kickstart programme of South African Breweries (SAB), and has obtained certificates from the Deutsche Gesellschaft für International Zusammenarbeit and Training for Technology for Food, Pharmaceuticals, Cosmetics and Industrial Applicator. She started her business in 2004, and all product developments are manufactured and tested with the support of the Thumisano Trust and Sasol Chemcity, an enterprise development vehicle.
Beauty products include shampoo, shower gel, bubble bath, body and hand lotion, body scrub and lotion butter. After ingredients are extracted from the herbs for these products, the leftover material is combined into leaves and seed pods to make room fresheners.
Setsena, dressed for the interview in a stylish white studded dress with matching large white bangles, and with a flawless skin, shared the third prize in this year's competition, which took place on 31 October, with two other winners, taking home R300 000 to help her take her products a step closer to market.
Innovators
First prize went to the Vula Eye Health Mobile Phone App, which pocketed R1-million. Created by William Mapham and Professor Kovin Naidoo, the app aims to improve eye care in South Africa's poorer communities by educating people about different eye conditions, providing access to eye sight tests and connecting people to eye care professionals.
Second prize of R500 000 went to Nuno Pires, the developer of the Altis Osteogenic Bone Matrix, an injectable bone regeneration product that aims to replace traditional bone graft surgery.
Setsena shares third place with SavvyLoo, a waterless toilet for rural communities; and Repurpose Schoolbag, a schoolbag made of 100% recycled plastic shopping bags.
"The SAB Foundation Innovation Awards was established with the objective of rewarding and upscaling innovative sustainable solutions to the pressing daily challenges facing low-income people, specifically women, the youth, people with disabilities, and people living in rural areas in order to improve economic growth and prosperity and the quality of life of all South Africans," reads the SAB website.
The awards are "specifically focused on innovation solutions which have progressed past idea stage, and have reached at least proof of concept stage and now need a strong focus on commercialisation or scaling-up".
Seed grants
In addition to the three top awards, several seed grants are awarded, particularly to women, youth, people in rural areas, and disabled people. The grant includes funding for the upscaling and commercialisation of the innovation, which is supported by the SAB Foundation over a period of two years or longer, as needed.
Seed grants of R150 000 each were awarded to nine innovators, including Power in a Bottle, a mobile solar energy power pack housed in a 5L plastic container; Know Your Child, an IT platform which sends pupils' homework requirements from teachers to parents via mobile text messages; Bulk Brick Layer, a brick-building template which eliminates the complexities of the skill; SMART Stand-by, a device that monitors electrical power usage; and Tour2.0, an online tour operator offering tour packages in local communities.
"The grant [is] awarded for either products or processes that present an innovative solution to the pressing challenges facing women, the youth, persons with disabilities and persons in rural areas. Product innovation covers innovations in both goods and services, which can again be divided into new or improved products," states SAB.
Applications are judged by various criteria: the impact of the product or solution and whether it solves a long-standing problem experienced by the poor; the extent to which the innovation will potentially benefit this group; the scalability or to what degree the product can be produced in large numbers for a large number of people; the degree to which the product will encourage others to push their own innovations; and the commercial viability of the product in the long term.
Products
Setsena says her products are a blend of traditional herbs and barks for skin wellness. "We create a supply chain, we don't cut down trees, we use the leaves." She expects to be manufacturing her products for stores by March 2014, and plans to approach retail chains Pick n Pay and Clicks as a starting point.
She has developed products particularly for "ethnic skins", because conventional, and usually imported, foundation does not work for black and brown skin. And she has created a cream and foundation in one, which means it has a healing function as well as being a foundation, she explains. It consists of three or four tones of brown, and according to Setsena, it is a first local product especially created for South African women.
Alongside working on her business, Setsena is completing a three-year herbalist course. "This is a calling; it is information from the ancestors about life, and it tells me who I am."
The clay used is volcanic ash, and other clays. And, from an early age she learned which herbs she could drink or not. "I am a curious person, fascinated with paranormals. I like to research and ask questions. I believe there is an answer to everything."
A fortuitous meeting
Her dream was encouraged by a meeting two years ago with Dr Heidi Grimmer, the managing director of ABBC and herself an entrepreneur who specialises in providing innovative enterprise development solutions to the manufacturing industry. "Entrepreneurs receive mentoring to ensure that their businesses grow and become profitable," states the ABBC website.
"Our Enterprise Supplier Development model identifies, nurtures and enables high potential entrepreneurs, with a particular emphasis on the development of black women-owned businesses," says Grimmer.
She is a bio-chemist and started her career as a researcher at SAB 14 years ago, where she developed the ESR method that allows breweries to measure the shelf life of their beers in three hours, as opposed to the conventional three-month shelf life testing methods. This rapid feedback was very useful to the brewmasters, allowing them to make immediate process changes to increase the shelf life of the beer.
Grimmer worked with brewmasters around the world, implementing this method, which has allowed SABMiller, SAB's international operation, to improve the quality and shelf life of its beer processes. But she left SAB in 2010, feeling she wasn't being stretched enough. With an MBA under her belt, she felt confident to start looking at a scientific approach to business, giving her the springboard to starting her own business. "I felt more confident to go out on my own," Grimmer explains.
Technical consulting with new ideas and products for entrepreneurs was the first step, before she expanded into entrepreneurial start-ups. "I helped people to develop concepts and ideas, then start their businesses."
Drawing on her years of experience at SAB and her previous position as a flavourist and technical sales support at Givaudan, she specialised in the food, beverages and cosmetics industries. Today, Grimmer works with Unisa to help develop technology based businesses. Universities around the country are looking to collaborate with business, in a win-win for both parties, she explains.
"I want to create the platform. I believe in being proudly African," says Grimmer with a smile. Talking about Setsena, whose family is "very proud" of her, she says she is very happy with the award. But the work has not finished for these two enterprising women. Now they have to link the product with potential customers.
"I look for the passion – the people who persevere, the entrepreneur who's got the dream. Nothing stands in their way," says Grimmer.
By: Lucille Davie
Source: www.mediaclubsouthafrica.com