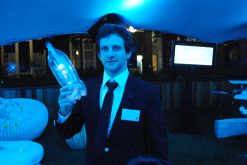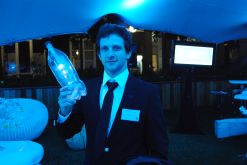 Innovative products and ideas from South Africa have transformed lives; South African inventors have made pool cleaning simpler with the Kreepy Krauly; South African doctors (including Dr Chris Barnard) have made heart transplants possible, and a young South African, Ludwick Marishane, has made it possible to bathe without water.
Innovation proposes novel solutions to everyday needs, and helps grow the economy; business plays an important role in fostering conditions for people with these ideas or simple solutions to build viable enterprises, growing the South African economy and creating meaningful employment.
This is the rationale behind First National Bank's (FNB) Ideas Can Help competition. The winner, announced on November 28, walked away with R500 000 and a year of business services help from the bank's Vumela Enterprise Development Fund. The incubation fund helps small businesses grow from the idea stage to job-creating viable businesses.
The inaugural Ideas Can Help competition winner is Michael Suttner whose inventive test tube-shaped solar light bulb, The Lightie, is designed to replace paraffin, the most common fuel used for lighting in Africa, as a light source.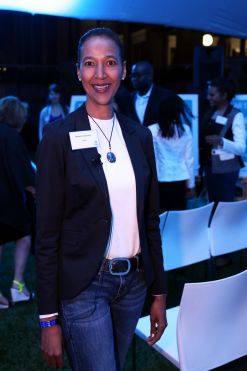 Speaking at the awards Suttner said that two million deaths annually – caused by fire, inhaling the chemical's fumes, or children drinking the toxic liquid – are linked to paraffin use. Across Africa
600 million people spend up to 25% of their income to light their homes with paraffin. Once in full production the Lightie should cost between R80 and R90 per unit, the cost of an hour's worth of paraffin.
Solar power is a possible solution to the continent's power shortages, so Suttner's invention is not entirely unique; the genius lies in his distribution idea. In Africa the Coca-Cola Company has the most efficient and widespread distribution system and the Lightie's design allows him to piggyback on their channels.
The test-tube shaped light bulb is designed to fit into the neck of a two-litre plastic Coke bottle, using the container as a sturdy stand-up lamp. An eight-hour charge provides 40 hours of light at 120 lumens, enough to brighten a 120 m² room. A lumen is a measure of the total amount of light issued by a light source.
An innovative entrepreneur
Suttner is a serial entrepreneur whose mother would not let him near the family's washing machine for fear he would take it apart to find out how it worked. His prize allows him the freedom to concentrate on refining the Lightie and bringing it to market; "I want to be that person, that South African that lights up Africa."
Research shows that children exposed to entrepreneurs are more likely to become one in later life. This is true of Wayne MacMillan whose HAMBA website idea earned him a runner-up spot. His entrepreneur father's successes and failures ignited a commercial spirit in the data analyst.
Macmillan stayed up till 4am on the competition's deadline day to refine his idea for an online database of casual workers such as electricians, plumbers and domestic workers. His prize,
R 175 000 plus six months of help from Vumela, will give him the opportunity to develop his idea into a working site.
HAMBA was born out MacMillan's need to find a competent electrician to do minor work in a home he had just bought. He felt there had to be a way to vet the service provided by the men offering their skills outside the Builders Warehouse store he visited.
Between his requirements and their need to earn a living, Macmillan saw an opportunity. He said that South Africa, and Africa, was rich with opportunity for an entrepreneur. "In a developed economy you just plug into the machine. Here there is a need to find solutions to our many problems. You can build your own empire."
South Africa is a nation of tinkerers and innovators said runner-up Robert Hofmeyr. His Solar Switch is a simpler replacement for traditional solar geyser timers that required constant adjustment. His inspiration: "I had a very expensive timer but no hot water at four in the morning."
Hofmeyr added that his innovation compensates for weather conditions by automatically switching to electrical power.
Right now the Solar Switch is just an idea but his prize money will allow Hofmeyr to build a prototype and apply for a South African patent. He said South African investors are conservative and risk averse; as a result he's struggled to move forward with his idea. The prize money and business assistance allows him an opportunity to grow his idea into a viable business.
The final three prize winners were whittled down from a pool of 111 entries that an internal FNB judging panel deemed the most innovative or simple solution to a pressing need. The winning ideas were all judged to offer solutions that would or could make a big difference in the lives of the population.
"Innovation drives the economy and is seen as a contributor to the success of any company or country," said Bernice Samuels, chief marketing officer at FNB, adding that the idea behind Ideas Can Help is to provide a platform for South Africa's thinkers and tinkerers to make a difference.
By: Sulaiman Philip
Source:www.mediaclubsouthafrica.com