Hot on the heels of winning a Golden Globe, "Ordinary Love" has been nominated in the Best Music (Original Song) category for an Academy Award.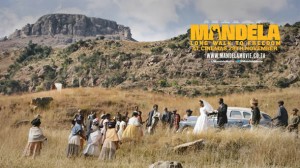 The song was composed especially for the movie MANDELA: LONG WALK TO FREEDOM, by Irish band U2 who had shared a three-decade long relationship with Nelson Mandela. The film is based on the former South African President's autobiography of the same name.
After watching a rough cut of the film, U2 baulked at the opportunity to write a political anthem, feeling that they could not do Mr Mandela justice. Instead they opted for something they could create – a beautiful love song about the "messed up and complicated" kind of love they understood, the relationship between Nelson Mandela and Winnie Mandela.
Producer Anant Singh said: "The Oscar nomination for 'Ordinary Love' is really well deserved.  We congratulate them on this accolade. Bono and U2 composed and performed a brilliant song which they put their hearts and souls into. This is indicative of the bond they have had with Madiba, supporting the anti-apartheid movement in Ireland and the Global 46664 Anti HIV/AIDS Campaign."
Other songs selected for this category include: "Alone Yet Not Alone" from "Alone Yet Not Alone", "Happy" from "Despicable Me", "Let It Go" from "Frozen" and "The Moon Song" from "Her"
The nomination list for this year's Oscars were announced in the USA today. The Oscar ceremony will be held on Sunday March 2, 2014.
No South African films were nominated in the Best Foreign Feature category. Nominations went instead to Belgium, Italy, Denmark, Cambodia and Palestine.
Watch "Ordinary Love" – the lyrics version here:
The 2014 Academy Award nominations include:
Best Picture:  American Hustle, Captain Phillips, Dallas Buyers Club, Gravity, Her, Nebraska, Philomena, 12 Years a Slave, The Wolf of Wall Street
Best Supporting Actor:
Barkhad Abdi, "Captain Phillips"
Bradley Cooper, "American Hustle"
Jonah Hill, "The Wolf of Wall Street"
Michael Fassbender, "12 Years a Slave"
Jared Leto, "Dallas Buyers Club"
Best Supporting Actress:
Sally Hawkins, "Blue Jasmine"
Jennifer Lawrence, "American Hustle"
Lupita Nyong'o, "12 Years a Slave"
Julia Roberts, "August: Osage County"
June Squibb, "Nebraska"
Best Director:
David O. Russell, "American Hustle"
Alfonso Cuaron, "Gravity"
Alexander Payne, "Nebraska"
Steve McQueen, "12 Years a Slave"
Martin Scorsese, "The Wolf of Wall Street"
Best Actor:
Christian Bale, "American Hustle"
Bruce Dern, "Nebraska"
Leonardo DiCaprio, "The Wolf of Wall Street"
Chiwetel Ejiofor, "12 Years a Slave"
Matthew McConaughey, "Dallas Buyer's Club"
Best Actress:
Amy Adams, "American Hustle"
Cate Blanchett, "Blue Jasmine"
Sandra Bullock, "Gravity"
Judi Dench, "Philomena"
Meryl Streep, "August: Osage County"