It was reported yesterday that South Africans in Perth are due to receive a visit from an ANC delegation led by ANC deputy president Cyril Ramaphosa. Could this be a glimmer of hope that perhaps more voting stations will be made available to South Africans in Australia?


In an interview with The Sunday Times newspaper, the Presidency's deputy minister Obed Bapela explained that the delegation will visit Perth because "the ANC is a non-racial organisation, and obviously we will not leave out any voters that are likely to vote for us."
Unfortunately no mention was made about the terrible lack of voting stations in Australia. In a country where tens of thousands of South African expats live in Perth, Brisbane, Sydney and Melbourne – the rather less populated expat city of Canberra has been selected as the ONLY voting station. This means that for most voting will be out of the question.
For some it requires two long and expensive trips – to register in person if they are not already registered in South Africa; and then to vote in person.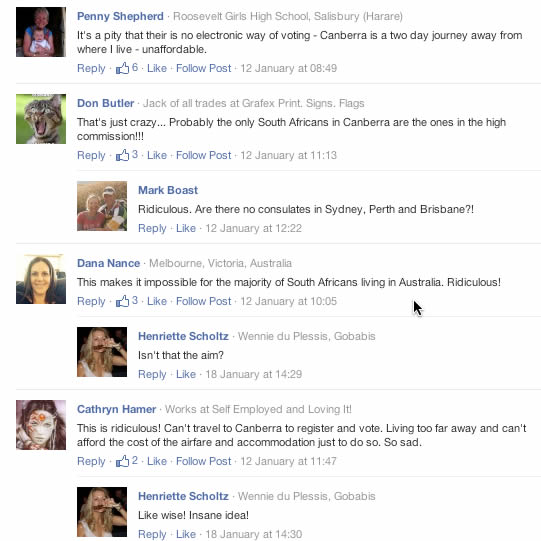 One Facebook user in Australia summed up the feelings of many when she wrote:
"Called the SA embassy today to find out how I can register and eventually vote in the upcoming elections. In the WHOLE of Australia, and it's a massive country, the only place any of us South Africans in Australia can do that is in Canberra!!! So I guess there won't be many South Africans in Australia voting after all. So how about that then!!!!"
Gordon H. wrote on SAPeople's Facebook page:
"I would love to vote from Australia, however to register according to the SA high commission here, I would need to fly to Canberra to register and then return to vote! That sounds ridiculous, Surely they could use their Honorary consulates??? If anyone knows of an alternate solution that would be greatly appreciated."
Another annoyed South African expat wrote "Sorry to say but I think most Saffers live in Perth!!!! They have done this deliberately so that not all the Saffers can vote."
Other expats around the world have expressed similar frustration.
Steve R. said on SAPeople's FB page: "The sad truth and problem in Canada is that it's only possible to vote in person at the SA High Commission in Ottawa or the South African Consulate General in Toronto. They are both 4 hours by air from Calgary. So, we will have to miss out again – the bliksems!!!"
Vancouver, which is also very popular with expats, has also been left out with some contemplating a 19-hour drive to the USA to vote. In New Zealand, those in popular South African hold Auckland will have to travel all the way to Wellington; while in the UK expats living in the North have to travel south to London.
According to a DA Abroad volunteer, writing on SAPeople's FB page on 11 Jan, "it took us three years of lobbying to get overseas voting & registration signed into law which only happened 26 Nov 2013 so we weren't able to push for better access as we were only informed this past week of the list of IEC's voting stations for overseas but our big challenge and priority for 2019 is going to be improved access – we want more overseas missions to take part, temporary stations in areas with significant numbers of South Africans and we believe the IEC are looking into electronic voting."
The ANC delegation has apparently chosen to visit Australia because of the large number of South Africans who live there, a figure which is estimated to be 80,000 (although many suspect it to be a lot more).
Bapela told the paper that the South Africans in Australia left when crime was too much, and that now, after 20 years of democracy, these expats had reconnected with SA.
According to the report, this trip is to gauge interest with the possibility of establishing an ANC branch in Australia in the future.
There is also due to be an ANC rally in London next month.
The DA Abroad has a strong presence in London, and is holding a meeting on 22nd January in Toronto.
Read a quick guide to the ANC's 2014 Manifesto
View a video message from DA Leader Helen Zille