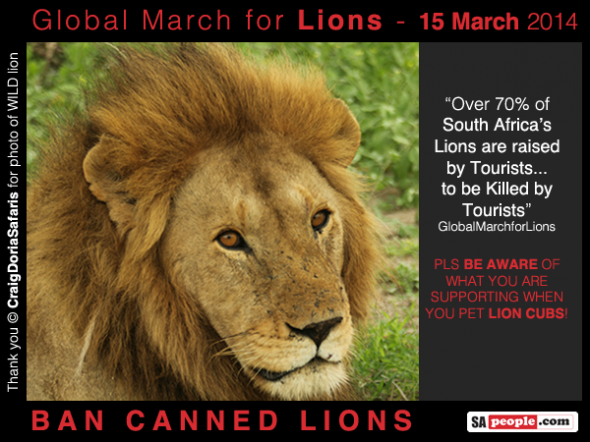 People in cities across the world – from Hong Kong and Brisbane to Paris, London, LA and Kampala  – will be marching to save South Africa's lions on Saturday 15th March 2014.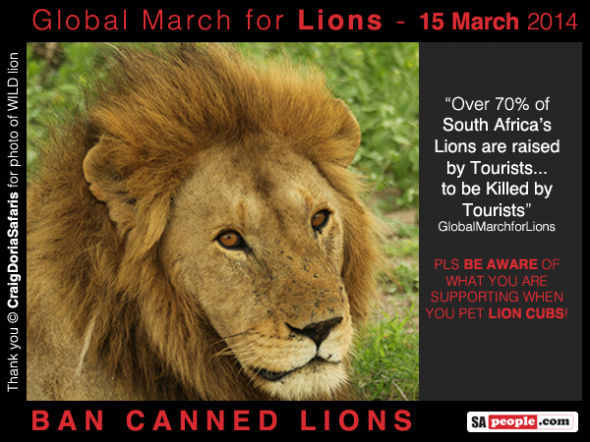 The Global March for Lions, which will take place around South Africa as well, has been initiated by local wildlife activists who wish to highlight the plight of South Africa's lions caught up in what many call the cruel and cowardly "canned lion" industry.
It is a cause that South Africa's "lion whisperer" Kevin Richardson has long supported. On his website he describes his Wildlife Sanctuary's ultimate goal as being to reduce the number of large carnivores that are kept in captivity and to "highlight the direct link between the cub-petting industry and the 'canned' hunting industry".
International and local tourists, who flock to have their photograph taken with a baby lion, are oblivious to the industry they are supporting.
Richardson believes an "unsuspecting public" need to be made aware of the "horrors associated with this unscrupulous practise" and would like to see both petting and canned hunting made illegal.
To take part in a March close to you and help end canned hunting in South Africa, please see the list below.
Some Facts about Lions:
Lion numbers in Africa have dropped significantly in the wild, with only 15 000 to 30 000 left.
Lions now occupy less than 20 % of their former range in Africa.
If this decline continues at the same rate, we will have no lions left in the wild within just 20 years.
In South Africa there are less than 4,000 lions left in the 'wild' but over 8,000 are in captivity where they are bred to be hunted.
Wild lions are captured on an ongoing basis to be introduced as fresh blood into the captive breeding farms.
Wild lions are also at threat of being poached by the growing demand for lion bone in Asia.
What is Canned Hunting?
The definition, according to GlobalMarch4Lions.org, is when "lions get bred in captivity, hand reared for use in the cub petting industry, then when these tame lions are big enough, shot in an enclosure, often drugged, for an enormous sum of money."
This practice is legal in South Africa.
What is the point of the March for Lions?
The March aims to raise global awareness about the critical plight of South Africa's lions, with two main goals:
To put a stop to the canned hunting industry in South Africa
To pressurise governments around the world to stop the importation of lion parts
"Our goals are to have trophy and canned hunting banned; to get lions on the Endangered Species List where they belong, to stop the export of lion bones to China, to stop the import of lion trophies in to USA and EU" says Christine Jordaan, who initiated the idea for this march.
See more at:
www.globalmarch4lions.org/
www.cannedlion.org
Sign the Petition
Ask President Zuma to Ban the Trade in Lion Bones and Organs:
http://www.avaaz.org/en/stop_lion_slaughter_for_sex_aides_rb_en/?pv=88&rc=fb
Video – South Africa's Lion Whisperer
Watch Kevin Richardson in this short video touted as "This is Shocking! The Most Amazing Thing You'll Ever Watch!"
Video – Kevin Richardson & GoPro: Lions
The GoPro production crew travelled to Africa to explore the danger and beauty of Kevin Richardson's passions for lions and their future.
Video – South Africa's "dirty little secret"
LIST OF CITIES – FACEBOOK PAGES FOR MARCHES AROUND THE WORLD
Join the March for Lions in one of the cities below. Just copy and paste the url.
#GlobalMarchForLions Main Facebook Page:
www.facebook.com/pages/Global-March-for-Lions/224817361029223
ASIA
Hong Kong
www.facebook.com/events/268137030004548/
AUSTRALIA
Adelaide
www.facebook.com/events/496273517154615/?source=1
Brisbane
www.facebook.com/events/1470411616511725/?ref=ts&fref=ts
Melbourne
www.facebook.com/events/734997343178806/?ref=3&ref_newsfeed_story_type=regular
Perth, WA
www.facebook.com/events/1406485006267943/?ref=ts&fref=ts
Sydney
www.facebook.com/events/613649062033293/?source=1
Townsville – coming soon!
BELGIUM
Brussels
www.facebook.com/events/449617725142958/?ref=3&ref_newsfeed_story_type=regular&source=1
Also – www.facebook.com/events/238689319624678/
CANADA
Calgary, Alberta
www.facebook.com/events/784173878260886/?ref=ts&fref=ts
Ottawa
www.facebook.com/events/1412759988970557/
Toronto
www.facebook.com/events/1414771305431155/?source=1
Vancouver BC
www.facebook.com/events/235061229995930/?ref=3&ref_newsfeed_story_type=regular
COSTA RICA
Nicoya, Guanacaste – * special private retreat event for lions!
Thank you to – www.pachamama.com/
FRANCE
Paris
www.facebook.com/events/540943359337278/?ref=ts&fref=ts
Pau
www.facebook.com/events/215904515276794/?ref=ts&fref=ts
NETHERLANDS
Amsterdam
www.facebook.com/events/412057092261003/?ref=ts&fref=ts
ISRAEL
Tel Aviv & Jerusalem
www.facebook.com/events/186019864937275/?source=1
ITALY
Padova
www.facebook.com/events/227190124134970/?ref=ts&fref=ts
KENYA
Mombasa
www.facebook.com/events/1444481285771708/?ref=ts&fref=ts
NEW ZEALAND
Auckland
www.facebook.com/events/579873578764398/?ref=ts&fref=ts
Wellington
www.facebook.com/events/651433918232791/?ref=ts&fref=ts
SENEGAL
Dakar
www.facebook.com/events/685295044856793/?source=1
SOUTH AFRICA
Cape Town
www.facebook.com/events/432960136805903/?source=1
Durban
www.facebook.com/events/492598160855304/
East London, SA
www.facebook.com/events/651857634871135/?ref=ts&fref=ts
George
www.facebook.com/events/423290224468655/?ref=ts&fref=ts
Grahamstown
www.facebook.com/events/1378815795701408/?ref=2&ref_dashboard_filter=calendar&source=1
Hoedspruit – coming soon!
Johannesburg
www.facebook.com/events/1442385619316696/?source=1
Nelspruit
www.facebook.com/events/666969576683365/?ref=ts&fref=ts
Pietermaritzburg
www.facebook.com/events/344109765730975/
Port Elizabeth
www.facebook.com/events/1381000722142061/?ref=ts&fref=ts
Pretoria
www.facebook.com/events/495830440533246/?ref=ts&fref=ts
SWEDEN
Stockholm
www.facebook.com/events/691574647540891/?ref=3&ref_newsfeed_story_type=regular
UGANDA
Butogota (Rogando)
www.facebook.com/events/289172344565253/?source=1
Kampala
www.facebook.com/events/220975788082900/
UNITED ARAB EMIRATES
Abu Dhabi
(New location, formerly Dubai)
www.facebook.com/events/1401755526741341/?ref=ts&fref=ts
UNITED KINGDOM
Birmingham
www.facebook.com/events/248622171968479/?ref=3&ref_newsfeed_story_type=regular
Edinburgh
www.facebook.com/events/1390645131187321/?ref=3&ref_newsfeed_story_type=regular
Liverpool
www.facebook.com/events/377430509062800/?ref=ts&fref=ts
London
www.facebook.com/events/434452360015357/?source=1
Sheffield
www.facebook.com/events/1391615654441295/?ref=ts&fref=ts
UNITED STATES OF AMERICA
Austin, Texas
www.facebook.com/events/189255317934557/?source=1
Chicago
www.facebook.com/events/609456769126825/?ref=ts&fref=ts
Columbus, Ohio
www.facebook.com/events/630505866998722/
Las Vegas
www.facebook.com/events/1415618815343371/
Los Angeles
www.facebook.com/events/205630696290197/?source=1
New York
www.facebook.com/events/234671106707328/?source=1
Phoenix, AZ
www.facebook.com/events/711429758877148/?ref=ts&fref=ts
Sacramento
www.facebook.com/events/289872107828517/?ref=ts&fref=ts
Seattle
www.facebook.com/events/628710687176472/?ref=ts&fref=ts
Tampa, Florida
www.facebook.com/events/638012792909115/?source=1
Washington DC
www.facebook.com/events/248680125313773/?ref=22