You've got to love South Africa and South Africans! Even though some of the queues at voting stations are seemingly endless, the locals who've lined up have turned the delays into a social gathering and are making the most of their day off (which is a public holiday in the country).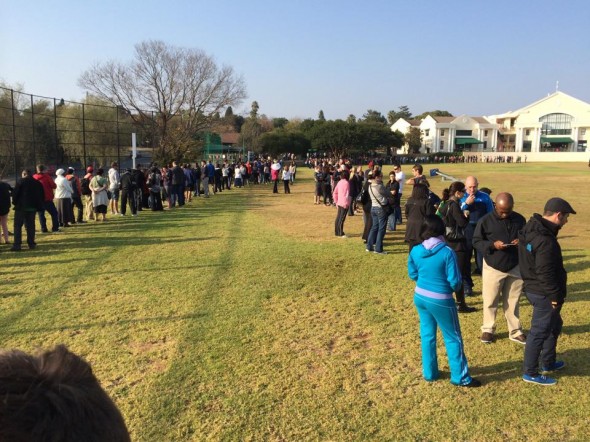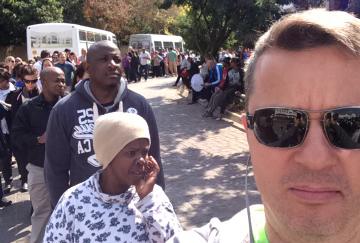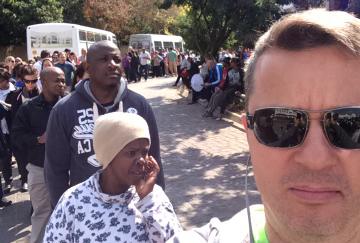 Jarrod Aston said that although he's been in the queue at Crawford College, Lonehill, for over FOUR hours "the mood is good, everyone's chatting and enjoying the day…"
Jarrod, former lead singer of popular '80s band Cinema, did admit that he's been there so long "I've forgotten who I'm voting for again"!
He said the reason for the delay at Crawford College is that there is only one scanner for around 3,000 people!
Another voting station in Gauteng has suffered from long queues because they "ran out of national ballot papers", according to one Facebook user.
Others in Gauteng have reported long queues thanks to several voters forgetting to take their ID books along with them. These people are being issued with temporary ID certificates which take around half-an-hour to process for each person.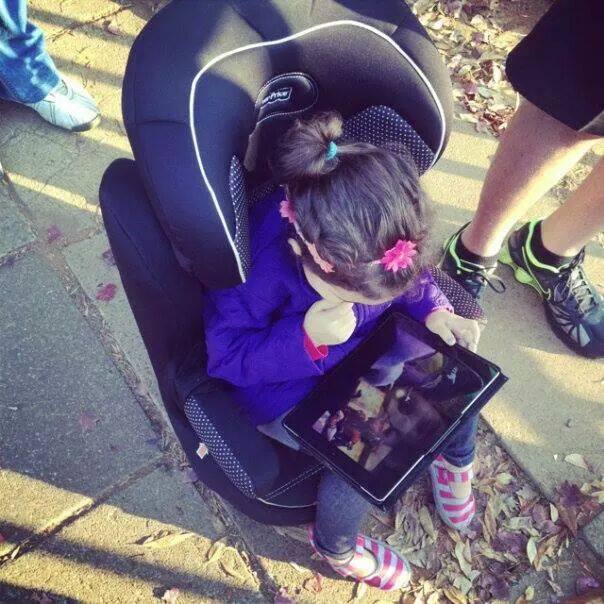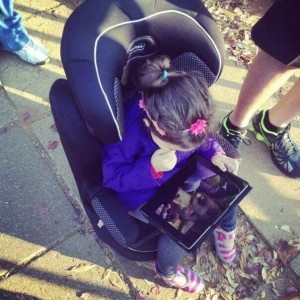 Like many young families, Tracey-Ann Jonker's family turned the morning into a great day out.
After waiting two hours in the queue at Westwood School, she said, "the family were all together to vote. Two hours in the queue so we brought out the car seat.
"Thanks to the IEC guys in Boksburg at Westwood school – it opened on time and it ran smoothly, they were very helpful!"
Charmaine Adele Meredith said "voting done and dusted with no problems at our voting station in Roodekrans, Gauteng. IEC staff very friendly and efficient. All voters friendly and lots of laughter in the queue."
The same upbeat mood is being experienced all around the country with Philippa McGregor Davis, who's standing in a queue in Ramsgate, Kwa-Zulu Natal right now, saying "it's moving quite quickly and I am feeling excited. I love voting day."
Fifty-five seconds ago, Jarrod reported from Lonehill: "Almost there…..5 hours and another 25 mins….phew!!"