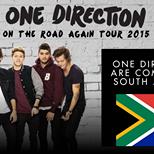 British Supergroup One Direction announced today that they will be touring South Africa next year. The band released a statement this morning saying "here's a bit of a huge announcement for you. Who's ready for ANOTHER tour in 2015? The 'On the Road Again Tour' to be exact! IDHQ x"

Apart from South Africa, the tour will also include Australia, Japan, Singapore, Thailand, Hong Kong, Philippines, Indonesia and the United Arab Emirates.
The South African One Direction dates are:
March 28, 2015 – FNB Stadium, Johannesburg
March 29, 2015 – FNB Stadium, Johannesburg
April 01, 2015 – Cape Town Stadium, Cape Town
Tickets will go on sale on the 23rd May 2014 (that's this Friday) at 9 am.
As with many other international tours, Durban has been left off the itinerary.
In a special video announcement for South Africa, band member Louis Tomlinson said "Hi, we're One Direction and we're excited to announce that we'll be performing live in South Africa for the very first time next year". Bandmate Harry Styles ended the video announcement by proudly uttering "lekker"!
Watch 1D's South African Tour Announcement: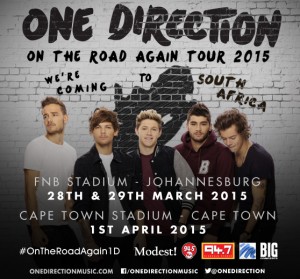 Earlier this year Gauteng teenager Filipa Carmo da Silva (18) won a global One Direction cover song competition, run by American TV show host Ryan Seacrest for her video cover of their hit 'Story of My Life. It would be wonderful if they could invite Filipa on stage to sing the song with them!
The band, one of the biggest in the world, comprises Louis, Harry, Niall Horan, Zayn Malik and Liam Payne – who together are One Direction. Just over three years ago the five hadn't even met each other. But thanks to one of the biggest TV shows in the UK, the X Factor…they have become one of the biggest bands in the world.
The band also attributes their success to their millions of loyal fans, and today released what they called a "pretty special" video for its fans, called The You & I Fan Video "to thank you guys for being the best fans in the world".
The video includes a montage of recent You & I video selfies that One Direction had asked their fans to upload. It includes some "selfie singing action too".
And they amped up their promotion of You&I which is out this Sunday (25 May). You can pre-order it here:
http://smarturl.it/1DYouAndIPreOrder?