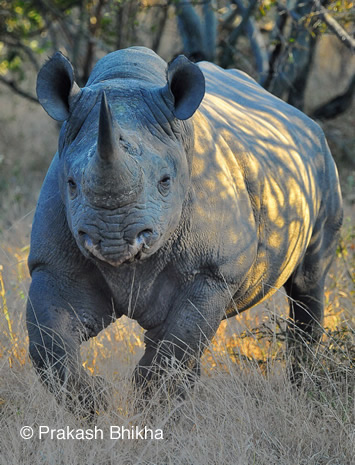 As news came this week of another poacher being fatally injured during a skirmish, the relentless and gruesome poaching of South Africa's precious rhino continues unabated.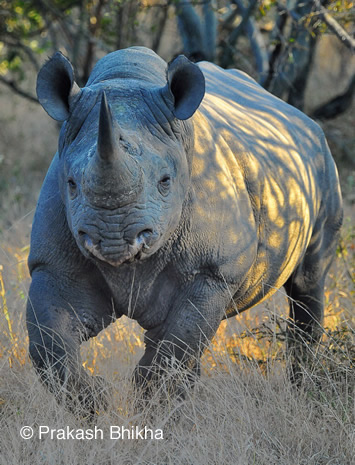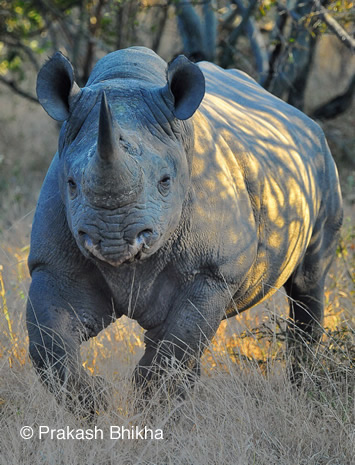 We have lost 558 rhino this year to poachers. That is 100 more than this time last year! One hundred.
It is tragic and horrific.
South Africa's Department of Environmental Affairs released the following Rhino update in the past 24 hours:
"The number of rhinos poached since the beginning of 2014 has increased to 558, with 157 people being arrested for rhino poaching.
"The Kruger National Park continues to bear the brunt of rhino poaching in South Africa. Since January 2014, 351 rhinos have been poached in the Park."
The Kruger borders Mozambique which is believed to be the recruitment centre for these sophisticated poaching rings.
The poachers are intent on hacking off  the rhinos' horns to supply to certain Asian countries where rhino horn is coveted as a status symbol, and incorrectly believed to contain medicinal properties.
According to the environmental department "the number of rhinos poached in Limpopo this year has risen to 80, while 48 rhinos have been poached in KwaZulu-Natal, 37 in North West and 24 in Mpumalanga."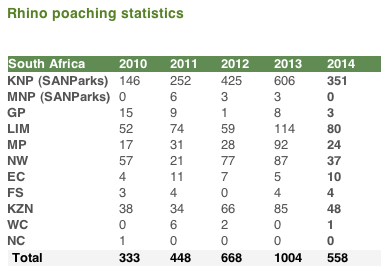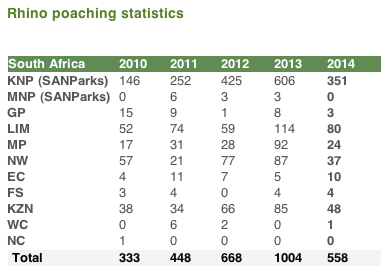 Poachers Sentenced to 14 years
Two poachers who were caught in the Kruger last year have recently been convicted.  Ephraim Bila and Ndombama Salvatore Nkuna were arrested in the Kruger National Park (KNP) in April 2013 by SANParks Rangers after they had killed and dehorned a white rhino.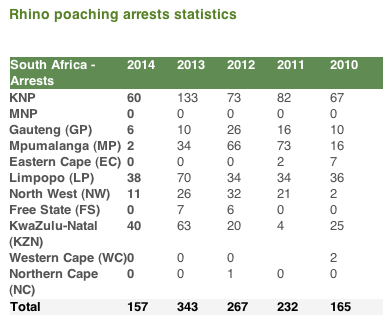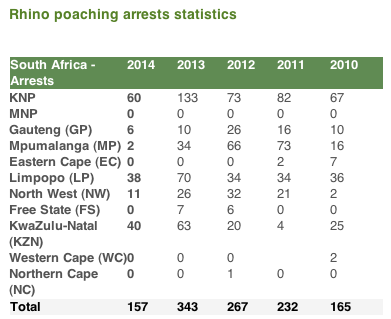 In a statement on SANParks' website, it states that the two men were sentenced to 10 years for killing the rhino, four years for trespassing and carrying out a restricted activity in a restricted area, and six years for illegal possession of a firearm and ammunition. The 10- and four-year sentences will run concurrently.
The Acting Chief Executive Officer of SANParks, Abe Sibiya said "we are happy that the courts have rewarded the hard work done by the Rangers, our Environmental Crime Investigative Unit and the South African Police. This sentence will certainly make potential poachers think twice, before crossing the fence to plunder our natural heritage. The sentencing will also help to lift the morale of all men and women in uniform who are in the trenches fighting this scourge of rhino poaching."
Sibiya said SANParks is not prepared to give up the fight to save the rhino species.
"We are resolute in our determination to win this war that is being waged by greedy individuals, these assets belong to the South African people and we are prepared to ensure their future existence as mandated " concluded Sibiya.
Support the protection of rhinos by buying a strap from SanWild Rhino Sanctuary
South Africans and members of the international community are encouraged to report incidents of poaching and tip-offs to the anonymous tip-off lines 0800 205 005, 08600 10111 or Crime-Line on 32211.
Rhino Photo kindly supplied by Prakash Bhikha.