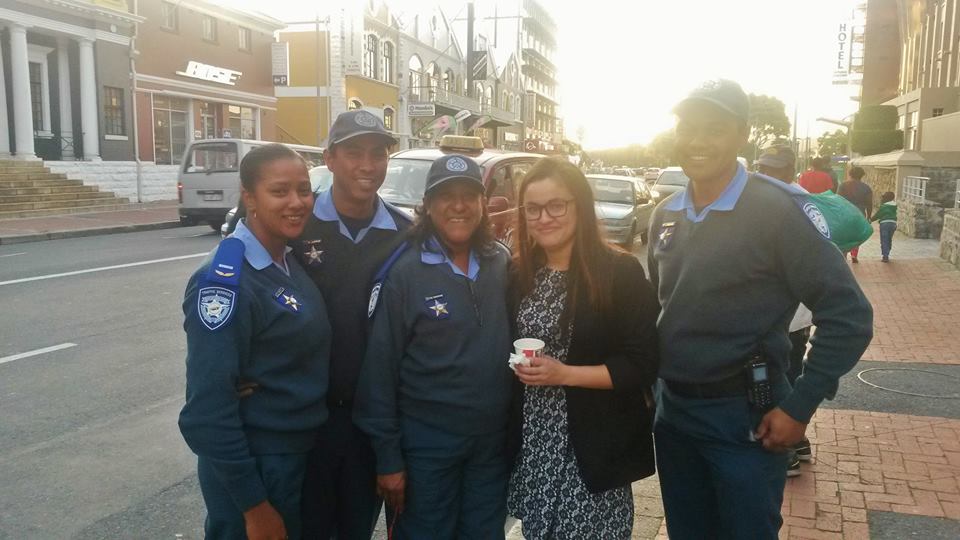 After a day in which members of the public were upset that the police didn't do enough to prevent a student protest in Johannesburg from turning into a looting fiasco, a different story has come out of Cape Town, reminding us of the good work that so many police officers in South Africa are doing.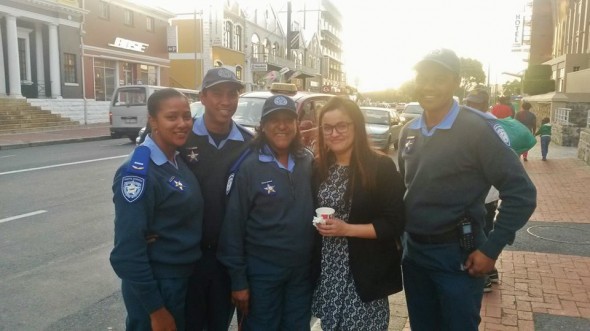 One of the Lead SA team members, Carla Bernardo, published a message on Lead SA's facebook page this evening with a message that she hopes when you read her story "you will share it far and wide" – so here we go:
Carla's Message:
My name is Carla Bernardo and I am part of this team that, on a daily basis, engages with incredible South Africans making a difference.

I want to tell you about what happened to me this evening because I think these people truly deserve acknowledgement.

I was leaving work, on my way to a discussion on reconciliation.

Source: fb/leadsa

As I pulled out into Somerset Road in Cape Town, a young man drove straight into the left side of my car.

I panicked, stopped my car, put on the hazards and jumped out. In my panic, I must have locked the door – with my keys inside.

So there I was, in the middle of peak hour traffic with Lucky, the other driver, not knowing what to do.

Naturally, people were getting annoyed, hooting and wanting me to move out of the way.

Because I couldn't and I didn't know what to do – in addition to the shock of an accident – I started crying.

Lucky and I tried getting into my car without, well, any luck at all.

Then, traffic officers pulled up and asked what was wrong. I said what had happened and in no time the four officers were out on the road directing traffic and trying to get my keys out.

While this was happening, the one officer, M. Arendse, brought me some tissues and tried to calm me down.
A few minutes later she rushed across the road.

She went out of her way to fetch a cup from KFC and fill it with sugar water.

To stop the disruption, the officers then called for a tow-truck to move my car back to our building.

Up until this point, none of the traffic officers knew who I was or that I worked for Lead SA.

I have no doubt that this is who they are.

The values we seek to encourage and celebrate here at Lead SA is what these officers embody.

So, Officers M. Akiemdien, J. Hendricks, M. Arendse, F. Neethling, Luzuko Yawa and A. Roberts – all from the Gallows Hill Traffic Department – thank you so much for coming to my rescue, for calming me down, and for making sure I was safe.

You Lead SA.
South African citizens have already begun responding to Carla's message with similar stories of their own.
Michanne Contat recounted how she  "recently moved from JHB to Somerset West and an hour before i had to leave for the airport to fetch my husband i heard about the highjackings on the N2 offramp to the airport. I was VERY nervous driving at night. As i took the turnoff i prepared myself for what might come but instead of a nasty surprise there sat our awesome western Cape police. I could have cried as this would never happen in JHB. You might think this a small thing but to me this is wonderful and the way it should be. Thank you for helping me feel safe again. Well done to those wonderful police team helping you."
Merilyn Scoble shared her difficult story – "There are so many fantastic South Africans out there, my husband and and I were brutally attacked and I was raped in December 2013. Due to unbelievable commitment from the the police, medical profession, DNA specialists, public prosecutor and judge the perpetrator was sentenced to 40 years today, just 8 months after the crime. There is so much to hope for for this country, let's focus on all the amazing good that normal people, not earning fat salaries and very often from disadvantaged communities are doing to make a difference! I have such respect for them."
And another referred to them as her "knights in shining armour" after police officers rescued her when her tyre burst.
If you ever happen to bump into any of the police in these photos, Carla asks that you "high-five" them. And maybe high-five all the police officers who really are trying their hardest and need our support…