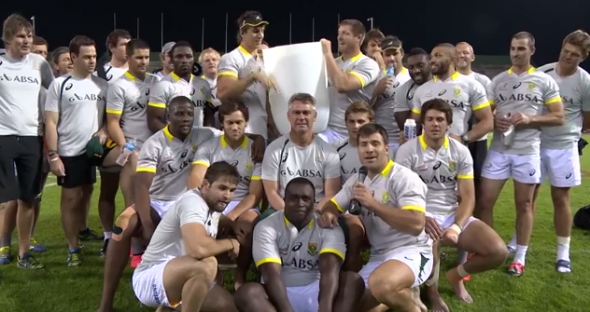 In case you've missed them, here's a selection of some of the best Ice Bucket Challenge videos from the last week…from the Springboks to Charlie Sheen…raising millions of dollars and awareness for ALS/MND. (And then there's the guy who wants to shut it all down!)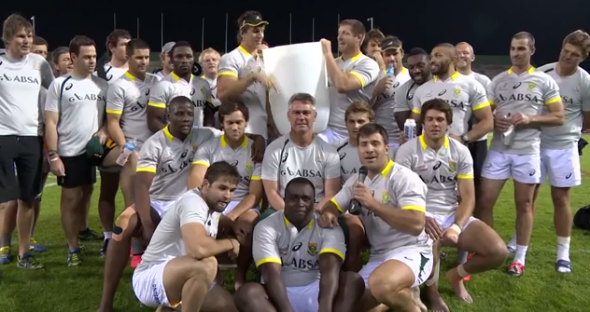 ALS Ice Bucket Challenge featuring Joost van der Westhuizen
One of the most moving ice bucket challenges is this one from South Africa's former rugby legend Joost van der Westhuizen. Check out the wonderful smile on his face!
The Ice Bucket Challenge phenomenon – #ALSIceBucketChallenge or #MNDIceBucketChallenge – began less than a month ago in an effort to raise money and awareness for Amyotrophic Lateral Sclerosis (ALS). Joost himself was diagnosed with ALS, an aggressive form of MND, in 2011.
The Challenge entails having a bucket of ice water thrown over one's head,sharing it on social media, and nominating three others to do the same.
Joost's nominations included the Springboks and Australia's national rugby team, the Wallabies (see both videos further down).
Qantas Wallabies ALS Ice Bucket Challenge
Watch Nic White accept Joost's ALS Ice Bucket Challenge on behalf of the Wallabies. One of his nominations is Australia's Prime Minister Tony Abbott.
Springboks ALS Ice Bucket Challenge
The Springboks gladly accepted their challenge from Joost, all the way from Salta in Argentina.
ALS ICE BUCKET CHALLENGE – UNCENSORED & SEXY?
Grab some tissues to watch this one. It was posted on 18 August and has already been viewed by over 10 million people!
After taking the challenge, Anthony reveals what it's like to live with this condition every day…
Charlie Sheen – Ice Bucket Challenge with a BIG Twist
Charlie Sheen's attempt has received over 14 million views…and it genuinely does have a twist! He didn't douse himself with water… but he did make it rain…and he challenged his nemesis from 'Two and A Half Men".
The Complimentary Breakfast Ice Bucket Challenge, South Africa
The Jacaranda FM Breakfast team takes on the Ice Bucket Challenge LIVE on air, blindfolded so they can't see the bucket coming, and waiting in suspense to find out who is next…
Kenya James ALS Ice Bucket challenge(Africa Edition) Gamers style
Here's one from Kenya…showing just how cold the challenge is!
Queensland Newsreader Shuts Down the Ice Bucket Challenges!
And here's another view on the ALS #IceBucketChallenge from Queensland newsreader Lincoln Humphries who turned down his nomination…whilst pointing out that he doesn't disagree with good being done, but that there are other charities like breast and prostate cancer organisations that need funds too; that blood donations are needed (if you don't have money to give) and that certain areas need clean water.
Humphries ends by saying he nominates "everyone everywhere who has more than what they need to donate what they can to the people who need it most, because that's what charity is about, not putting yourself through mild discomfort with a bucket of ice and water."
"Ice is for keeping fresh produce fresh, beers cold and nipples hard."
How to Donate if you're  in South Africa
In a message posted on the J9 Foundation – Joost vd Westhuizen facebook page yesterday, Joost thanked "everyone who is helping raise awareness for ALS/MND by doing the #ALSicebucketchallenge. If you would like to donate to the foundation you can sms "J9″ to 42305- sms charged at R30, or you can email claire@joost.co.za if you would like more info on how you can help in the fight against MND and improving the quality of life for those who have MND."
Read More:
Everything a South African Needs to Know about the #IceBucketChallenge