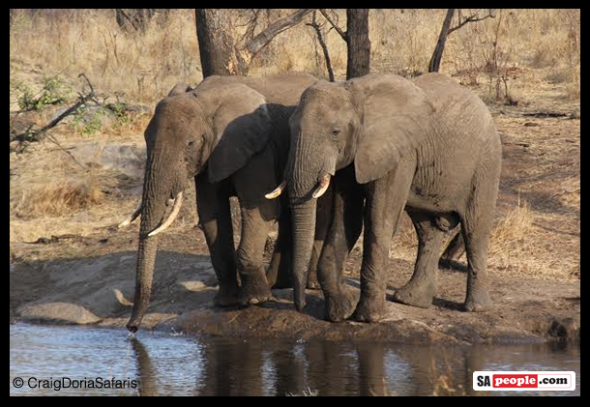 Following Born Free USA's shocking "Out of Africa" report – released two days ago – about the elephant poaching epidemic (almost a quarter of a million African elephants killed in less than six years!), we asked Born Free co-founder Will Travers to let us know what South Africans can do to help turn things around.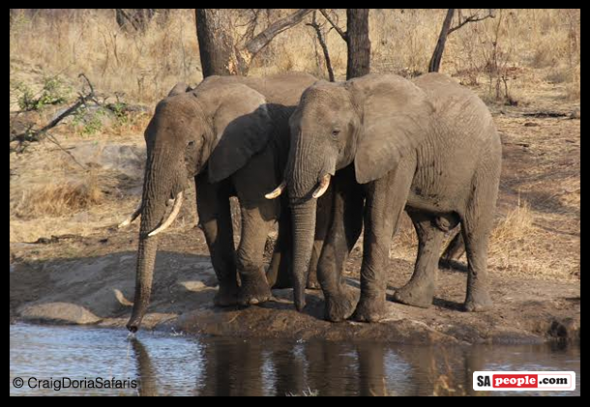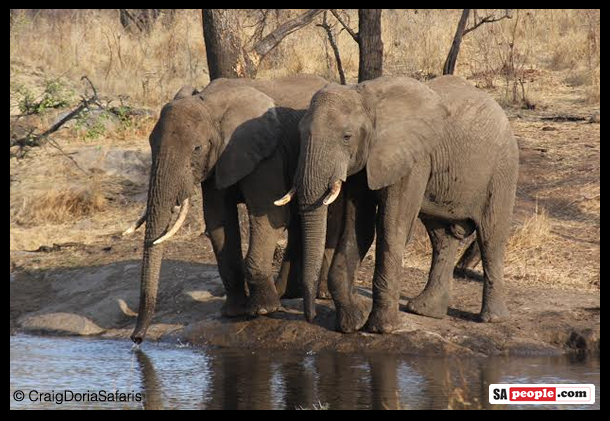 The report, which was compiled and written by data analysts C4ADS, shows that Johannesburg's OR Tambo International Airport is one of the top three airports in the illicit ivory supply chain, and that the poaching within South Africa's borders is poised to increase, with highly organised criminal syndicates from Asia already based in the country.
Fighting to protect our elephants has become about a lot more than conservation. It's about fighting organised crime.
The report – "Out of Africa: Mapping the Global Trade in Illicit Elephant Ivory" – claims that "highly professional Asian rhino horn and abalone syndicates are known to operate out of South Africa, including the Chinese Triads, and may have already diversified into elephant ivory.
"Ivory out of Zimbabwe is known to enter South Africa for onward processing or transit, while there have been significant seizures in port cities like Durban and Cape Town; the latest saw over 3,000 worked and very fresh cut pieces seized at a storage facility in Cape Town in May 2014.
"More worrying than known incidents, however, are the incentives: Southern Africa now has an estimated two thirds of the continent's elephant population, and sheer numbers suggest that poaching will soon displace [from West and East Africa] into Southern Africa. Zimbabwe is already witnessing rising levels of industrial poaching, while Botswana and Namibia, which are two of the safest elephant ranges, have also witnessed incidents that suggest sophisticated poaching and trafficking cartels are already active."
The report maps the global trade in illicit elephant ivory in intricate detail from the African bush to the Asian retail markets. In identifying various "chokepoints", through which ivory is passed, Born Free USA says that "if we can close down the transit routes that bring ivory to East Asian markets, we can save the elephants".
According to Born Free USA, it is unlikely that African elephants can sustain this rate of slaughter. Between 2009 and June 2014, there were more than 90 large-scale ivory seizures which bear "the hallmarks of international organised crime" and at a 10% interception rate, amounts to about 229,729 elephants killed and trafficked in less than six years!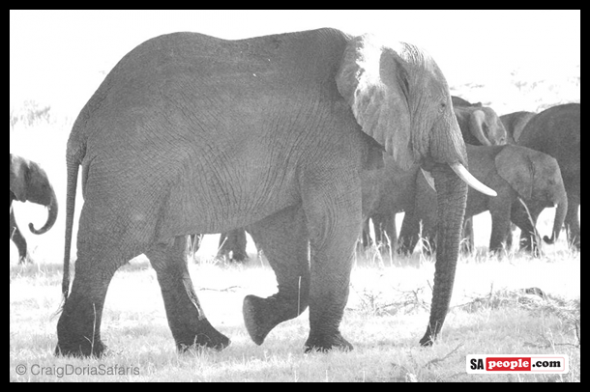 Born Free says "this is an intricate, complex global trade that involves organised criminal syndicates, both in Africa and in Asia. It involves financiers who drive the poaching, consolidators who bundle the ivory, companies that package and move the ivory, and wholesalers who market the ivory."
The organisation aims to use this groundbreaking report to ensure the protection of Africa's elephants for generations to come.
"We hope that this new report will encourage swift and decisive action, such as greater information sharing among various governmental agencies; that ivory trafficking will be appropriately treated as organised crime, and not just as a conservation issue; that specific actions will be taken, such as increasing the use of sniffer dogs at Africa's most pronounced exit ports; and that the ivory trade will eventually be choked off before the product ever leaves the continent. There is no time to waste," says Adam Roberts, CEO of Born Free USA.
Other South African-related Findings in the Report:

 
"…rhino horn poaching networks from Mozambique are organised enough to receive horn from poachers within minutes of their returning from poaching operations in South Africa, rapidly moving it within a day to a consolidation point."
In terms of port security in Africa, Mombasa has the worst record. Durban "by contrast has significantly better metrics than other regions, but still ranks high in corruption, and low in screening quality, when measured against global standards."
"Cross-border poaching in the Kruger-Limpopo Park has professionalised and grown to become a national security threat to neighbouring South Africa, and an accelerant for poaching in Tanzania. Mozambican poaching gangs now cross the border daily to hunt South Africa's small population of rhinos, some of the continent's last. The economic incentives are strong: a single rhino is now worth as much as $200-300,000 dead. Mozambican organized crime poaching syndicates are established across the border, and raid with heavily armed and well-trained poaching gangs, that do not appear to be deterred by even the South African military, which has deployed in the parks. Mozambican poaching syndicates appear closely tied to local security forces deployed in the region; several incidents have linked rifle serial numbers and equipment from poaching incidents back to army, border guard, and police units deployed near the border. Mozambique is also well placed to become a major ivory trafficking hub for much of Southern Africa."
So what can South Africans do?
Whether you are in South Africa…or one of the expats around the world, Born Free's Will Travers advises that we each:
Make sure that as many people as possible see the report! Click here to download it. (It's a PDF so Acrobat Reader is required.)
Make sure that there is no hiding place for the criminals that are carrying out the systematic annihilation of elephants for bloody ivory. The poachers, the organised gangs, and those that either ignore their criminality, turn a blind eye or actively give them protection from justice must be found and prosecuted. We are all the eyes and ears of the law!
Make sure that our elected representatives, the law enforcement agencies and the judiciary apply the full force of the law to these criminals wherever they are. Not just long, deterrent sentences but also (and this may really hurt them) the sequestration of the assets of crime wherever they are hiding them. Houses, cars, bank accounts, assets of any kind they have gained as a result of their brutal slaughter, must be taken away from them, sold and the funds raised invested in elephant protection.
Summary of the Out of Africa Report
For those with no time to read the full report…here is a summary from www.bornfreeusa.org/outofafrica:
A Complex Global Web
A small number of networks appear to dominate the trade, and seizures across multiple countries and commodities often appear to trace back to the same individuals and networks.
East Asian nationals, particularly the Chinese, drive the modern ivory trade. Ivory traffickers are primarily Asian organized criminal networks, spanning Asia and Africa. They operate within a networked black market that has ties to various other forms of illicit activity. Chinese traffickers are present in virtually every single African range state, and operate at nearly every point along the ivory supply chain.
Ivory's Curse showed that poachers make less than 5% of retail profits from ivory. Out of Africa's analysis of the supply chain confirms that much of the rest of profit appears to fund Asian transnational organized crime syndicates.
Illicit ivory nests within the licit international transport system. Professional traffickers currently 'hijack' the logistics and supply chains of major container and shipping companies to move their product tens of thousands of miles at a manageable cost. Successful ivory transactions require 'facilitators' who provide specific capabilities that enable the transport of illegal ivory through legal supply chains. These same facilitators are interwoven into the systems that enable terrorism, drugs, weapons, and human trafficking.
Out of Africa provides a detailed examination of the illicit ivory supply chain, including:
Illegal ivory flows primarily in containers through the international shipping system. At least 100 containers may be moving annually, the majority through a small number of chokepoints.
A large majority of all of the illegal ivory is accounted for within a small number of transactions; through a small number of ports and airports; and to a small number of criminal networks.
Just the three ports of Mombasa, Dar es Salaam, and Zanzibar in Kenya and Tanzania exit the majority of shipments, pointing to the need for more carefully-targeted enforcement efforts.
The top three airports in the chain are in Nairobi, Addis Ababa, and Johannesburg.
Traffickers able to operate from the forest to the market can earn more than 2,500% in profit margins.
A Suite of Global Solutions
Sadly, there is still scope for the ivory trade to expand. Southern Africa has the majority of the continent's remaining elephants, as well as highly professionalized wildlife trafficking syndicates, which are only now beginning to enter the trade in earnest. If ivory markets are not eliminated, demand will lead poaching operations further south, attacking the Southern African elephant populations. This threat underscores the timeliness and urgency of this Out of Africa report.
Ivory trade is a matter of organised crime. As such, it requires a significant investment of resources if the poaching of elephants and profiteering of ivory are to end. Organized criminal networks must be tackled; intelligence communities must share information; the supply chain (at all levels, but most importantly, the highest points of value) must be broken; and global transport operations must be stymied. Out of Africa provides the blueprint for success by identifying and targeting the key export points for illicit African ivory. The bottom line is that, if we can close down the transit routes that bring illegal wildlife contraband, such as ivory, to their ultimate East Asian markets, we can save the elephants.
The greatest challenge to combat the wildlife trade is a lack of adequate information on how the trade functions. However, Out of Africa seeks to fill that gap, providing actionable insights, and replicable and scalable processes, to help mobilize tangible action for the policy, intelligence, and law enforcement communities. Born Free USA will utilize this cutting-edge report to ensure the protection of African elephants for generations to come.
More Info
View the full report Out of Africa: Mapping the Global Trade in Illicit Elephant Ivory now
View Ivory Curse (a Born Free report, released in April, which focused on the poachers and the profiteers)
www.bornfreeusa.org