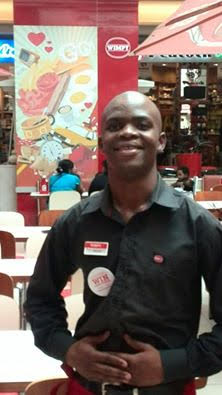 A kind and unassuming waiter by the name of Vincent has become the most talked about South African employee in the past 24 hours.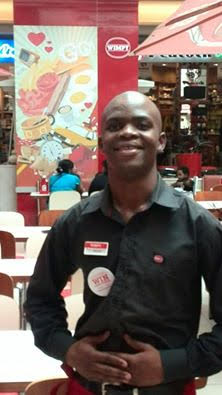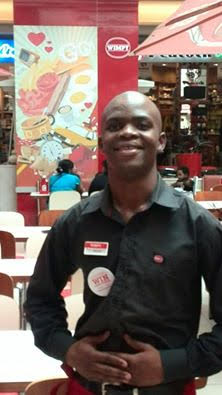 Yesterday he performed a good deed at the Wimpy branch in Canal Walk, Cape Town…which did not go unnoticed. And today he is being celebrated all over social media for his kind gesture.
The post about Vincent's good deed went viral after Afiba, CSquared Brand Ambassador and motivational speaker, shared it on his facebook page. It was apparently written by Tertius Gous who had witnessed Vincent's kindness, and wrote on facebook:
"I was at the Canal Walk @WimpySA today and what I saw blew my mind away!!! There was a seriously disabled man in a electric wheelchair in the Wimpy.
"He had just ordered an ice cream of some sort which was an effort on his part and on the staff's part, since this man also had trouble communicating.
"As I sat there watching this, I thought, 'How is this man ever going to manage to eat his ice cream?'
"As I was trying to figure it out, one of the waiters went and sat down with the man and started feeding him the ice cream. You could see that the waiter was not doing it because he was told to do it, you could see the compassion and love in his face. I sat there, totally amazed!! After the man had finished his ice cream he gave the waiter a big long hug!
"I have never seen anything like this at any restaurant! The waiter's name was Vincent. He needs to get some kind of bonus or at least some recognition from the higher ups of the company!! You are so lucky to have an employee like Vincent! I am very impressed!!"
SAPeople contacted Wimpy's Canal Walk manager Bongani today to verify the story, and it is indeed true. So let's hope Vincent does get that bonus, not just for being a great South African with the spirit of uBuntu…but for unwittingly bringing Wimpy a lot of good publicity! (Although at the time of publishing this, Wimpy SA had not yet posted the story on its own FB page. One commenter, Diane Speedie-Barnard urged Wimpy SA to post it and "let the ppl know you have given him recognition. You are fortunate to have an employee like Vincent!!!")
According to Jennifer Van Schalkwyk who visits the Wimpy CW every Friday for breakfast, Vincent even paid for this man's ice-cream. She also said on FB that when she called Vincent to ask if he knew about the story going viral, he didn't. She said "Vincent is such a quiet, humble person." Friends of the man in the wheelchair also spoke about how wonderful a man he is.
In a country (and world?) where selfies and selfishness have become the norm, random acts of kindness make news, spread a little cheer and inspire those who hear about them.
One South African facebook user, Albertus Burger, wrote "this is exactly what the world needs for peace and peaceful coexistence. Vincent, if by any chance you are reading this just know I regard you as a true hero. South Africans like you make me very proud. [The] Government of the day sure can learn a lot from you. I am proud to be South African and very proud of people like you. May God bless you abundantly."
Thank you to all the Vincents in South Africa!