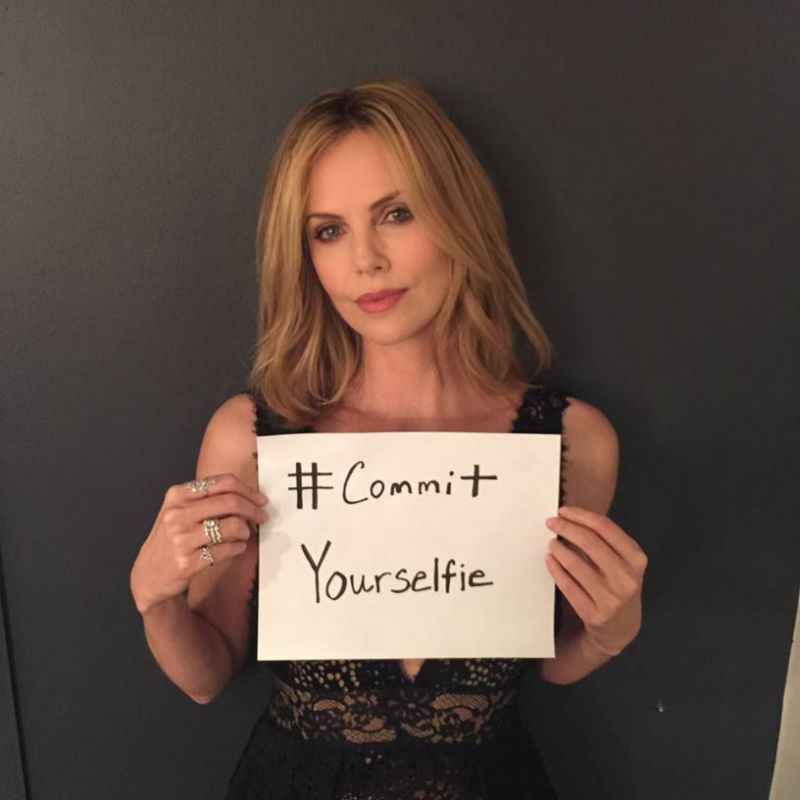 Evita Bezuidenhout is fed up (or is she?). Well ahead of Jacob Zuma's State of the Nation Address (SONA) on Thursday, she not only launched a Twitter campaign but also a video, both of them intent on getting South Africa back on track – or at least less bleak about the future.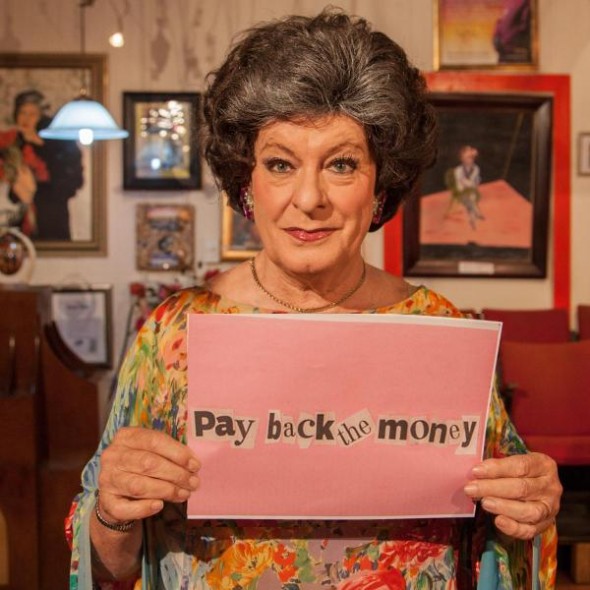 Satirist Pieter-Dirk Uys's beloved former ambassadress of Bapetikosweti has spearheaded the #CommitYourSelfie campaign against corruption and pessimism in South Africa, encouraging people to send selfies to her – at EvitaSelfie@gmail.com or @TannieEvita – as well as tweeting them.
Even Charlize Theron got in on the act, holding a sign promoting the campaign. Other selfie-takers were encouraged to post pictures of themselves posing with messages against corruption in government. An often posted sign said "Pay back the money," a reference to the R246-million spent on Zuma's home at Nkandla.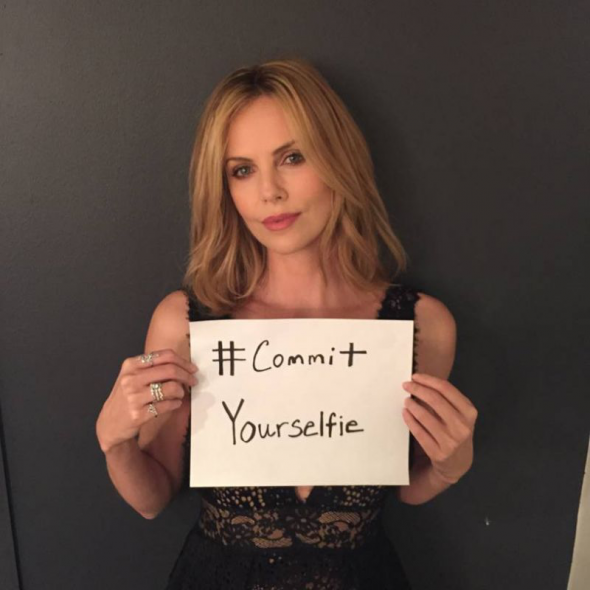 The response from people who were sick and tired of the things going wrong in South Africa – the fall in education standards, Eskom, crime – even inspired Evita to write the lyrics to an anthem she has called "A Song for Tomorrow". Watch video here:
Karen Zoid and Paul Morrissey have arranged the music and recorded the anthem with fellow artists Zolani Mahola, choirs and other stars.
In a "speech" to the Press Club in Cape Town ahead of Zuma's address, Evita summed up what she thought of South Africa, the ANC, Zuma, Eskom, and the bright side (yes, there is one, she says). She admitted to the audience that she was now a member of the ANC and had three grandchildren who were not white.
The following are some snippets from the speech (which can be seen in full here):
"The ANC prides itself on its transparency. Even though the party is now 103 years old, a bit blind, nearly deaf, half paralysed and with a chronic loss of memory, the ANC is now so transparent that no one knows what is going on."
"My daughter Billie-Jeanne married the son of the President of my former black homeland of Bapetikosweti: she married Leroy Makoeloeli and now I have three born-free grandchildren – not white, not black, but Barack Obama Beige. They have no interest whatsoever in the Struggle of the past, because they know their struggle in the future will be more challenging."
"Eskom has opened the floodgates of accusation. Some of them are valid, but it is very unfair to say the ANC has built no power stations since taking office 20 years ago. They have. It is called Luthuli House. I've spent over a year there, quietly doing what the Party demands of a white cadre: check toilet paper in all the washrooms, avoid any contact with the media and go into the kitchen to cook a nice daily three course meal for the comrades. Boer maak 'n plan."
"There is no historical blueprint to lead us where we are going. The world is in freefall. Fasten your seatbelts because there is no seat."
"Yes, R246-million rand, it is a hefty sum of money to spend on the renovations of a holiday home, but believe me compared to the money we in the previously-advantaged regime spent on ourselves, it is a drop in the bucket-system of comparison. Today we call it corruption; then we called it policy.
"Nelson Mandela gave us all a chance to make our dreams come true. Who ever thought we whites would get away with apartheid? Nothing happened to us. No Nuremburg Trials. None of us was hung like Saddam Hussein for crimes against humanity. And even now with the parole of Eugene de Kock, we do not release him in Soweto on a Saturday afternoon! In fact, on 11 February 1990, a faceless man so feared by many as the Osama Bin Laden of that time, came out of the darkness and gave us all light. And since then Eskom has collapsed. Too much competition."
"We are going into the 21st year of a democracy that no one ever thought would happen. It did happen. It is happening and it will carry on happening, because it is a healthy democracy with speed wobbles that are part of the rollercoaster of human rights… When will we whites stop being white? When will we just allow ourselves to be South Africans who are not people of colour?"
"Today FW de Klerk still invites complex reactions to his past actions and yet there is one irrefutable fact: he opened that door. Only he had the key and he used that key and today is humbly grateful for a Boulevard. If he hadn't used that key, today he'd be an Airport!"
"In 48 hours the President of South Africa will make a State of the Nation address to a nation in a state. Will he be allowed to speak, or will the freedom of speech for others stop his address? What will his speech tell us? Business as usual? Focus on corruption as the prime evil and then blame apartheid? Can we still after twenty years of democracy scapegoat a bad system that officially ended in 1994? We can still accuse it of a lot of things, and yet to keep blaming it for incompetence, carelessness and ineptitude would be, like in the 1960s, blaming Adolf Hitler for the miniskirt! Hypocrisy! And yet, often hypocrisy today is still the Vaseline of political intercourse."
If you're in South Africa from this month, she will be having shows in Cape Town and Johannesburg, aptly called 'An Audience with Pieter-Dirk Eish!'