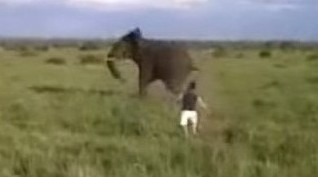 As former Australian cricketer Glenn McGrath apologises for his "highly inappropriate" African hunting safari in which he allegedly shot an elephant, another rather inappropriate video involving an elephant has re-surfaced.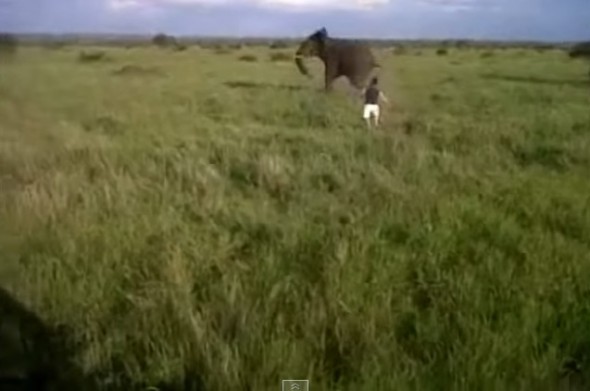 The video – of a drunk man charging a wild elephant (yup, you read that right) – was uploaded by Kruger Sightings in 2013, and has since had over 1-million views!
This week it took off again, perhaps because of the media outcry over photos showing McGrath posing inappropriately with dead wildlife (including the elephant, as well as two hyenas and a buffalo) during a safari in Zimbabwe in 2008.
Most viewers of the 'drunk man charging a wild elephant' video have been shocked, horrified and wished bad things upon the drunk man…although some have humorously warned him not to return to the area because "an elephant never forgets" and another has admitted that he finds the video "amazing" because of "the merit of idiocy and lunacy that that guy displayed, and for the sheer amount of epic-ness that he achieved."
Kruger Sightings stress in no uncertain terms that this behaviour is "an absolute disgrace" and that "such behaviour is not allowed and should never be done." In fact the drunk man was an off-duty guide who was subsequently fired from his job after this incident.
In the meantime ex-fast bowler McGrath has taken to Twitter to explain that his behaviour occurred during "an extremely difficult time in my life" when his 42-year-old wife Jane died of breast cancer, and that "looking back I deeply regret being involved".
An Australian sports writer, Titus O'Reily, took to his blog to write a faux press release on behalf of the elephants' relatives in which 'they' said: "We feel a bit selfish now. Here we were, all upset because our loved ones had been shot for the pure fun of it and it turns out Glenn wasn't having the best time either".
Yesterday O'Reily posted a reminder to his followers to "keep your pets inside during a thunderstorm or if you spot Glenn McGrath." And perhaps if you spot any elephant-chasing drunk guys too…
WATCH VIDEO: Drunk Man Charges a Wild Elephant in the Kruger National Park