For anyone who's looking to move back to South Africa or 'semigrate' to Cape Town from other parts of the country, The Foschini Group is looking for I.T. Talent to join their dynamic team in Cape Town, and will be in London later this month to discuss career opportunities. Here is a message from TFG:
TFG IS LOOKING FOR I.T. TALENT TO JOIN THEIR DYNAMIC TEAM IN CAPE TOWN!


TFG (The Foschini Group) is one of the foremost independent retailers in South Africa. We have 17 retail brands that trade in clothing, jewellery, accessories, sporting and outdoor apparel and equipment, cellular goods and services, and homeware, throughout 2000+ stores in South Africa and Africa.
Our mission is to be the leading fashion lifestyle retailer in Africa by providing innovative, creative products, and by leveraging our portfolio of diverse brands to differentiate our customer offering. This is done by leveraging off of our market-leading store design capabilities, strong operational support, broad retail experience, and aggressive store development.
We have also just recently acquired a majority share in the multi-channel retailer, Phase Eight, based throughout Europe.
We are guided by our sound values, namely Professionalism, Resilience, Integrity, Dignity and Respect, Empowerment, and Excellent Service, which underpin our existence as an organisation and the way in which we operate.

TFG's key strategic objectives for 2015 are our customer, our leadership, our profit and our growth strategy. To ensure the success hereof, appropriate targets and measures are put in place, and each objective is reviewed regularly, and reported on quarterly at board level.
TFG's IT division, with a staff compliment in excess of 300 IT professionals, is responsible for the Information and Communication Technology (ICT) function for the entire Group, with the objective of adding value by improving operational efficiencies, researching technology trends to enhance the business processes and to support business growth strategies. Some key initiatives, amongst others, include the launch of the Group's Omni channel presence, various Supply Chain initiatives, and the implementation of a new HR system.
The IT division endorses an international library of best practices for service delivery, namely the ITIL framework, as well as Cobit for ICT governance. Its policies and operations are aligned with the King 111 IT governance principles.
TFG will have a strong presence at the Homecoming Revolution taking place in London on the 20 – 21st of March 2015 at the Olympia Conference Centre, Kensington, and we invite you to join us in discovering more about TFG and its IT division, and the challenging career opportunities available! Please feel free to browse our web page to start discovering more about TFG, www.tfglimited.co.za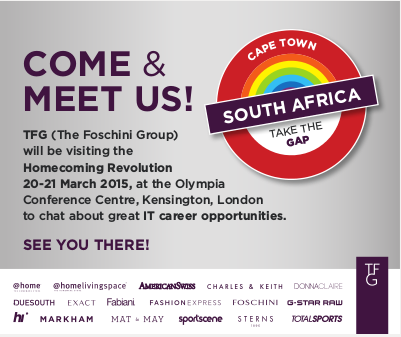 Page Sponsored by TFG