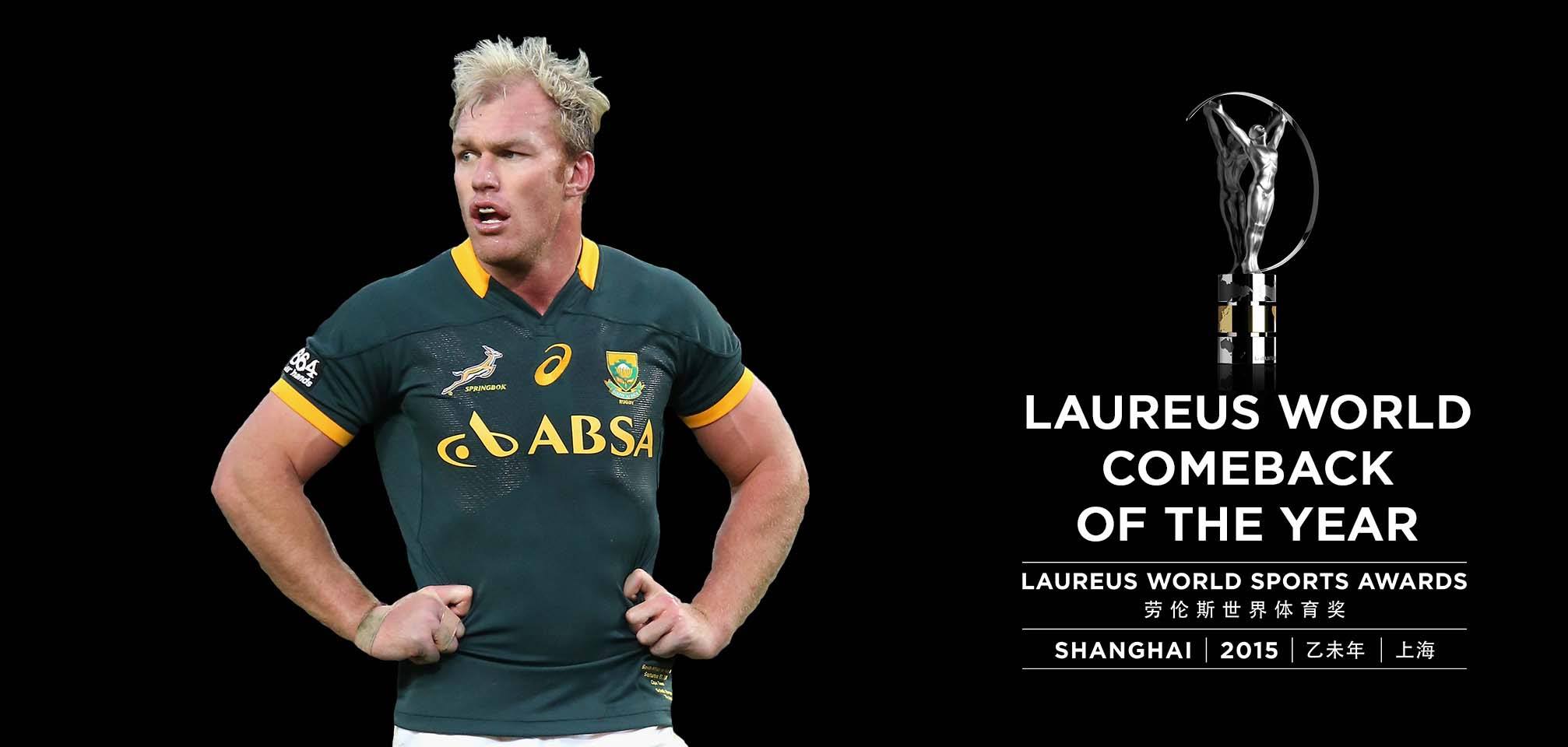 South African flank Schalk Burger has won the Laureus World Comeback of the Year Award in Shanghai, China, today. In his moving acceptance speech, the Springbok player said he had not been "ready to say goodbye".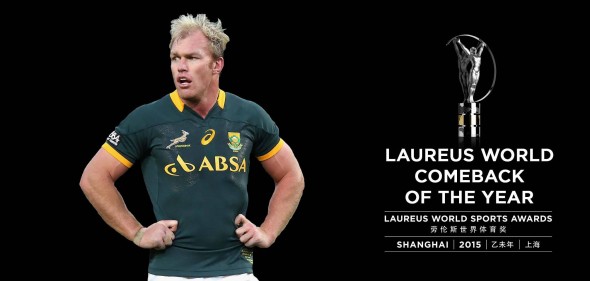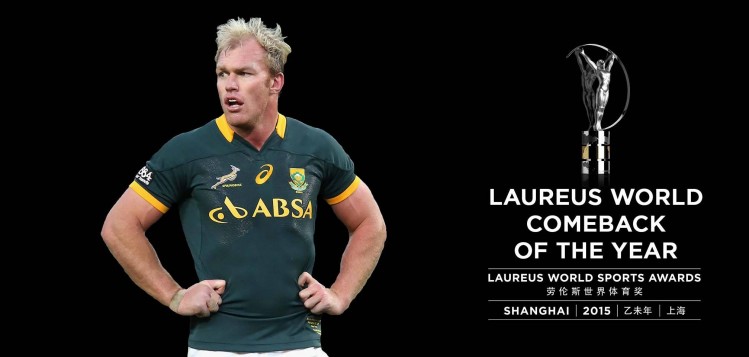 Schalk has received this Award thanks to his spectacular return to the Springboks in 2014 after 18 months out of action. Schalk had developed life-threatening meningitis after being treated in hospital for a cyst next to his spinal chord. His condition was so bad that he was put in intensive care and his family was called in to say their goodbyes.
The Stormers player recovered and was not only selected to play for the South African squad against Australia and New Zealand in the Rugby Championship last year, but was also named Man of the Match in the Springbok's victory over England.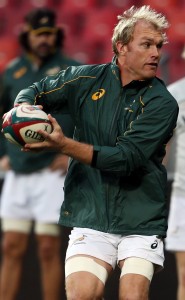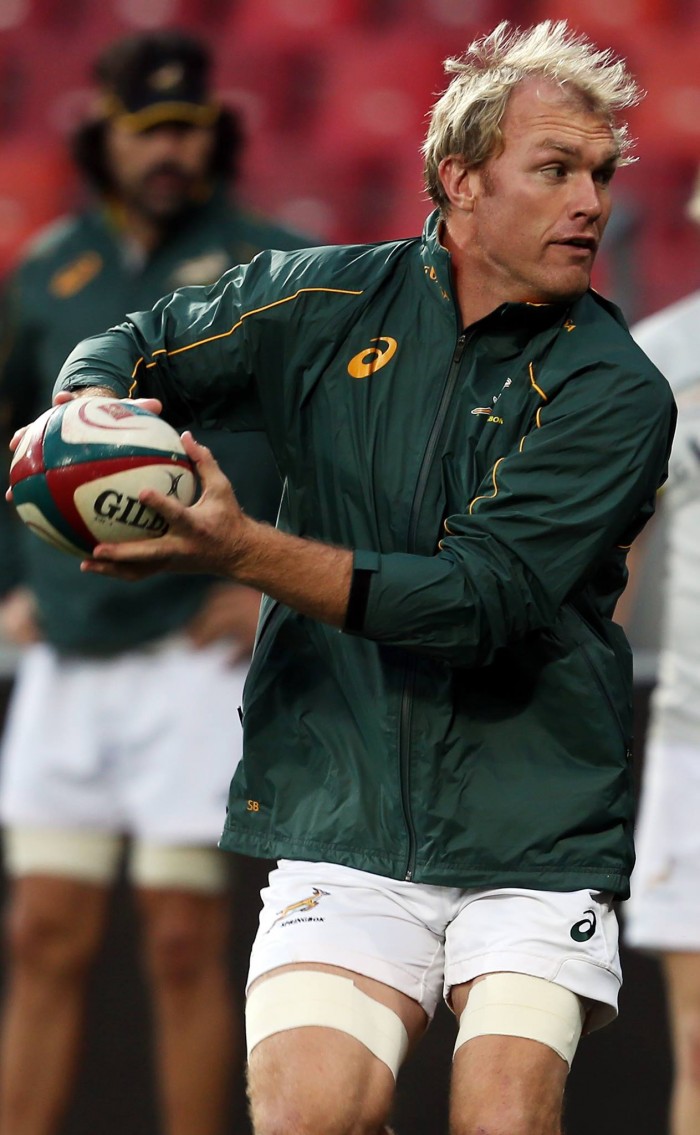 According to the Laureus website "doctors said the average person would never have made it back to top class competition, let alone be named man of the match in such a high pressure game."
At tonight's glittering ceremony, Schalk said he remembers the day when his wife was told it was time to say goodbye.
"I wasn't ready to say goodbye," he told the crowd, admitting that now when he thinks back on the experience it was "super scary".
"But when you're going through the middle of this and there's no time to think really' there's no time to think about consequences; it was pretty much just me versus something."
With typical Schalk humility he said "The odds weren't on my side' as I gather. It's probably one that I shouldn't have come out being as normal as I am. But for me' through a bit of luck and I think through a bit of stubbornness' I was able to pull through."
In an article on Laureus' website,  published before the nomination, former Springboks captain Morné du Plessis is quoted as saying "I have known Schalk and his family for many years and I know that there were very real concerns for his wellbeing during his illness. It really was a great relief for his family, friends and supporters to just see him well again, not even to think at that stage that he would make a miraculous comeback and be back to his best on the rugby pitch.
"I am sure he will have his eye on making a big impact in the World Cup [2015 later this year] for the Springboks. Schalk is also a responsible and caring human being who has done a great deal to support the work of the Laureus Sport for Good Foundation in South Africa and he has been a wonderful Ambassador for Laureus."
This evening the Springboks' page on Facebook posted a message saying "well done Schalla" and Oregan Hoskins, President of the South African Rugby Union (SARU), said "What Schalk has gone through in the last couple of years and what he has achieved makes it one of the most inspirational sporting stories in our recent history."
Hoskins said that Schalk has been "an icon of inspiration and the fact that he always seems to have a smile on his face, makes it even more joyous to watch Schalk in action.
"On behalf of everyone in South African rugby, I would like to congratulate him on this amazing achievement but knowing Schalk, I know he will be itching to get back to Perth where the DHL Stormers are playing [the Force] on Saturday."
Schalk – who turned 32 just two days ago – has been playing Test rugby for almost 12 years. In that time he has twice been named SA Rugby Player of the Year (in 2004 and 2011) and World Rugby Player of the Year in 2004. He has represented South Africa 75 times and was a Rugby World Cup winner in 2007.
He has previously won the SA Rugby Player of the Year award, in 2004 and 2011, and World Rugby Player of the Year in 2004.
The awards, to celebrate sporting excellence, were aired live in over 100 countries. Serb tennis player Novak Djokovic – who is at the Monte Carlo Masters this week – was named World Sportsman of the Year, and Ethiopian runner Genzebe Dibaba was named Sportswoman of the Year.
Laureus is a non-political international charity that works to improve the lives of young people around the world through the use of sport. South Africa's own Nelson Mandela was the first Patron of Laureus, and at the inaugural awards in 2000 he said: "Sport has the power to change the world. It has the power to inspire. It has the power to unite people in a way that little else does. Sport can create hope where once there was only despair."
Schalk's comeback from being so close to death may have earned him this rugby accolade, but for Schalk it has brought something even bigger – perspective. "After my illness, life was put into perspective for me and now rugby plays a very small role," says the courageous rugby player.
Springbok Royalty in #Shanghai Congrats Schalk Burger & @MicheleBurger1 @LaureusSport Comeback of the Year Award pic.twitter.com/BszgNHcqaZ

— blitzbokke.com (@BlitzBokke) April 15, 2015