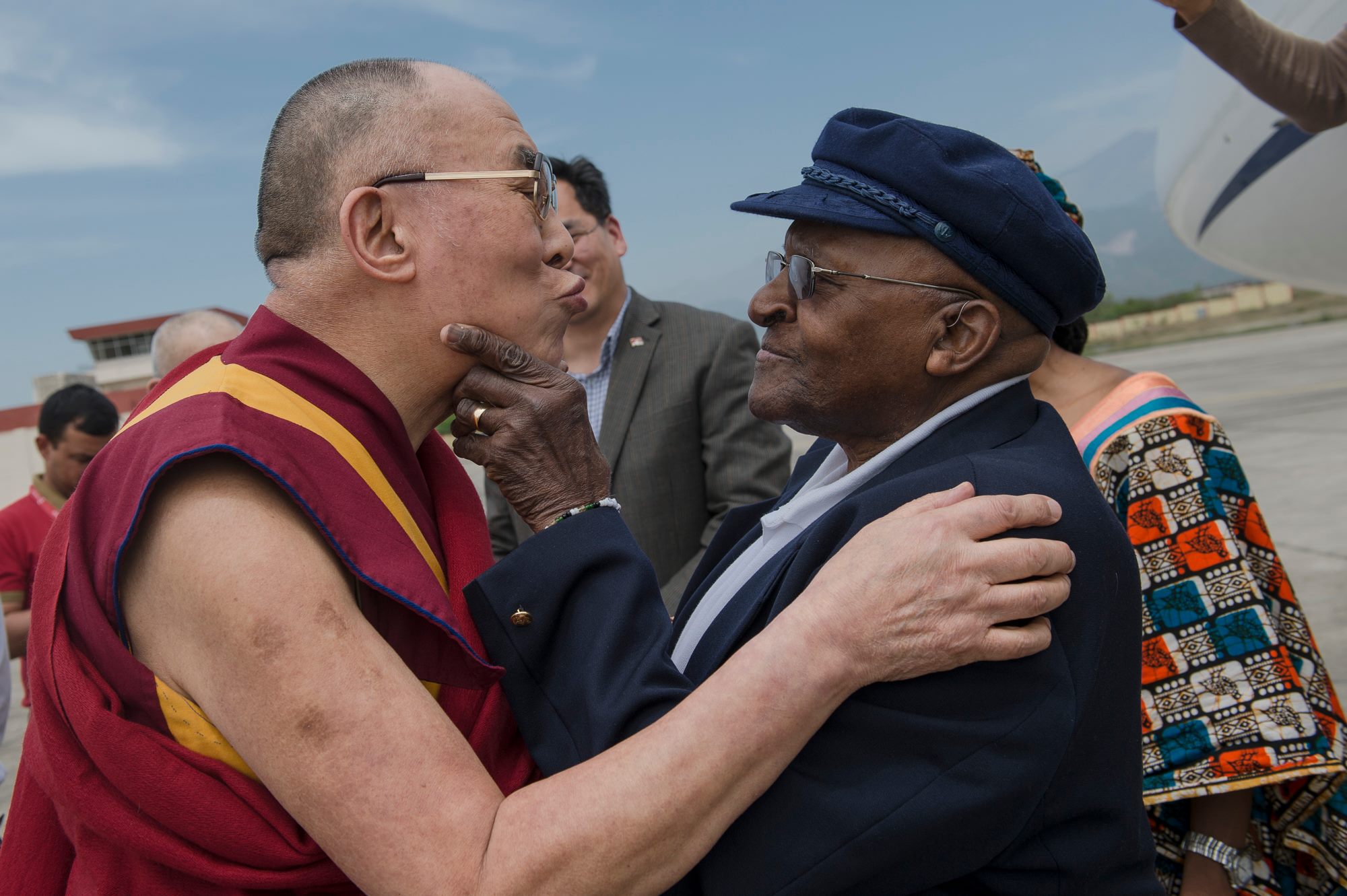 Now this is joy! Archbishop Desmond Tutu was really warmly welcomed by His Holiness the Dalai Lama after touching down at Kangra Airport in India today. The South African is visiting Dharamshala for seven days to collaborate with the Dalai Lama on a book about – you guessed it – joy!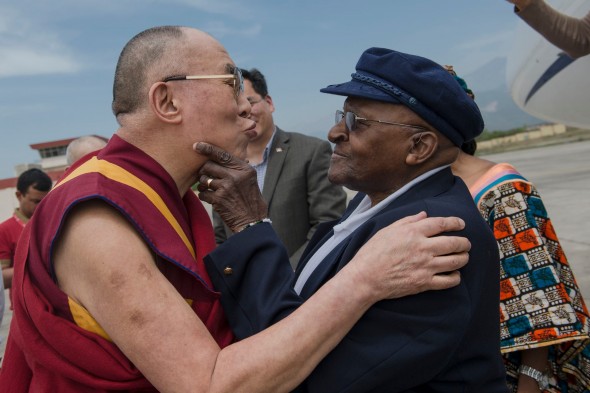 In a message on his Facebook page, the South African also said that he would be in the country for a "few days with our great friend Dalai Lama to celebrate his birthday." The Dalai Lama will turn 80 on 6 July this year.
The Archbishop has enjoyed a special friendship with the Dalai Lama for years, despite the latter having had to cancel two trips to South Africa because of "complications" with his visa requests (which some suggest were caused by the South African government not wanting to upset the Chinese government).
Just this week the Archbishop mentioned the Dalai Lama in his written tribute to Pope Francis in the TIME 100 list. Tutu said in a Facebook post that "few would dispute that Pope Francis is a special gift from God who has brought a breath of fresh air to the Vatican", but he did add in the TIME 100 piece that he was "saddened" when, in December, the Pope "buckled to political pressure and declined the opportunity to meet His Holiness the Dalai Lama. They have so much in common."
People around the world are invited to contribute to "The Book of Joy" by submitting their questions on how to cultivate joy in their lives to Desmond Tutu and the Dalai Lama.
Questions so far include: "How do I experience joy from the inside so that joy is not dependent on external sources in my life?", "Too many mistakes in my life. The biggest one is I failed my vocation and now there is a great sadness hanging over me. I long for joy…how to be joyful when I do not see any light in this dark, long tunnel?" and "How do we keep joy in our lives when there's so much suffering in the world?" (If you'd like to submit a question, click here.)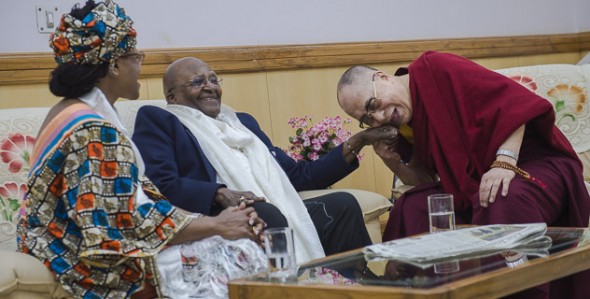 The Archbishop's daughter, the Reverend Canon Mpho Tutu, has accompanied her father on the trip. Yesterday Mpho, who is executive director of the Desmond & Leah Tutu Legacy Foundation, spoke out about the xenophobia in South Africa, saying, "International borders were created by people; and prejudice and discrimination were invented by people.
"We may speak different languages but we harbour the same basic needs: To love and be loved, and to live dignified lives with sufficient resources and security to raise children with a chance of achieving their dreams.
"Our diversity both defines and strengthens us."