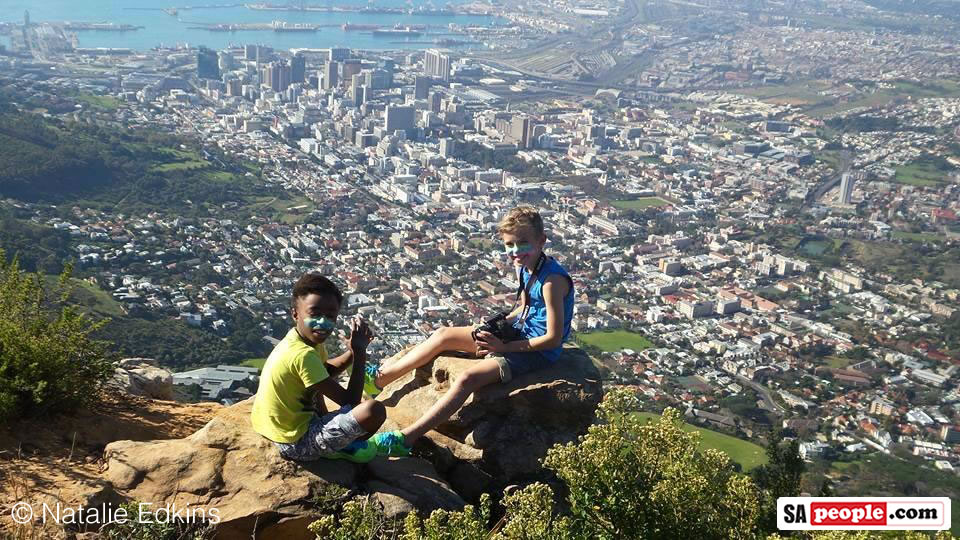 According to a survey by an international website InterNations, South Africa rates as one of the Top 20 best countries in the world to raise a family…but there is a caveat!
Over 14,000 foreign expats from different countries around the world took part in the survey – rating the new countries they are currently residing in.
While South Africa did not fair well in the overall survey to find the Top Expat Destinations for 2015 – coming in at 49th, it did do well in the "Family Life" category.
South Africa was ranked 18th in this category by the participants, whilst the UK didn't even make it into the Top 20, lagging below at 22nd.
The USA also didn't make it into the Top 20, but other South African expat hot spots did – New Zealand, Australia and Canada featured in 5th, 9th and 16th spot respectively.
The UK and USA did however feature higher up the list in the overall Top Expat Destinations, with the US at 13th spot and the UK at 31st. According to the survey the top three most appealing destinations for worldwide expats are Ecuador, Mexico and Malta!
In the Best Place to Raise a Family category,  the countries were ranked according to their ratings in four sub-categories:
Availability of Childcare and Education (South Africa featured high at 11.)
Cost of Childcare and Education (South Africa came in at no. 20.)
Quality of Education (SA did not feature in the Top 20)
Family Wellbeing (South Africa did not feature in the Top 20, and was actually voted, along with Kenya,  as among the worst destinations for children's health and safety, with up to 9% reporting they were very dissatisfied in this regard.)
Although South Africa was measured badly in the Wellbeing sub-category for its health and safety for children and didn't feature in the Top 20 Quality of Education, the fact that it did so well in the Availability of Childcare and Education means that SA was able to clinch a Top 20 position.
The Top 3 countries were found to be Austria, Finland and Sweden where education, inexpensive daily childcare, parental leave and a range of leisure activities all help to make them attractive places for families because of excellent children's health and safety,  and a good family life in general.
Survey Results: The Top 20 Best Countries to Raise a Family:
1. Austria
2. Finland
3. Sweden
4. Israel
5. New Zealand
6. Singapore
7. Germany
8. France
9. Australia
10. Luxembourg
11. Denmark
12. Spain
13. Poland
14. Philippines
15. Mexico
16. Canada
17. Norway
18. South Africa
19. Bahrain
20. Costa Rica
21. Netherlands
22. United Kingdom
23. China
24. Belgium
25. USA
26. Thailand
27. Kenya
28. UAE
29. South Korea
30. Switzerland
31. Uganda
32. Italy
33. Indonesia
34. India
35. Hong Kong (CN SAR)
36. Malaysia
37. Oman
38. Qatar
39. Turkey
40. Brazil
41. Saudi Arabia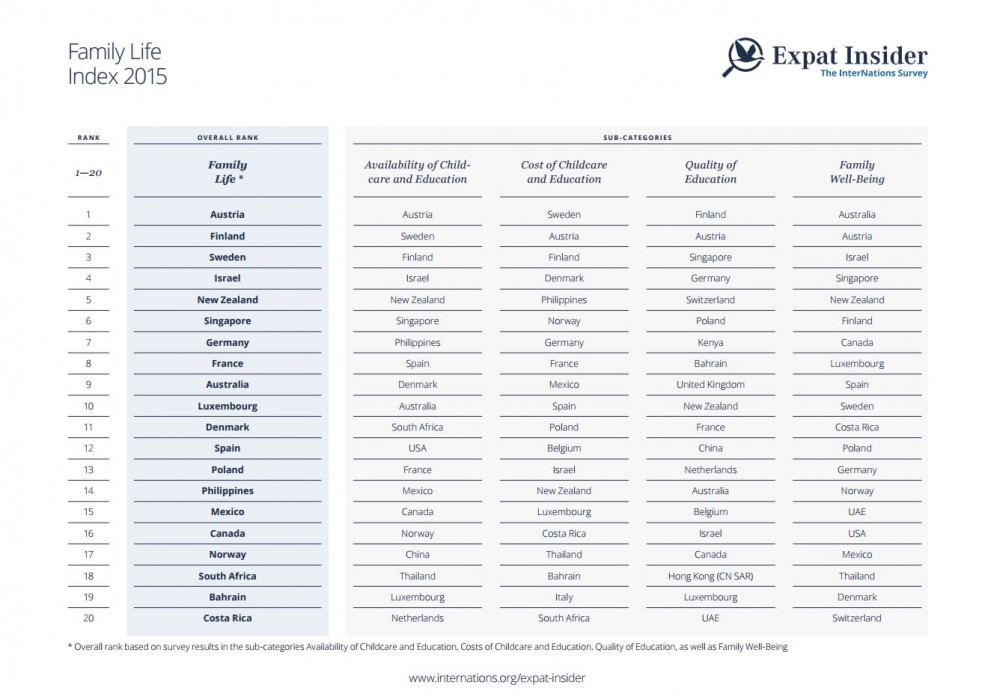 Other categories in the Survey included:
Quality of Life:
Top 3: Singapore, Ecuador and Austria.
South Africa – 42nd.
Ease of Settling In:
Top 3: Mexico, New Zealand and Ecuador.
SA – 27th.
Most Welcoming Countries:
Top 3: Myanmar, Mexico and Portugal.
SA – 39th.
Where Expats Love to Work:
Top 3: Malta, Norway and Luxembourg.
SA – 54th.
Best Countries for the Expat Wallet:
Top 3: Ecuador, Luxembourg and Mexico.
SA – 52nd.
Top Destinations for Expat Women:
Top 3: Ecuador, Malta and Thailand.
SA – 41st.
Top Destinations for Expat Men:
Top 3: Ecuador, Mexico and New Zealand.
SA – 53rd.
Download the full PDF report here.